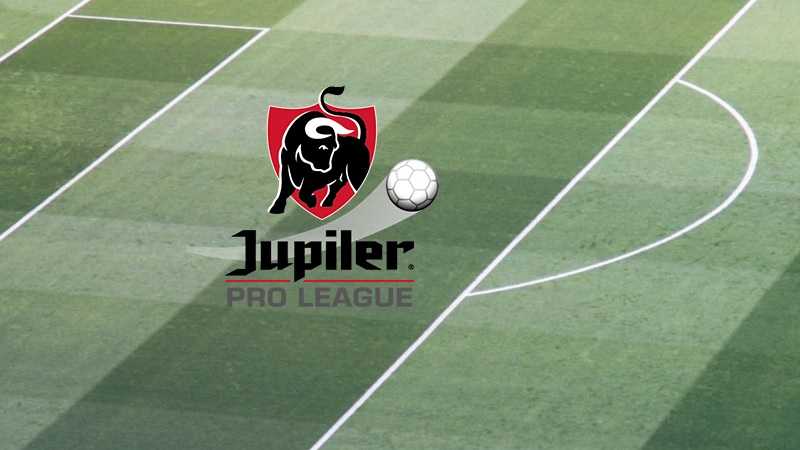 These are previews from matches involving Belgian Teams with all the latest on team news, player form, injuries along with my personal betting angles, ...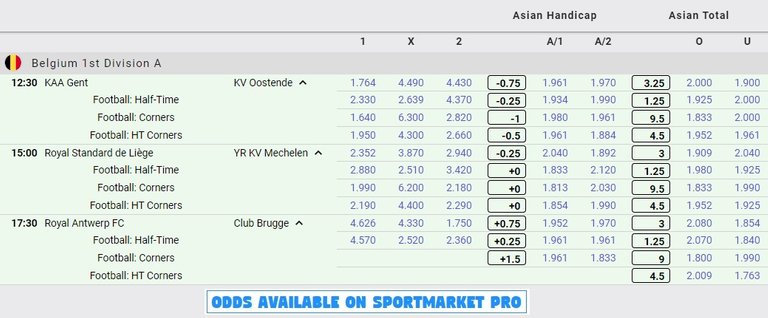 The match between Genk and Anderlecht turned out in a minor loss overall but I'm glad I read the warning signs properly not going for Genk in this match. 3 Matches I'm really looking forward to fill my Thursday with today.
---
AA Gent vs Oostende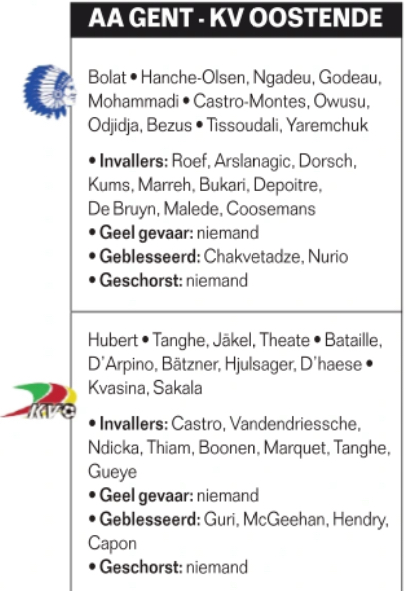 Oostende is in the lead for the last Conference League ticked being 4 points ahead of AA Gent who is last. So this will be a match where AA Gent pretty much has to take the 3 points. AA Gent has been in one of these do-or-die matches before in the last week of the regular season where they took a convincing 2-7 victory away against direct opponent Zulte-Waregem. They remain a team with highs and lows so it's hard to really put trust on them or to oppose them. The previous encounter between these 2 ended in a 1-0 after a match that could have gone both ways where AA Gent was not all too convincing and Oostende always should have scored. Oostende took an excellent start with a 6-2 win against Standard followed by a 5-3 loss against Mechelen in an open match. Crazy high-scoring matches are not an exception during the playoffs but lines generally are adjusted making it a better option to go low-stake-high-odds or with a prop bet. These matches don't always start wide-open so I will wait it out for the first 10 minutes with an eye on over 3.5 goals and Oostende Team Total Over 1. For now,
No pre-Game Bets
---
Standard vs KV Mechelen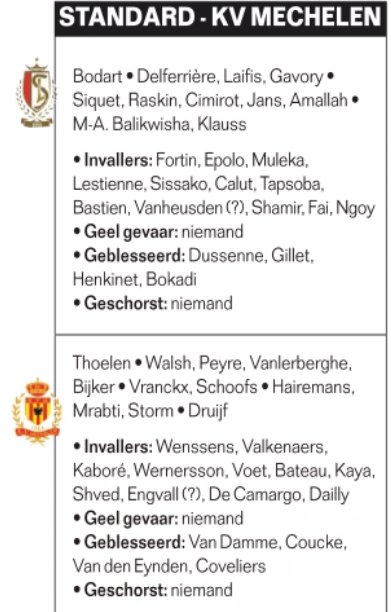 Both teams have 28 points and are 2 behind on Oostende. The result in AA Gent might have a big influence on how this one is played. If Oostende takes the 3 points, both will pretty much have no choice to go for the win while a draw or a win for AA Gent make a draw an ok result keeping everything close with 3 more matches to go. Standard narrowly won with 2-1 against and Unreliable AA gent last weekend scoring the 1-1 out of nowhere quickly followed by the 2-1. Overall I don't rate them that high putting more weight on the 6-2 loss against Oostende. Mechelen on the other hand won deserved from Oostende and played a good open match. I kind of like the visitors as the underdog on this one and took a small initial bet on
Kv Mechelen +0.25 @ 1.890
. The over also remains at low-stake-high-odds in-game if there is no early goal. Should be an interesting match!
---
FC Antwerp vs Club Brugge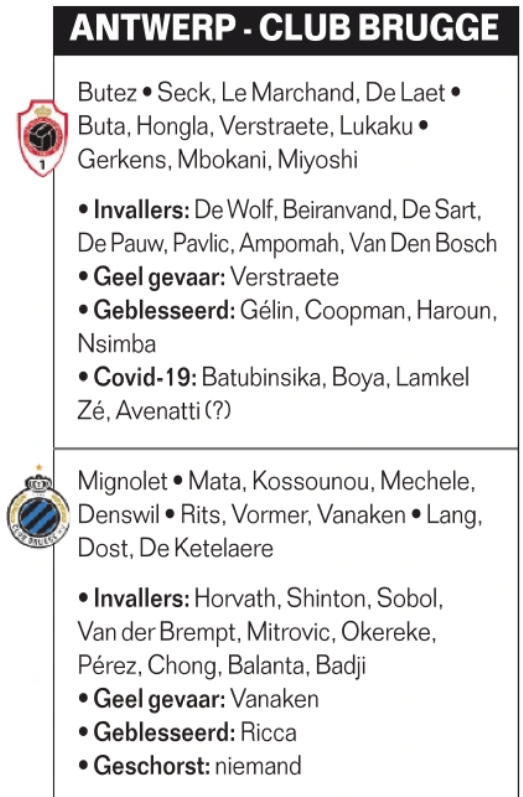 Antwerp played a very good match last weekend with their striker Mbokani showing his best form. They were quite unlucky not to come out of it with the 3 points. Club Brugge seems to have gotten themselves in the zone where the combination of the playoffs with the halving of the points started to play mind games on them. They haven't reached anywhere close to their usual form and only managed to create a handful of chances last weekend. In the previous encounter in week 31, Antwerp pretty much put up a wall and Club Brugge didn't manage to break it resulting in a 0-2 Antwerp win. This is one of those matches where I have no clue what to expect, Club Brugge could come out with a strong performance taking an easy win but at the same time they could choke again with Antwerp (despite some covid missings) playing another good match. The playoffs tend to be crazy so I'm just waiting it out to see what happens before getting any money in on it.
No Pre-Game Bets
---
Late info might change my view on what is written in these previews. I will cover these matches live in our SBC Discord Channel. All my bigger pre-game & Live bets can automatically be followed on Copytip.
---
Pre-Game Preview Bets
I continue to share many of my pre-game bets in all my preview posts. Most of them are smaller bets or trading positions and some of them I took early in the week and might not have the exact same odds available. These bets should just be seen as info and not as something to blindly follow. Record on them so far this season is 222 Bets | +9.63% ROI on Flat Unit bets (See Results) For the Regular Season and +34.50% on 4 bets on the playoffs. Bigger pre-game bets which are rare these days I also tend to take extra on those in BTC.
| | |
| --- | --- |
| Regular Season Results | Playoffs Results |
---

I take all my Pre-Game & Live bets with my Betting Broker Sportmarket Pro who always provide the best offers on the market with a 1 click solution and don't limit winning players offering high limits. For more info check my Sportmarket Pro Review
Season 2020-2021 BTC Bets
| Date | Bet | mBTC | Odds | Result | Betslip |
| --- | --- | --- | --- | --- | --- |
| 24/04/2021 | Racing Genk 1st Half +0 | 2.5 | 1.810 | +0.00 | sportbet.one |
| 11/01/2021 | Standard vs Waasland BTS | 2.5 | 1.86 | +2.15 | sportbet.one |
| 01/11/2020 | Antwerp -0.5 | 10 | 3.50 | -10 | sportbet.one |
| 03/10/2020 | OHL vs Zulte 1H Under 1.25 | 10 | 2.010 | +5.005 | sportbet.one |
---
Full Guides to Decentralized Crypto Bookies I personally use where no KYC is required allowing anonymous betting from any location without individual limits for winning players...
| Month | Bets | Won | Lost | Push | Staked | Profit BTC | ROI |
| --- | --- | --- | --- | --- | --- | --- | --- |
| Jan 2020 | 1 | 1 | 0 | 0 | 0.0100 | +0.01271 | +127% |
| Dec 2019 | 2 | 0 | 2 | 0 | 0.0200 | -0.002000 | -100% |
| Nov 2019 | 2 | 1 | 1 | 0 | 0.0200 | -0.001800 | -9.00% |
| Oct 2019 | 4 | 1 | 3 | 0 | 0.0400 | -0.020800 | -52.00% |
| Sep 2019 | 4 | 3 | 0 | 1 | 0.0400 | +0.028890 | +72.22% |
| Aug 2019 | 10 | 7 | 3 | 0 | 0.1000 | +0.033860 | +33.86% |
| July 2019 | 2 | 2 | 0 | 0 | 0.0200 | +0.018000 | +90.0% |
| Jun 2019 | 0 | 0 | 0 | 0 | 0.0000 | +0.000000 | +0.00% |
| May 2019 | 7 | 0 | 5 | 2 | 0.0700 | -0.050000 | -71.43% |
| Apr 2019 | 5 | 3 | 2 | 0 | 0.0500 | +0.024170 | +48.34% |
| Mar 2019 | 7 | 3 | 3 | 1 | 0.0700 | +0.004120 | +5.89% |
| Feb 2019 | 6 | 4 | 2 | 0 | 0.060 | +0.023210 | +23.21% |
| Jan 2019 | 10 | 0 | 9 | 1 | 0.100 | -0.079640 | -79.64% |
| Dec 2018 | 15 | 4 | 10 | 1 | 0.150 | -0.058880 | -39.25% |
| Nov 2018 | 17 | 7 | 10 | 0 | 0.170 | -0.032170 | -18.92% |
| Oct 2018 | 15 | 6 | 9 | 0 | 0.150 | -0.028290 | -18.86% |
| Sep 2018 | 14 | 13 | 0 | 1 | 0.140 | +0.141820 | +101,3% |
| Aug 2018 | 8 | 5 | 1 | 2 | 0.080 | +0.045470 | +56.84% |
| Jul 2018 | 17 | 8 | 9 | 0 | 0.135 | +0.033590 | +24.88% |
| Jun 2018 | 15 | 7 | 7 | 1 | 0.150 | +0.018200 | +12.13% |
| May 2018 | 2 | 2 | 0 | 0 | 0.020 | +0.023440 | +117% |
| Feb 2018 | 12 | 3 | 8 | 1 | 0.091 | -0.036293 | -39,88% |
| Jan 2018 | 21 | 10 | 10 | 1 | 0.147 | +0.005800 | +3.95% |
| Dec 2017 | 19 | 9 | 8 | 2 | 0.148 | +0.010422 | +7.04% |
| Nov 2017 | 21 | 11 | 10 | 0 | 0.210 | -0.008030 | -3.82% |
| Oct 2017 | 21 | 10 | 10 | 1 | 0.210 | +0.003080 | +1.46% |
| Sep 2017 | 9 | 4 | 4 | 1 | 0.090 | +0.001440 | +1.60% |
| Total | 266 | 124 | 126 | 16 | 2.491 | +0.092319 | +3.71% |