Today was the last day of the French Open. The Roland Garros is over now and we have a new record. As I mentioned in my previous post, both players are my favorites and could not root for one of them, so I said let the best win and that's what's happened.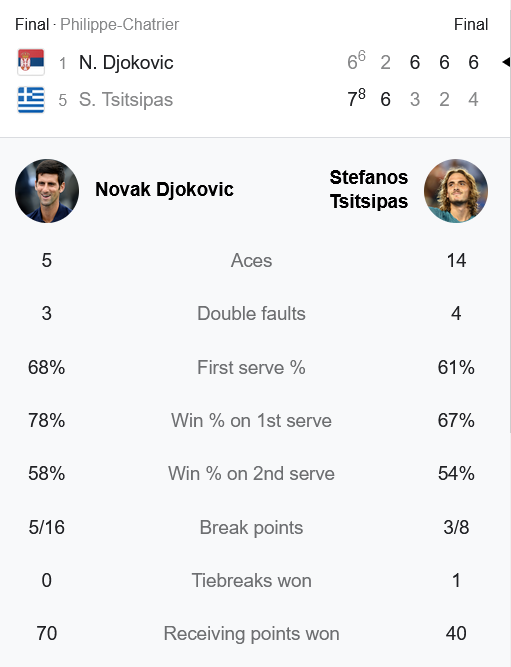 source
Not that the other matches during the tournament were boring, but this one was full of interesting moments from the beginning to the end. The stakes were high for both. For Tsitsipas this would have been his first Roland Garros title and the first Greek player to get it. By the way, he's the first Greek player to get into the Roland Garros final, so he already made history, taking Greece so far as tennis is not very popular in Grece. Now, thanks to him, this changed.
For Djokovic the stake was even higher. Now that he won the title, he's the first player to have won at least two of each Grand Slam title. This is huge. Records are important for them and you can see how driven they are, except for the french Benoît Paire.
The match was exceptional, one to remember till you live for sure. The first set was with some unfortunate adventure as both players fell. They both fell, unfortunately. Djokovic bumped into clay and fell, rolling on the clay, almost hitting the net pole and some other things. Good thing he did not get hurt himself, but it was brutal. Then in the tie-break it was the Greek's turn to fall. He rolled on clay as well, getting quite dirty but didn't get hurt either.
The first set was pretty amazing and ended in a tie-break. When it comes to statistics, Tsitsipas has won all the tie-breaks he has played so far, this one included. The second set wasn't the best for the Serb, he was visibly out of his comfort zone, which would not have been a problem as it happens all the time, but he lost to 2 - 6.
There was a problem due to the sun. Djokovic was hugely affected by getting the sun in his face, although he had a baseball hat which obviously did not help much. I could say he lost because of the discomfort but Tsitsipas had to face the same conditions and he didn't even have a baseball hat to protect him from the dun and won the first two sets anyway. So this reason is out of the question.
The next two sets not only ended in favor of world No. 1, but showed some weakness on behalf of the Greek. I was afraid that mentally he will not be strong enough to face the challenge, but it wasn't the case. His medical condition must have contributed to some degree to losing two sets, but that's only what I think as it hasn't been confirmed. The Greek asked for medical help, accusing mack pain. At that level of exposure to effort, anything can happen.
However, he was able to continue and do the best he could in the decisive. But unfortunately it wasn't enough. There's a 11 year age difference between the two finalists and that means 11 years more experience for Djokovic.
Djokovic was able to win after all, but it wasn't easy. Those days when he could win a final in 3 easy sets are gone. He was put to the test, he had to work hard for the victory and needed a good amount of luck to win. He could have lost easily, no one can deny that.
This is a confirmation of what I've been saying all year. The dominance is over, there's no sure thing when it comes to Grand Slam tournaments. The big trio is done, none of them has more chance than the younger generation.
Bolt once said that there comes a time when you have to work twice as hard for the victory and it's not fun anymore. That time is now for these three legends. None of them is bullet proof anymore. Nadal could not even reach the final and Djokovic had to (literally) fight for the title. Pretty soon the ATP ranking is going to change as well.
Tsitsipas did extremely well, I'm really proud of him and I'm sure he's going to do even better in the upcoming tournaments. He is definitely one to look out for.
All in all I enjoyed the tournament a lot and am looking forward to the next one, which will be epic as well. Let's see how Nadal is going to do at Wimbledon. He's going to lose his position soon.

Join me at Bybit and get $10 bonus in BTC! Plus, up to $600 worth of rewards await in your Bybit Rewards Hub.
Get started with my referral code: m3yjA
https://www.bybit.com/en-US/invite?ref=m3yjA