I guess not only me but many Manchester United fans are disappointed and heartbroken. It is a pity that my fear has finally come to reality in just few days away from the day I prayed that teh second positon would not be taken away from Manchester United. I guess it was meant to be because many for saw this day Manchester United will leave the second position in the league table and it has happened.
Just yesterday been Saturday at Falmer Staduim, a match between Leicester City and Brighton which the score ended with Liecester City taking a two goal against 1 from the Brightons gave Liecester City a free passsage to the second positon in the League table pushing Manchester United to the third positon with 4 (four) points away/above Chelsea and 2 (two) points beneath Leicester City.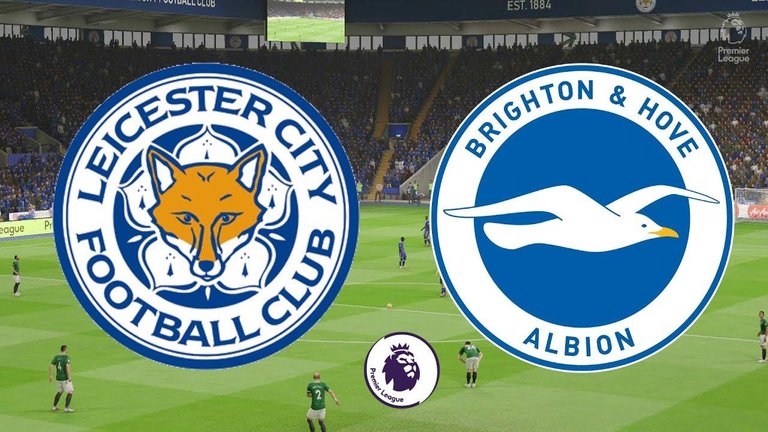 Image Source
Isn't this a shame to Manchester United team and fans to watch themselves once the top positon team go below and settle not just in the second positon but now in the third points because of their inconsistency and lack of taking matches seriously.
We've seen how Leicester City with the help of Kelechi Iheanacho and Daniel Amartey, scoring a two goals against one goal from the Brighton moved to the second position in the League table pushing Manchester United to the third positon with just two points away from them. This guys did an awesome job even though there goal was a bit on a lucky side and a bit late but it took them to the second positon although I am not happy about it.

Image Source
Although must confess that I thought that the game will end in a draw considering how the first half went, it was poor start i must commend and Leicester City players were a bit loose here and there letting the Brighton team get a score which wasn't good at all and for them but the the good thing is that Liecester City was able to scale through with the help of their defender Daniel Amartey's last goal which was as a result of Brighton goalkeeper error Robert Sánchez who let his guard down and left the net making it empty giving Daniel the opportunity to head the ball into an empty net.
The late goal which was a result of Danile heading the ball into the goal post gave Liecester City the victory and sealed their opportunity of standing the second position and I hope they remain in that position for long since Manchester United were not ready to fight to remain in the second positon in the league table and I hope they have a chance of finishing the league in that positon considering the fact that they have people like the Chelsea team fighting for the top position.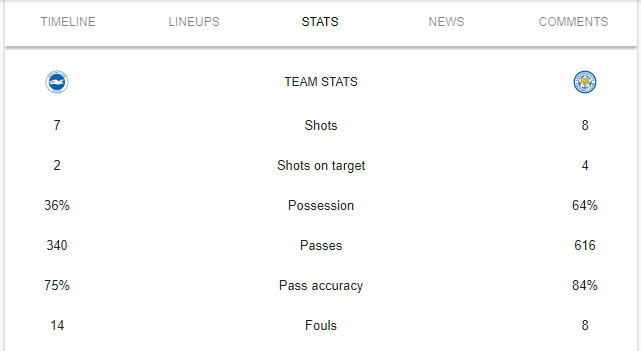 Image Source
I wouldn't say the game was oweful considering the fact that I am not a player even though I know little of what those guys go through to come out victorious but since it is their professions, I really commend them. They played well, infact the match was wonderful even though Leicester City started bad as they were indeed slow but they did well in the second half. In the second half, they looked more prepared, aggressive,full of energy and in a better form as though they had a purpose at hand.
It keeps on counting that in the Premeire League, Leicester City has a record of 10 league games that they've been unbeaten so far so good while Brighton stays in the 16th position in the Premier League table. The Leciester guys are looking stronger, feirecesr and purposeful everyday as we see them takethe bull by the horn in every matches they attend leaving no stone un-turned.
I must really confess that the Brighton boys did a great job not just great but excellent as they are really good in stopping the Leicester City boys from earning a goal for themselves in the first half. They played well and tried to create a good defend but it was obvious that they just couldn't sustain the tackle for long and break the Leicester city or make them give up as they've been known over the years for playing well and still making a mess of themselves.
They lack ability to do things at the right tiem and are slow in making decisions, they make decisions when it is no longer necessary making it look as though they always come to the field unprepared and ready for anything. I must confess that they lack the ability to make hay while the sun shines and this has brought them down and dragged them down below our expectations.
Certainly I must confess that the the first half of the game was a great one from Brighton side but the second half was bad as the Leicester City guys came back with full force leaving no space for them even though the Brighton guys had great opportunities to have left the field with a draw or with the victory, they made so many errors that are just too many for them to have dominated the second half like they did the first half which earned them a goal and lost to Leicester City guys.
The Brighton guys a really below has they've dropped 17 points away from the winning positions this season, and have also lost a fewer home points in the Premier League this season. They better watch their back and amend their errors if they are really ready to be in Premier League this season. They've made just too many mistakes and need to get a better form to be able to take themselves up because I can smell big trouble coming their way if they continue to make mistakes like this.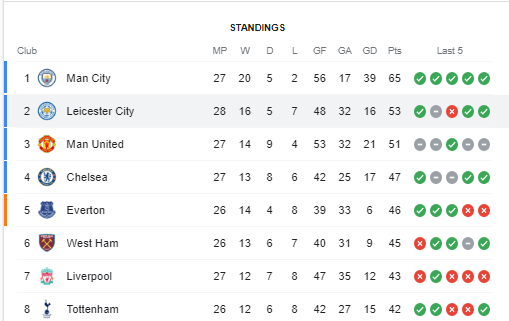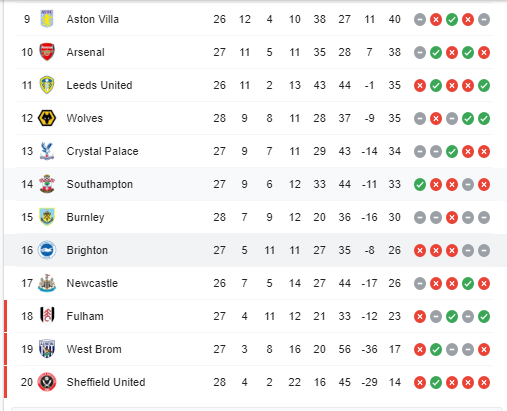 Image Source
They had better watch out for guys like Newcastle and West Brom who will be playing today by 13:00, Fulham boys who will be playing with Liverpool today by 15:00. We hope Brighton don't smell this trouble earlier than expected for them because it will be to bad if one of among these teams make a great turn around today.
We are also aware that Manchester United who are currently in the third positon with two points below Leciester City will be playing today against Manchester City by 17:30 and I hope they will do there best to take back their second position in the Premier League table and that is if it is going to be possible for them.
I am aware that Manchester United won't have the opportunity of carrying th trophy this season but what pains me the most is them leaving the second position for Leicester City to carry, it is really going to be a difficult thing for them to get back on their feet at thsi point in time considering the pisiton they are currently standing in the League table.
While we watch Crystal Palace and Tottenham Hotspurs take up the field at about 20:15 today also, let's anticpate Brighton trip to south coast to face Southampton on the 14th of March which is next week Sunday at 12:00, while Leicester host Sheffield United at 14:00 that same day.
Let's keep our fingers crossed and watch what happens next!
I remain your sport girl @evegrace😍😚