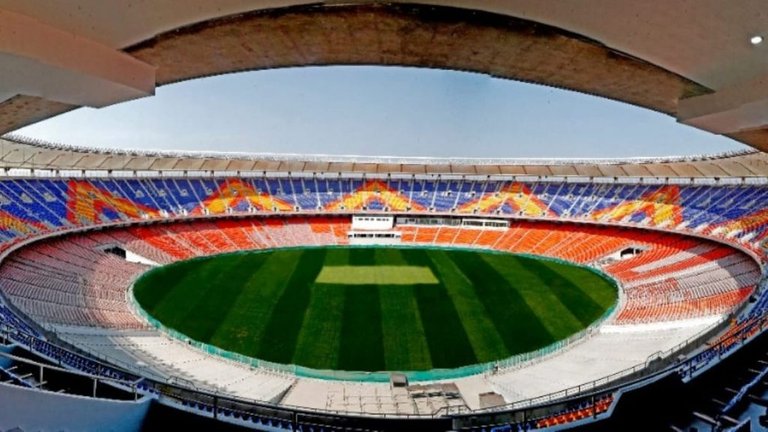 India England Test match is now in interesting state. At the end of the first day, India was in commanding situation with England getting all out for 112 and India scoring 99 for the loss of three wickets. But the place, the location where this match is hosted has seen some unique developments in the last few hours.
Originally located in Sabarmati a place in Ahmedabad, the Motera stadium was inaugurated by President Ram Nath Kovind on before the third Test match between India and England.
How big is the Motera stadium?
The Sardar Patel Motera Stadium in Ahmedabad is spread over 63 acres. It has seating capacity of 1.10 lakh people. Capacity wise this would be the biggest stadium in the world. Currently, Melbourne Cricket Ground (MCG) is the largest cricket stadium in the world. It can accommodate 90,000 people simultaneously.
Unexpected Developments
The ground which was planned to be named as Sardar Patel was suddenly named as Narendra Modi Stadium. This was quite an unexpected move. The ruling Bhartiya Janata Party is all against naming the infrastructure against the Gandhis and Nehrus have finally started naming the institutions against the name of its sitting Prime Minister.
They did not stop with only naming the ground. But they also made a clear indication of their rumored nexus with the corporate Houses.
The stadium is constructed by the Larsen & Turbo (L&T) company, which also built the Statue of Unity in a very short span of 5 years.
There is an area on the Narendra Modi Stadium which is also known as Adani End. Adani is India's own Rockfellar.
Another area is also known as Ambani End. This is named after Reliance Industry owner Ambani.
Though the biggest stadium in the world is a good development for the sports, India could have avoided politicizing this event and avoiding controversies around it.