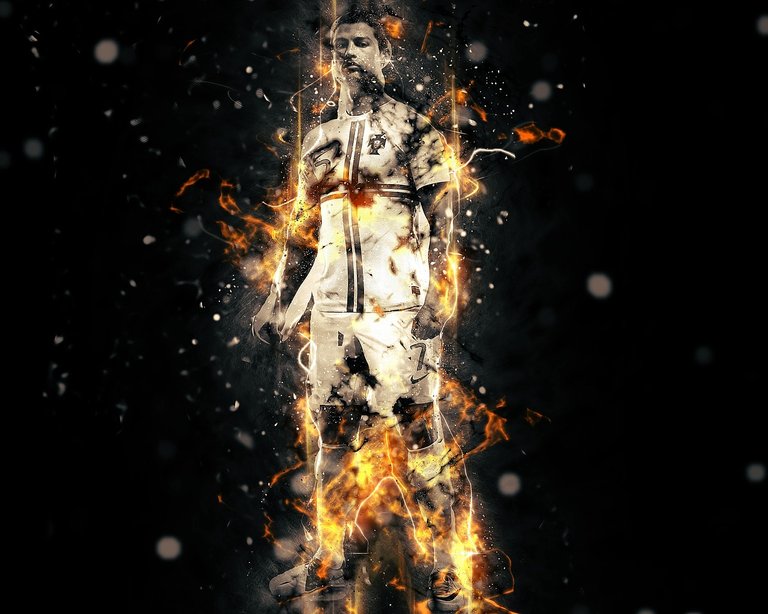 pixabay
Ronaldo has managed to write himself into the folktale of football and he will be remembered for as long as football is been played. Being the greatest goal scorer in the history of football has its advantages and also its demerit. For starters, being the best brings envy and hate from others who wished they were you.
That's just one side of life that makes humans who they are. Although this is very wrong in all ramifications yet it thrives amongst people. Some go as far as passing the hatred from one generation to the other. That has shown in all ramification of life and sports have not been left out. Hatred is still growing and still resides in the minds of many.
The popularly saying "if you can't beat them, join them" has been long overlooked and that has resulted in the belittlement of great heights achieved by others. These scenarios have played out on two separate occasions. Cristiano Ronaldo is the greatest scorer of all time after his goal against Napoli helped win the cup title for Juventus. That was Ronaldo's fourth title in Italy as an old lady player.
Shortly after Ronaldo created that record, he was meet with a tweet from the Czech Fa claiming that Ronaldo is yet to top the official goals scored by Josef Bican. According to the Czech football association, Josef Bican scored a total of 821 goals in official matches. The figure contradicts the numbers which are being recognized by FIFA. The timing of the announcement shows a total lack of sportsmanship and respect towards a player who has given his all to football.
Not that FIFA will acknowledge the claims made by the Czech FA but the action by the FA shows hate. The figures should have been made know before now buy yet they choose to stay silent. They further added that for Ronaldo to be recognized as the greatest goal scorer, he has to add a total of 62 goals to his currently scored 760 goals.
This came weeks after Pele had disagreed that Ronaldo eclipsed him in terms of total goal scored. Pele claimed to have scored over a thousand goals and he inscribed that on his social media (Instagram) minutes after Ronaldo surpassed him. It should be recalled that Pele has congratulated Messi for be raking his record for most goals scored for one club. Although Pele club which he played for to attain such a record denied Messi the honor.
While it's not the first time Cristiano has been faced with such an act, he has always managed to respond and shut his haters up. I could remember vividly right after the match against inter Milan, CR7 was accused of being a burden to the Juventus team . he responded by winning the Italian cup for the old ladies with his well taken short-range shot. His celebrations say it's all, the person who belittled his ability will swallow his or her words back.
Even Real Madrid underestimated his ability and felt they could do without his talent in their ranks due to his wage demands. Winning four champions league on a stretch doesn't come cheap and Ronaldo was worth every penny asked for. He was the best player in their ranks and demands in terms of wages should be listened to because hardly will another player provides what he does for the team. Well, they let him go on a cheap to Juventus and the Real Madrid team has been flawed in every way ever since.
Other noticeable hate has come from top players who were supposed to acknowledge another colleague's achievement. While some are top players themselves, others wish they were as good as CR7. Zlatan has been one of those players whose ego and attitude have been off the roof. He utilizes every chance gotten to taunt CR7 but Ronaldo does most of his talks on the pitch. The game between Portugal and Sweden still happens to be fresh in my mind.
Ibrahimovic has boosted of taking his country into the world cup through the playoff between them and Portugal. Cristiano was mute during that period as he was training rigorously to ensure that he takes his side into the world c on the d-day, Cristiano's performance shocked the whole wide world as he put up an energetic display to down their Swedish rival. CR7 performance didn't just result in him scoring a hattrick but also taking his beloved country to the world cup.
That wasn't all that happened based on a match, the closed FIFA best player voting system was re-opened and CR7 won the Best player going once more. A lot of hate has also made Ronaldo stronger as he strives in places where the hate is much. This was evident in his tribute made as he thanked his rivals and all opponents played against for giving him more reason to push himself harder.
Funny as it may sound, Ronaldo's source of thriving does not only comes from hate from rivals, but it has also come from hate even from teammates. Cases of Ramos and Rooney remains fresh in mind to this day. Ronaldo's feud with Rooney started during an encounter between England and Portugal in a competitive fixture. Rooney and Ronaldo clashed and Rooney gets set off. The bad blood was there throughout both players stay at man united but CR7 thrives regardless.
That's why it always not surprising to see Wayne Rooney choosing Messi as a better player over Ronaldo. Some hate as come from higher places also . one time, he was labeled a commander on the pitch, he scored in the next game for Real Madrid as he celebrated mimicking a commander.
While a lot has fueled CR7 way to the top. Making the rivals and doubters eat their words seems to have stood out as his major drive in his pursuit for greatness.
which factor do you think has helped CR7 attain the position he is at the moment; proving doubters and haters wrong or competition with Messi?