Football has always been a game of unpredictable occurrence. While some events might come as a shock, others might sound like a fairy tale to you. Well, 2021 has been a year of such events. Continue reading the headlines to find out more
Ronaldo became the highest/ greatest goal scorer the football world had ever seen.
source
Dedication to the beautiful game has never been a question rather his sheer will to go beyond what the normal humans will do has made him stand out. He scored against Napoli in their Italian cup final to just not win the match for Juventus but forever register his name in football folktales. 760 goals were all he needed to set this reason and knowing the kind of player Ronaldo is, he has already set his eye on another target.
Manuel Neuer equals Oliver Kahn Bundesliga clean sheet
source
Played his 300th game in the Bundesliga and equaled Kahn's record of 196 clean sheets. It's truly remarkable. While one player was breaking a record for most goals (Ronaldo) another was equally a record of keeping the ball away from entering the net. His achievements are truly remarkable but it will be a matter of when and not if he claims the record for himself. What an achievement.
third-tier club stuns Real Madrid as he knocked them out of the Copa dey Rey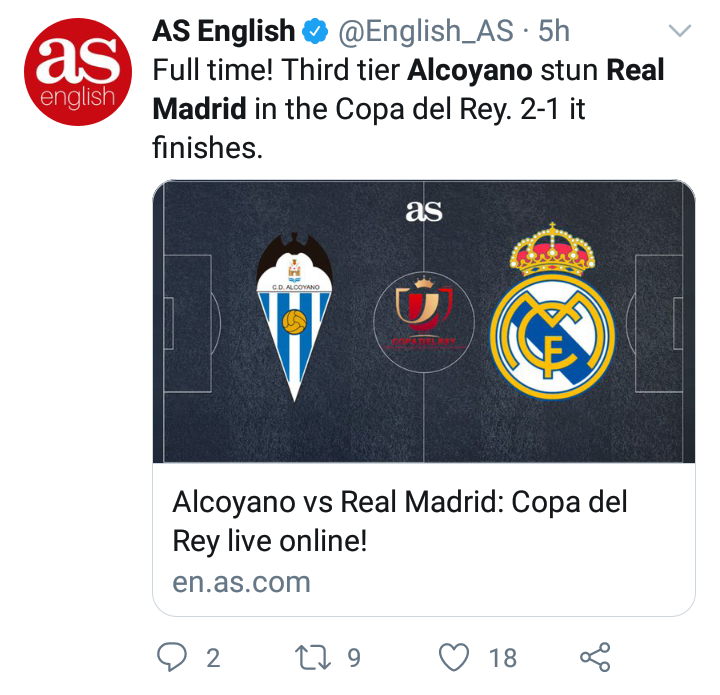 source
Strange things happening in football but no one will have seen this coming. Real Madrid being kicked out of the Copa del Rey in the round of 32 is something rare but it happened yesterday and the team lost to was something of bewilderment. Alcanyano plies their trade in the third tier of the Spanish league and their winning is a testament to how things had gone bad for real Madrid.
After the Game had ended 1-1 in normal time, they won the game in the second half of extra time.