Oh dear. Liverpool, what's going on? Only picking up two points from a possible nine in the last three matches and not scoring in two consecutive games. Get a grip and please don't let Man. U any closer to the title. No one predicted a Southampton win. I mean, why would they? But someone got the first goalscorer correct who was Southampton's Danny Ings who hit a superb lob after just two minutes............
Anyway, with no Premier League action for a week, we turn to the semi-finals of the EFL Cup for tonight's game and its walk in the park for Spurs..... or is it?

Is Jose going to rest any players for this? How much does he value the trophy? I'd suggest there may be a few changes but not enough to upset the balance. Spurs will not want to get thrown out of the cup at this stage when they have a very good chance of getting to Wembley. Brentford? They defend well and will be no walkover but Spurs class will tell in the end.
Still, with Kane doubtful, I will go for a 0-0 after the 90mins. Spurs will go on to win in extra time but don't forget, in this game, its the score after 90mins that counts and extra-time and/or penalties do not!
Simply write the name of the FIRST GOALSCORER and the CORRECT SCORE as a comment. Competition closes 5 minutes before kick-off which is 19.45 GMT.
The Small Print
In the first goalscorer competition, own goals do not count. In the correct score competition, it's the score after 90mins. Extra time and penalties do not count and the pot for each competition will roll-over if there is no winner. If more than one person chooses the same first goalscorer or correct score, the prize is shared and everyone gets a little upvote! It seems I also need to add, one entry per person. Don't forget the new rule that only people with a rep of 45 or above are eligible to enter unless they have been approved. The bonus will be added to any winnings ONLY if Leeds United win and/or Man U lose and all payouts will never exceed 50% of post payout. Other bonuses paid out at my discretion.
And the winners were.....
....should actually read, "And the winner was" as it was checkmate to @hirohurl who correctly predicted Danny Ings to get the opener, and as it turned out, the only goal of the game. 5500 for the prediction and his 500 appearance fee gives him a nice take-home of 6000 tokens. Well done Sir!
Everyone else picks up their 500 appearance fee and that includes a long-time player who finally returns to the squad, @jersteemit. Welcome back, mate! 500 is on its way to you along with @anderssinho, @chrisparis, @jfang003, @hykss.sports, @monsterbuster, @friendlymoose, @behiver, @marvinix, @lebey1, @bitandi, @corporateay and @amr008.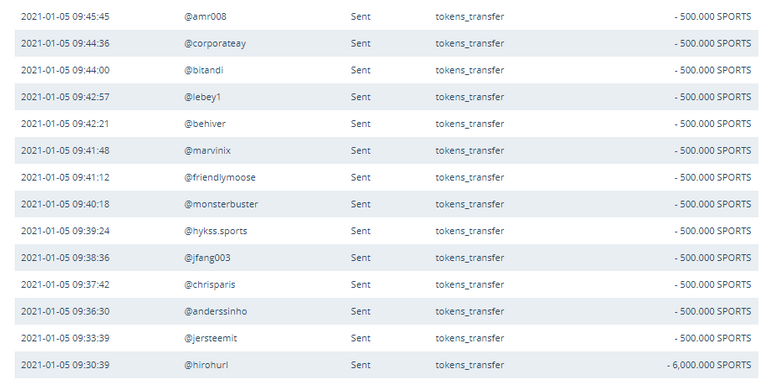 If anyone knows a quicker way to send tokens to multiple users. please let me know! It takes ages lol...
Well, that's another day sorted out! As we get more players, there is an exponentially higher chance of this old boy making a mistake so if I do miss anyone, please shout out!
As always, good luck tonight and a huge thank-you for creating some engagement and playing along.
Marching On Together (to Crawley in the FA Cup on Saturday)