Mourinho's comment was telling, he said "this is our reward for taking the cup seriously" which is how to should be and there were no surprises at the outcome. Not a stroll in the park but a decent day at the office and a shock first goalscorer whom no one predicted. The score, however, was another matter! Full details at the end.
It's the big one today and a repeat of last year's semi which City won by 3-2 although that was over two legs. Today's Semi is just one game that will be finished tonight one way or another! This game is certainly going to sort out the men from the boys!!


This is going to be a really fascinating encounter for the neutral and I have to take into account United's recent rampage to the top of the table. As for City, they seem to have just got back to their best and if they both won their games in hand would currently be 1st and 2nd in the Prem. I'm calling it United 2 : 3 City with de Bruyne popping the first goal in.
Simply write the name of the FIRST GOALSCORER and the CORRECT SCORE as a comment. Competition closes 5 minutes before kick-off which is 19.45 GMT.
The Small Print
In the first goalscorer competition, own goals do not count. In the correct score competition, it's the score after 90mins. Extra time and penalties do not count and the pot for each competition will roll-over if there is no winner. If more than one person chooses the same first goalscorer or correct score, the prize is shared and everyone gets a little upvote! It seems I also need to add, one entry per person. Don't forget the new rule that only people with a rep of 45 or above are eligible to enter unless they have been approved. The bonus will be added to any winnings ONLY if Leeds United win and/or Man U lose and all payouts will never exceed 50% of post payout. Other bonuses paid out at my discretion.
And the winners were.....
Let's start with the players who got the correct score. Well done to @friendlymoose, @anderssinho and new boy @captaincryptic. A 5500 split makes about 1850 each plus your 500 appearance fee giving you 2350 each and a huge congrats from me!
Appearance fees go to @corporateay, @lebey1, @behiver, @hirohurl, @hykss.sports, @marvinix, @bitandi, @jfang003, @chrisparis. Thanks for playing along guys :-)
Hmmmmm @amr008 missing from training yesterday. Is he self-isolating?!!!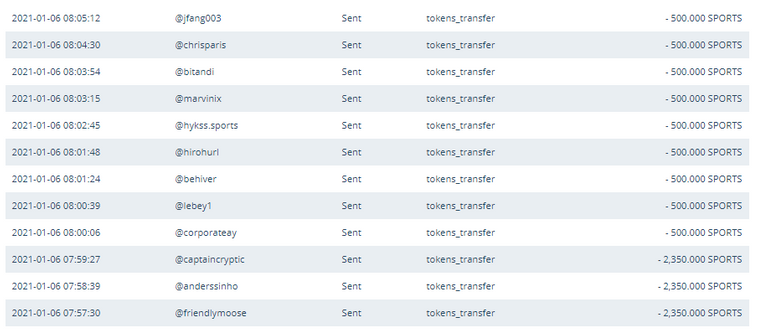 As always, good luck tonight and a huge thank-you for creating some engagement and playing along. Don't forget, if I've missed anyone or not spotted a correct prediction, just let me know in comments and it will be fixed!
Marching On Together (to Crawley in the FA Cup on Saturday)