I feel very sorry for Villa. Playing with a team of U23s and U18s against the Premier League champions but for those kids, it will be a day to remember.
They certainly weren't disgraced and made Liverpool work hard until they finally began to flag a little. That goal by 17-year-old Louie Barry was as cool as you like and belied his tender years.
Mane opened the scoring and for some of you, that wasn't unexpected but full details of our winners at the end.
So onto today and we stay with the 3rd round of the FA Cup and a juicy and what I feel to be a tricky tie!

The last time these two teams met was in League 1, 9 years ago which Exeter won. Things have changed but whilst Exeter are now in League 2 and sat in 10th after a reasonable start to the season, Sheffield Wednesday are struggling for their lives one point above the relegation zone in the Championship and with a caretaker manager who, along with many of his team, can't attend nor take part in the game due to Covid. It's not looking good!
I'm going to call it an upset and predict a 2-1 scoreline to Exter with Matt Jay to score the opening goal.
Simply write the name of the FIRST GOALSCORER and the CORRECT SCORE as a comment. Competition closes 5 minutes before kick-off which is 15.00 GMT.
The Small Print
In the first goalscorer competition, own goals do not count. In the correct score competition, it's the score after 90mins. Extra time and penalties do not count and the pot for each competition will roll-over if there is no winner. If more than one person chooses the same first goalscorer or correct score, the prize is shared and everyone gets a little upvote! It seems I also need to add, one entry per person. Don't forget the new rule that only people with a rep of 45 or above are eligible to enter unless they have been approved. The bonus will be added to any winnings ONLY if Leeds United win and/or Man U lose and all payouts will never exceed 50% of post payout. Other bonuses paid out at my discretion.
And the winners were.....
Well, no one got the correct score but @hykss.sports, @jersteemit and @corporateay all correctly predicted Mane to score the first goal. 6500 split plus your appearance fees give you 2700 tokens each.
The rest of you guys, @jfang003, @friendlymoose, @anderssinho (x2 cos I forgot, sorry mate!), @marvinix, @lebey1, @amr008, @cabinet24, @hirohurl and @bitandi all pick up their appearance fees!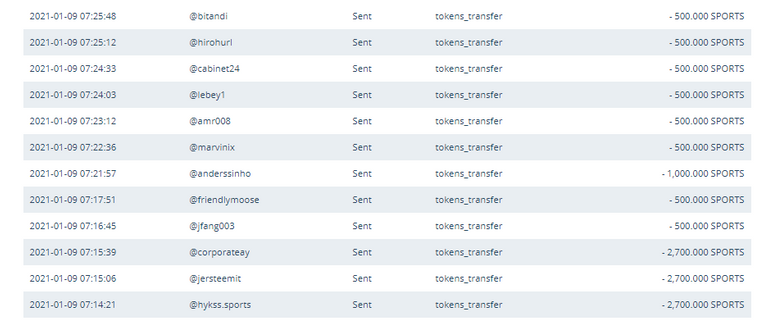 As usual, if I have cocked up and missed anybody (like I did yesterday!!) please let me know in comments. Thanks again for playing along and creating some engagement and good luck!
Stay safe and sane wherever you are.
Marching On Together (to Crawley in the FA Cup tomorrow)