After a weekend of contemplation, sulking and tantrums, I have decided on a pragmatic approach to Friday night's unlucky loss!
We played well and were the best team but still the same issues with getting into great goalscoring opportunities. Bamford was again denied by a very dodgy VAR decision and the own goal was just downright unlucky. We go again on Tuesday against Southampton but there will be no mention of that here!
The only bright spot was that the result saved me a fortune in tokens as for the second time in two games, no one managed to come up with the winning score or the first goalscorer which as it was an own goal, means it wouldn't count anyway.
The bright spot for you guys is that the prize pool is now up to 14000 tokens, just like Bitcoin, it keeps going up so without further ado, let's have a look at tonight's game...

Two teams that are struggling with just three points and three points separating them near the bottom of the table with the slim advantage being in the favour of Palace.
However, Palace appears to be a one-man team. They haven't won a game in the 5 matches they have been missing Wilfred Zaha and it would be a brave man to suggest that tonight will be any different. With the might Ben White, who is subject of a rumoured £40m bid by Liverpool, in the Brighton starting line-up, goals will be extremely difficult to come by.
With Brighton being the form team of the two coming into this game unbeaten in their last 6, it will be a miracle if Palace comes away with anything. Brighton also have their troubles in front of the goal so it's not going to be a high-scoring game, they have only scored 4 in this current run, but it won't be too much longer at this rate that Brighton pull themselves up and well clear of the relegation zone, probably at the expense of Palace and especially if Sanchez the goalie continues the almost 50% clean sheet rate!
Prediction: Brighton 1 : 0 Crystal Palace - First Goalscorer: Alzate
Simply write the name of the FIRST GOALSCORER and the CORRECT SCORE as a comment. The competition closes 5 minutes before kick-off which is 20.00 GMT.
The Small Print
In the first goalscorer competition, own goals do not count. In the correct score competition, it's the score after 90mins. Extra time and penalties do not count and the pot for each competition will roll-over if there is no winner. If more than one person chooses the same first goalscorer or correct score, the prize is shared and everyone gets a little upvote! It seems I also need to add, one entry per person. Don't forget the new rule that only people with a rep of 45 or above are eligible to enter unless they have been approved. The bonus will be added to any winnings ONLY if Leeds United win and/or Man U lose and all payouts will never exceed 50% of post payout. Other bonuses paid out at my discretion.
And the winners were...
None of us :-( but at least you all get your appearance bonus, and there were quite a few entries last time so here we go!
@cabinet24, @espandor, @lebey1, @hykss.sports, @pusen, @friendlymoose, @marvinix, @anderssinho @evegrace, @hirohurl, @numpypython, @jfang003, @pele23, @chrisparis, @p15 and Captain @metzli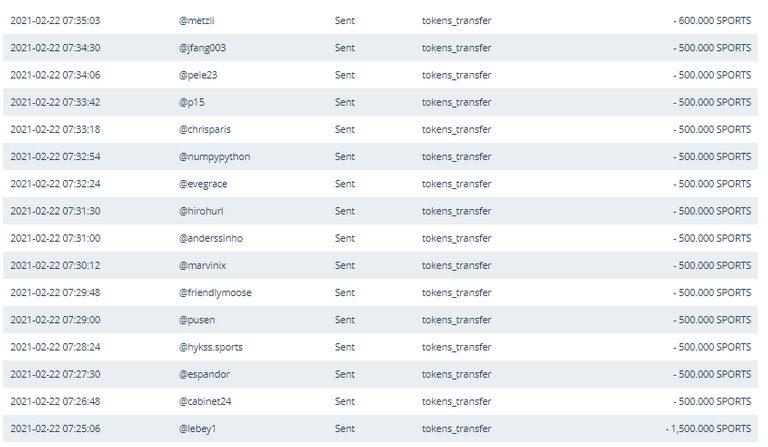 AS usual, thanks for joining in and all the engagement. If I dropped a bollock, please let me know in the comments and it will be rectified!
.
.
.
.
OK, it wasn't all doom and gloom for @lebey1 anyway. He takes home 1000 tokens after winning our little side wager. Thanks for being a sport mate :-)
Marching On Together