I was really hoping for West Brom to beat Arsenal, sorry @pusen, but I actually predicted the correct score for the first time in weeks. So did a load of you guys but the first goalscorer was Smith-Rowe with his first-ever goal in the Premier League and no one got him!
And so as we enter the final two weeks of the season, a HUGE game tonight and a real 6-pointer between two clubs fighting for survival, one of them more than the other...

Take a look at the bottom of the table...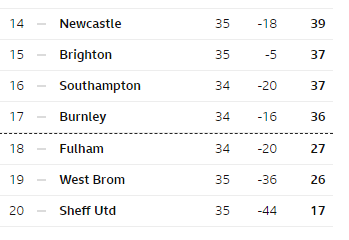 This is a huge game for both Fulham and Burnley. If Fulham win, they close the gap to 6 points, if Burnley win or draw, they are safe and Fulham are gone!
The problem for Burley is that Chris Woods has an injury, and if he doesn't play, they will lose. He is the only Burnley player to score over 3 goals this season and without him, the best they can hope for is a draw.
Fulham will be fighting to keep their Premier survival hopes alive but they are also not scoring. Only one possible result for me tonight...
Prediction: Fulham 0 : 0 Burnley
Simply write the name of the FIRST GOALSCORER and the CORRECT SCORE as a comment. The competition closes 5 minutes before kick-off which is 19.00 BST
The Small Print
In the first goalscorer competition, own goals do not count. In the correct score competition, it's the score after 90mins. Extra time and penalties do not count and the pot for each competition will roll over if there is no winner. If more than one person chooses the same first goalscorer or correct score, the prize is shared and everyone gets a little upvote! It seems I also need to add, one entry per person. Don't forget the new rule that only people with a rep of 45 or above are eligible to enter unless they have been approved. The bonus will be added to any winnings ONLY if Leeds United win and/or Man U lose and all payouts will never exceed 50% of post payout. Other bonuses paid out at my discretion.
The Winners were...
A huge shout out to the players who got the correct 3 : 1 result and so @marvinix, @tobywalter and @chrisparis will take home a shred pot of 2000+500 tokens each.
Appearance fees go out to @harpreetjanda, @tokutaro22, @mayorkeys, @jersteemit, @yeckingo1, @corporateay, @hirohurl, @hykss.sports and @ralph75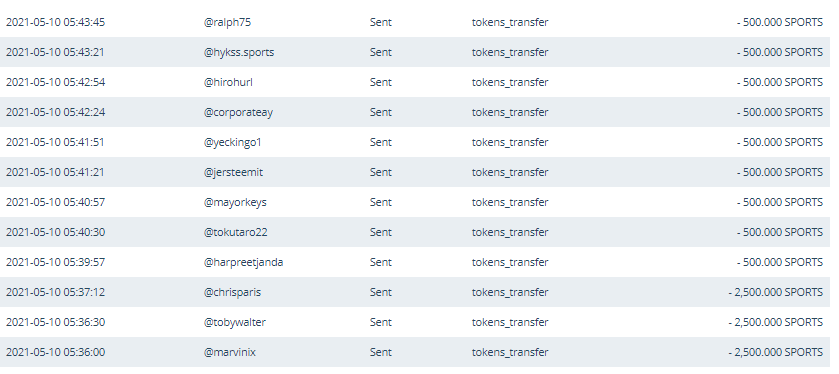 As usual, check very carefully. Yesterday, I screwed up and sent 3500 tokens to a dead account but if @tokutaro22 checks, he will see I resent them to the right account now!
@friendlymoose. @pusen and @cabinet24; WHERE ARE YA ?
Thanks for playing along everyone and I hope you have a great week,
Marching On Together