You didn't see that coming did you gang? What a game with City coming from behind twice to finally take the points by 4 goals to 3 in their favour.
Krafth got the first goal for the Toon, Torres got a hat-trick and Tyneside's very own Haaland got a fifth goal in five games. Willock is going to have a huge price on his head this summer.
Annnnnnd, no one got a jackpot, but don't despair. The pots go up with a respectable 12500 in the kitty.
And on to today, and one of these two teams is desperate to win...

Brighton are safe and will play in the Premier League next season for the fifth year in a row which is pretty remarkable for such a little club who were close to going out of business not so long ago. Today they'll be playing for pride and a chance to beat last year's nice wins which is what they currently sit on. However, they will be without their suspended captain, Lewis Dunk, and defender Neal Maupay.
West Ham look to have lost their chance of 4th and a Champions League place but still need to finish in 5th to guarantee themselves a place in Europa League which they lost after Liverpools mid-week win. Everything to play for but they seem to be struggling and I have a feeling that Brighton are going to get something out of this!
Prediction: Brighton 1 : 1 West Ham - First Goalscorer: Jesse Lingard
Simply write the name of the FIRST GOALSCORER and the CORRECT SCORE as a comment. The competition closes 5 minutes before kick-off which is 20.00 BST
The Small Print
In the first goalscorer competition, own goals do not count. In the correct score competition, it's the score after 90mins. Extra time and penalties do not count and the pot for each competition will roll over if there is no winner. If more than one person chooses the same first goalscorer or correct score, the prize is shared and everyone gets a little upvote! It seems I also need to add, one entry per person. Don't forget the new rule that only people with a rep of 45 or above are eligible to enter unless they have been approved. The bonus will be added to any winnings ONLY if Leeds United win and/or Man U lose and all payouts will never exceed 50% of post payout. Other bonuses paid out at my discretion.
The Winners were...
As I mentioned at the top of the page, no one, but everyone who took the time to join in takes home their appearance fee so a big thanks to; @pusen, @harpreetjanda, @tobywalter, @corporateay, @cetyoung, @jersteemit, @jfang003, @ralph75, @chrisparis,, @mayorkeys, @yeckingo1 and @tokutaro22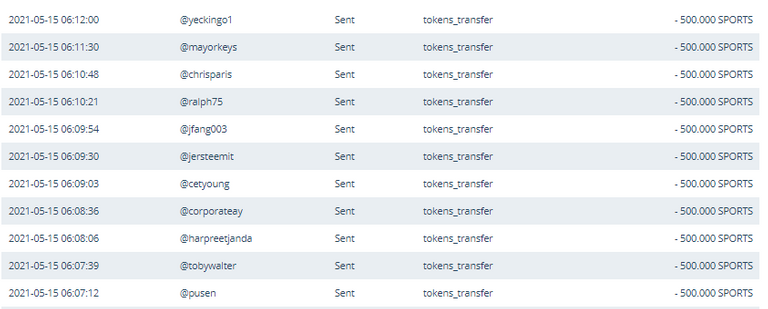 There you have it! check carefully and please let me know if I missed anyone. No double up for the Leeds game today cos I'm saving up for something ab it special next Sunday which of course is the last day of the EPL!
Have a great weekend guys and I'll catch you all back here tomorrow.
Marching On Together