I bloody knew I was being too kind yesterday! A quick glance down the runners and riders seems to suggest almost everyone got a share of the jackpots.
I am offering a big bonus today to one player so keep reading until the end!
Mount to score first and a 2-1 result in favour of Chelsea couldn't have been worse for me but no worries, after I've spent an hour doing the complex maths and emptying the piggybank again, take a look at what the match we're featuring today ;-)

I've always been a fan a Ghanaian football, no, seriously. The reason for this is one man. A hero, a genius and one of the greatest players ever to pull on the white shirt and the scorer of the greatest ever goal the world has ever seen. I am of course talking about Tony Yeboah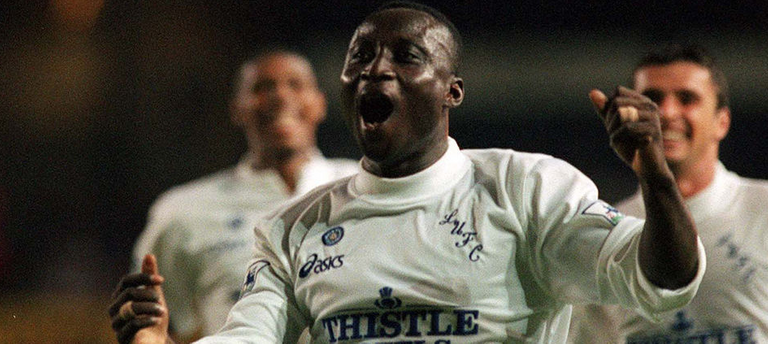 Photo from Public Domain www.leedsunited.com
I will post the video of 'that' goal against Wimbledon at the end of this post but as you can tell, I'm waffling a little as I have obviously no idea who will win tonight so let's have a look at the tables!

Putting my highly trained knowledge of Africa football to work, I can immediately use my years of experience and intelligence to see that, technically speaking, Berekum Chelsea are shit and that Elmina Sharks are slightly less shit. So that means just one thing...
Prediction: Elmina Sharks 1 : 1 Berekum Chelsea - First goalscorer: Steven Owusu Kaakyire
Simply write the name of the FIRST GOALSCORER and the CORRECT SCORE as a comment. The competition closes 5 minutes before kick-off which is 18.00 GMT.
The Small Print
In the first goalscorer competition, own goals do not count. In the correct score competition, it's the score after 90mins. Extra time and penalties do not count and the pot for each competition will roll-over if there is no winner. If more than one person chooses the same first goalscorer or correct score, the prize is shared and everyone gets a little upvote! It seems I also need to add, one entry per person. Don't forget the new rule that only people with a rep of 45 or above are eligible to enter unless they have been approved. The bonus will be added to any winnings ONLY if Leeds United win and/or Man U lose and all payouts will never exceed 50% of post payout. Other bonuses paid out at my discretion.
And the winners were...
Here we go!! The first goalscorer, Mason Mount, was won by new boy @nonsowrites so he wins 5500 for that.
The correct score of 1:2 was correctly predicted by @nonsowrites (again!), @anderssinho, @chrisparis and @saswat036 and they win 5500/4= 1375 each. All the above also get their 500 appearance fees.
Appearance fees go out to @friendlymoose, @hykss.sports, @marvinix, @jfang003 and @jersteemit


Just check your wallets and double-check my maths, please! Any problems, drop me a comment.
5000 Token Bonus.
Take a look at that picture I posted of SIr Tony. I want to know who the other two players are in the photo. Add their names to your comment please and I will pick pay 2500 tokens to the first person to get both names and split 2500 between the other correct entrants.
NO EDITS. ANY EDITS WILL BE DISQUALIFIED
And finally, for your pleasure. 'THAT' Goal against Wimbledon.....
Take it away, Sir Tony Yeboah
Marching On Together