In the early days of February, Burnley ended Liverpool's home wins record after Barnes striked to put Burnley ahead. Little did we know that this was just the beginning of Liverpool's woes in the 2021 EPL season. Ever since that record-breaking lose, it has been frustration upon frustration for Jurgen Klopp and his men. Liverpool have since lost five times consecutively at Anfield! Quite unbelievable and unfortunate.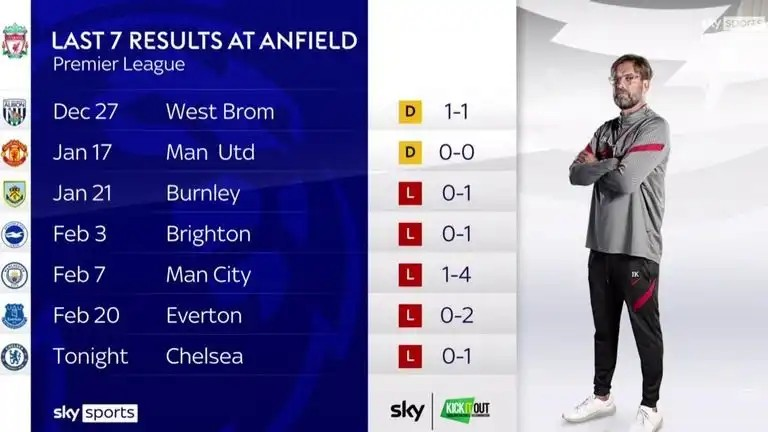 This continuous match losses have seen Liverpool moving down the EPL table in a progressive manner. Currently, the REDS are sitting at the number seven position. This is so saddening and unexpexted for a defending champion. I mean, I expected a better performance from the REDS this season but I guess, I and others have been disappointed. As a fan, I find it difficult to explain the current state of Liverpool and I can only hope there is an improvement soon.
I miss those winning days of Liverpool. I miss watching a very solid and balanced Liverpool side. All the same, there will always be good days and bad bays so, we can just say that Liverpool's bad days are here and lingering. As a fan also, you have to be a true one. Don't fan a Club only when there are having good days. Don't also utter abusive words on players when in bad form. I tend to notice this a lot whenever I go to viewing centres but funnily enough, those guys cannot hear you and they'll equally get their salaries. So, why get yourself annoyed?
Chelsea's victory against Liverpool has taken the Blues to the number four spot while Liverpool remain at number seven. With this, Chelsea are sure of a Champions League qualification whereas Liverpool is unsure. It was a good game against Chelsea but Liverpool men especially Mohammed Salah and Sadio Mane failed to capitalize on opportunities. Good news is Diogo Jota and Fabinho are both back in action.
It is not yet over for Liverpool. I believe they will end well.