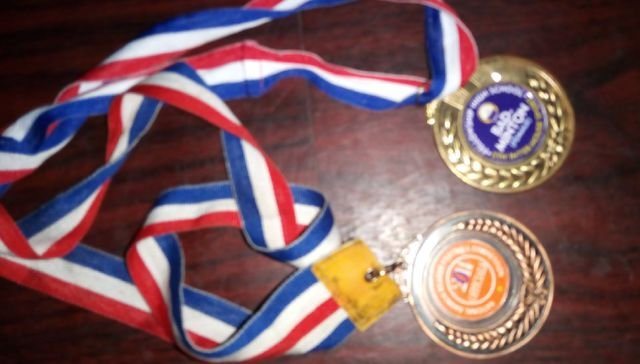 Medals are the true motivation and inspiration for future participation in athletic and or sporting activities around the world. Beyond the pride that goes with displaying them in your house or office, the memories of those iconic moments are crucial in boosting an athlete's sporting morale.
Each time I have a glance of the medals I've received at one point or another, it excites me and inspires me to keep moving forward. It also births the consciousness that life in it's true sense is a sport for we all run for a price at last. Therefore, everyone should be able to staying focused on his/her goal and this is what would guarantee the price.
I had a school contract me to prepare a medal for their students during one of their annual inter-house sports competitions. Just then , I remembered I had received a medal as a player in a team that played to the finals of a football tournament.
The medal was received in 2013 but still inspires me today each time I see them hung in my archives of treasures.
The path to reviving success medals involves walking through the challenges. Anyone who chickens out cannot receive the honour but those who persevere to the end will. Life is Sports and there are medals to be won.
Who's there that wants to give-up with life, just take a deep breath and move again. The next strike may be the winning strike.
Medals mean a motivation and an inspiration for me, what do they represent for you?