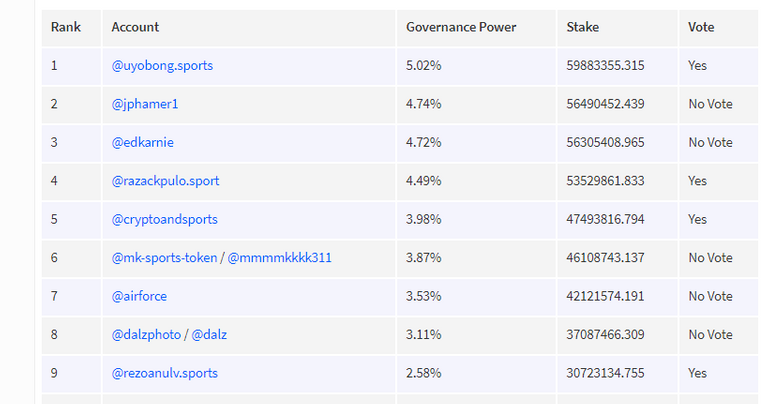 The adoption of a proposal voting system in the SportsTalkSocial (STS) tribe from Archon's governance model has made SPORTS to be more valuable beyond earning curation rewards. As at today, a stake of SPORTS is equally important in decision making as it relates with major changes in the tribe as well as approval of proposals that would receive funding from the community fund.
Thus, based on the amounts of SPORTS held in stake, a proportion of that amount to the total SPORTS stake of all users show the governance power of a SPORTS stakeholder. Few days ago, it was revealed that the governance power of this account is 5.02%
This means that of all SPORTS stakeholders, I hold 5.02% of the total stakes which allows me 5% powers to influence the decision of the community. However, it goes deeper than that. The governance model allows a decision to be passed if 51% out of 100% GP votes either for or against. Thus, it gives a stakeholder a double chance of influencing governance.
For me, I think I have close to 10% influence when it comes to proposal voting and this is possible with a little over 60 million SPORTS token in stake. That isn't enough for me yet, since some stakeholders may not be interested and a proposal suffers as we noticed few days ago. Only 49% GP cast their votes and the proposal got wasted.


500k SPORTS powered up
I'm pushing my SPORTS stake further and 200 million is the grand goal. I may not be able to tell how long it would take to get to that level especially as SPORTS price begins to gain value. However, in bits, it looks very possible. Adding half a million SPORTS to my stake would help improve my GP but I can't tell by how much since other users are also powering up.
As one who is interested in the build of the community, it is important to hold some controlling stake so as to avoid such setbacks as we had with 50% Tax proposal which have to be re-funded and re-voted. There is more to be done to make SPORTS the highly needed token on Hive.
It can only get better.