Felt so disappointed after a fashion designer failed us!

I was the best man of my uncle for his wedding a few months ago and I never really believed that a fashion designer could effectively shatter all the trust I and my uncle had in him. Its a bitter story, but the lessons has been learned - especially by my uncle.
A wedding event is always one of the biggest moments of one's life. And my uncle is this kind of individual that always go for the best. When he told me he want me to be his best man for the event, I was equally excited. The day we went to the market to purchase the cloth material for our suit, we took our time. Of course, we got a very expensive suit material of choice (NGN 15,000 per yard). We went with his fashion designer whom he has always spoken so highly of. He took the material we had bought since he will make the suit for us.
When we returned from the market, the fashion designer came to my office a day later and took my measurements. This happened 3 months before the wedding date. My uncle will always tell me he has the best fashion designer that makes all his cloths and he is always dependable. He will always speak well of the designer anytime I asked him about the suit - whether it was ready. Well, we were in for a big, shocking surprise.
1 month to the wedding date, I called to ask if the suits were ready so I can test mine and be sure everything is fine. Well, I always have doubts about fashion designers in my area because many of them are known to fail deadlines. So when my uncle told me that the suit was not ready yet, I was already beginning to confirm my fears. But my uncle was full of confidence and asked me not worry because he has known his designer for years.
I called again 2 weeks to wedding date. Again to my biggest surprise, my uncle said the designer will bring the suits in 3 days time. I almost faired up , but my uncle always full of trust for this designer asked me not to worry. I was already upset. He has failed the delivery date by more than 1 month. I need to wear my suit and if there are areas to retouch, he will have time. Now we have 14 days to go, but the suit is not ready yet.
The days flew really fast and 6 days to the wedding date, I visited my uncle and the suit was not ready. What surprised us was that this designer said he will deliver it the next day, that is 5 days to the time. I then asked my uncle to visit his shop and try to know what is happening. Why will it take 90 days to make 2 suits. My uncle was reluctant. Since he does not seem that worried, I relaxed as he suggested.
2 days to wedding day, the suit was on the way to us. The designer LIED that he was held in traffic. Alas! We later discovered he was lying. 24 hours to the date the suit was not ready. If not that I know my uncle for years, I will say that he was under some influence. He normally do not tolerate this kind of irresponsibility. But what kept him cool and always believing this guy, is something I have not understood yet.
So on that Saturday morning the actual wedding day, we were at the hotel. Yes, without the suits. I have to tell a friend to take us there. I took things into my hands. We went to this designers shop and I never felt so angry all my life. He was still joining my trousers. The inner jacks of the suit was still being ironed. My uncle literally roared at him. The whole people at the shop gathered and couldn't believe our story. I was shocked.
The bride and everyone was at wedding venue. The time to start the wedding was 11am. But we were still waiting for our suits by 12 noon. Calls were coming in and everyone was worried. I felt so bitter. I was burning with anger. The disappointment made me speechless. eventually by 12.40pm, the suit and trousers were ready, but the tie was not. We had to leave the tie. We went to a fashion shop, bought black ties and pocket fillers. We rushed back to the hotel, took shower and dressed so hurriedly.
We arrived the wedding hall by 2 p.m. It was so embarrassing to my uncle. We was shocked to the bone. I was so bitter too because I warned him severally when we had time to do something. Well it was his happy day and we somehow put up smiling faces. The wedding talk was done. When we returned to the hotel to prepare for the wedding reception, the designer brought the ties. My uncle did not speak to him at all.
The lesson: Please while you get ready for an important event, do not leave anything to chance. Follow up all arrangements. And if you have a fashion designer you trust so much like my uncle, please do not stay far from them. Continue to visit their shop and make sure you personally follow up the stages of your cloth design. I will never wish my enemy the type of disappointment I felt on his wedding day. I will share a few pictures of the wedding event.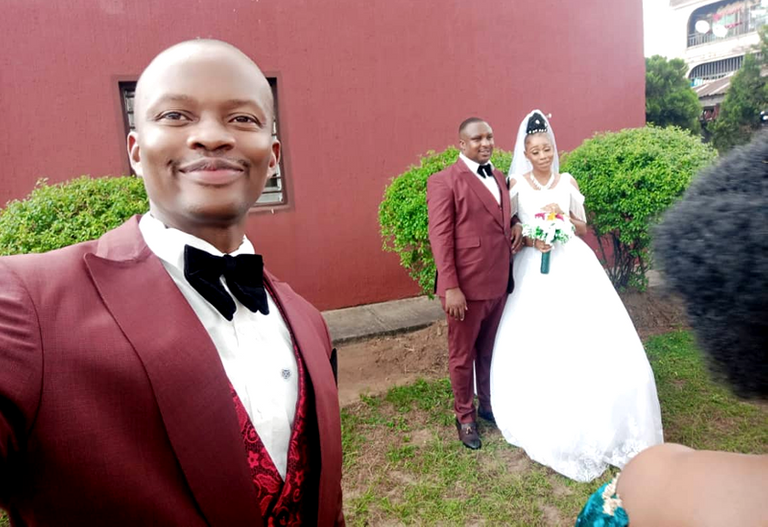 Selfie with my Uncle and his bride (Image captured by me - Redmi Note 11)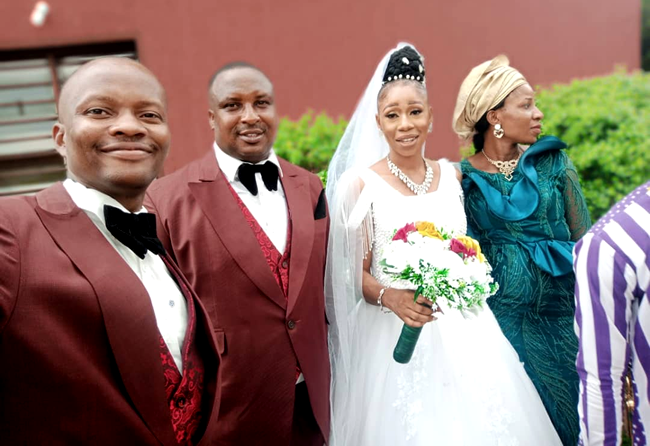 Selfie with the couple and friends (Image captured by me - Redmi Note 11)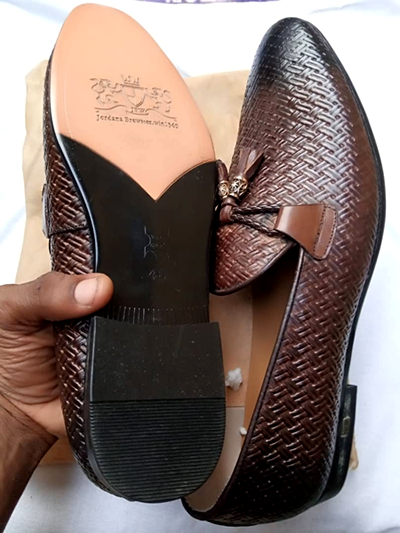 My shoes that day (Image captured by me - Redmi Note 11)
---
---