💕 Hello Hive Community! 💕
---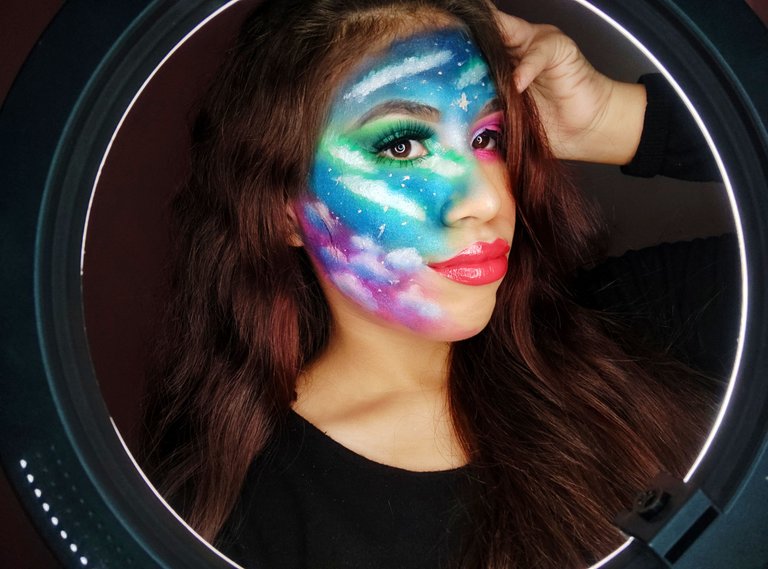 ---
Esta vez me encuentro retomando el reto de 10 días de maquillaje, de las chicas de la comunidad Makeup Power. Se supone que este día corresponde a un look favorito, algo que nos guste mucho en el mundo del maquillaje, a mi me gustan muchas cosas, mi técnica favorita es el Cut Crease, me gusta mucho la piel matte tanto como la piel muy radiante, me gusta los maquillajes full cobertura, la técnica más natural con foxy eye, me gusta usar mucho color y los brillos. Como ya he realizado mucho estas técnicas decidí en esta oportunidad hacer un Maquillaje Artístico, fue antes una de mis pasiones y estoy un poco oxidada en esto, así que les comparto este look sin nombre.
This time I find myself taking up the 10 days of makeup challenge, from the girls of the Makeup Power community. This day is supposed to correspond to a favorite look, something that we like a lot in the world of makeup, I like many things, my favorite technique is the Cut Crease, I like matte skin as much as very radiant skin, I like full coverage makeup, the most natural technique with foxy eye, I like to use a lot of color and glitter. As I have already done a lot of these techniques I decided this time to do a Makeup Artistic, it was before one of my passions and I'm a little rusty in this, so I share with you this look without a name.
---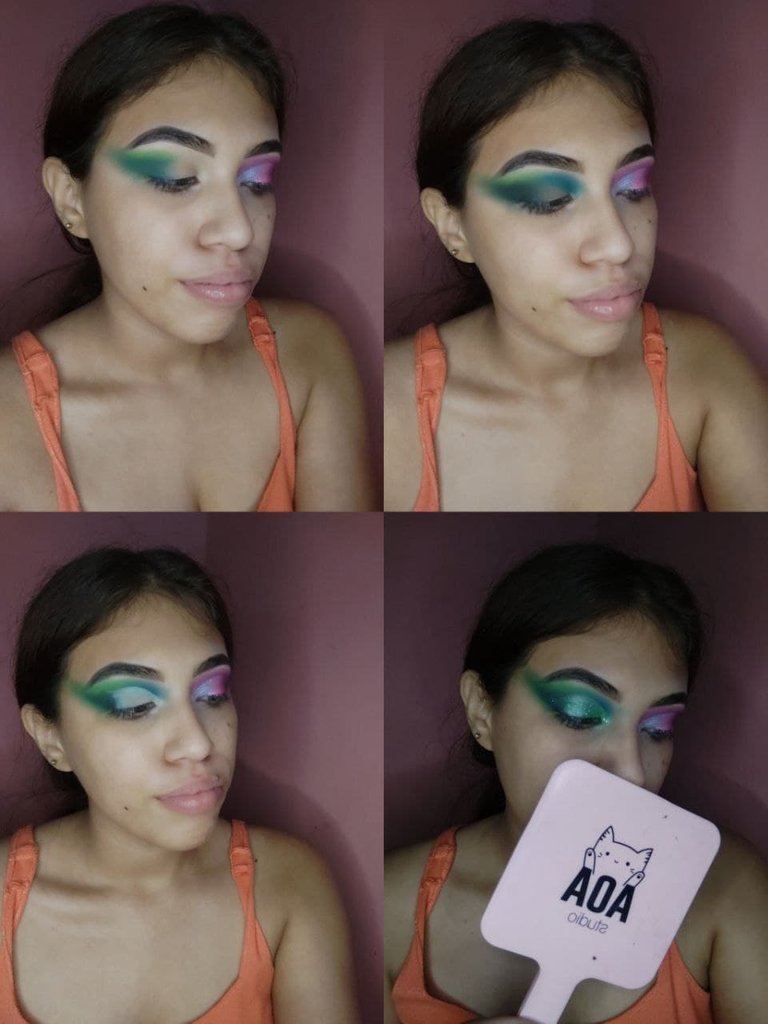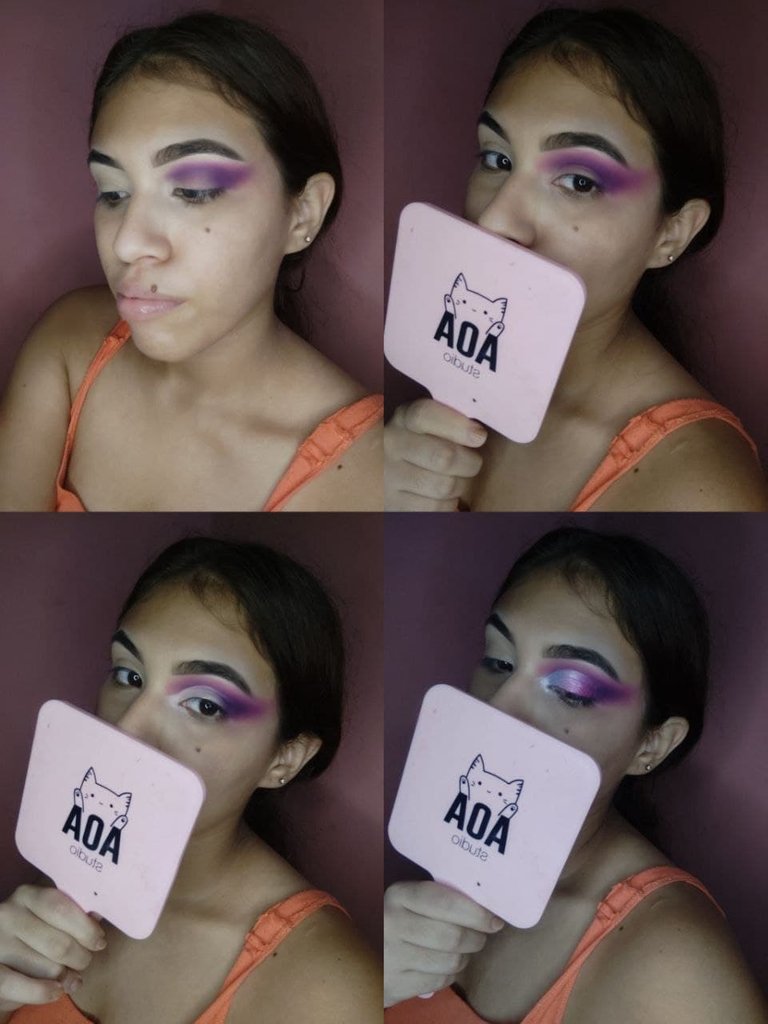 ---
Primero hice mis dos ojos, en ambos utilice el mismo estilo con una selección de colores diferente. En mi ojo derecho los colores fueron morados y rosados, por lo tanto coloque primero una sombra más oscura para la profundidad, después difumine con rosado y realice un Cut Crease, donde aplique 3 sombras metálicas, una lila, otra rosada y por ultimo una fucsia. En mi otro ojo utilice sombras verdes y turquesas, comencé aplicando verde oscuro en la esquina exterior y lo difumine con verde claro, en la esquina interior coloque sombras azules y turquesas difuminándolas entre si, luego realice un cut crease donde coloque sombras metálicas verdes.
First I did my two eyes, on both I used the same style with a different color selection. On my right eye the colors were purple and pink, so first I put a darker shadow for depth, then I blended with pink and did a Cut Crease, where I applied 3 metallic shadows, one lilac, one pink and finally a fuchsia. On my other eye I used green and turquoise shadows, I started applying dark green on the outer corner and blended it with light green, on the inner corner I applied blue and turquoise shadows blending them together, then I did a cut crease where I applied green metallic shadows.
---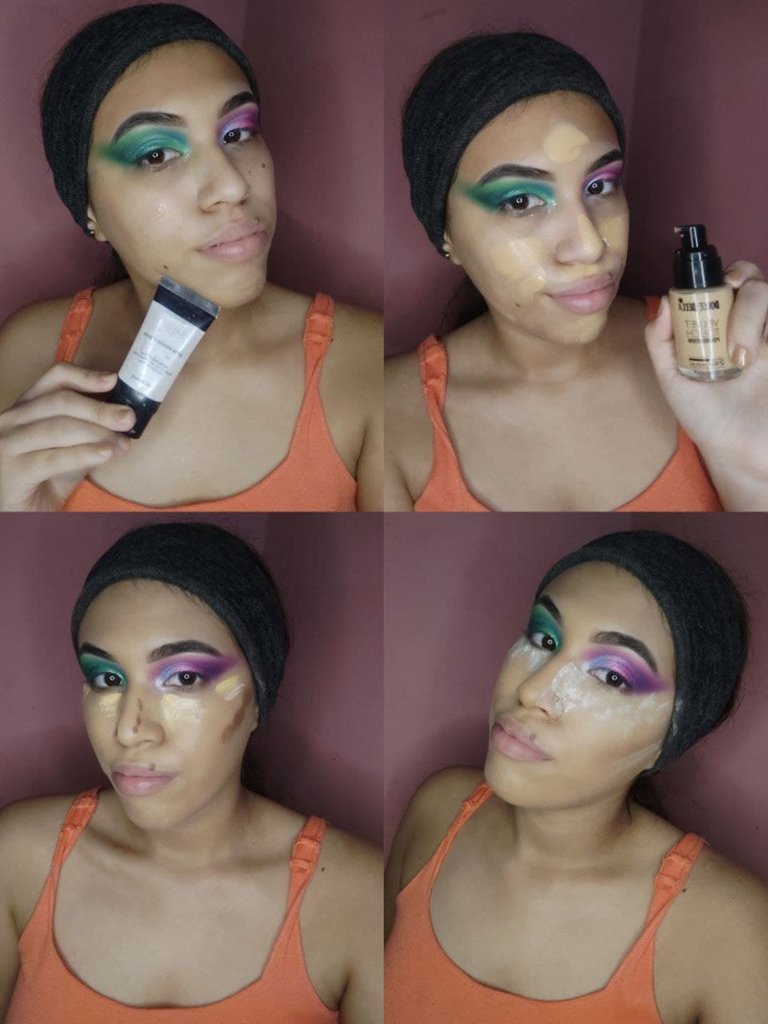 ---
Pase a hacer mi piel de una manera bastante básica, ya que iba a colocar muchas sombras en más de la mitad de mi rostro. Coloque primer para minimizar un poco la textura de mi rostro, aplique una base de alta cobertura de un tono levemente más claro que mi piel para tener un mejor lienzo. En el lado derecho de mi rostro coloque contorno y en ambas zonas de mis ojeras coloque corrector para neutralizar e iluminar levemente. Selle mi rostro con polvo suelto translucido para facilitar el difuminado de las sombras que iba a colocar y dejar el otro lado matte.
I went on to do my skin in a very basic way, since I was going to put a lot of shadows on more than half of my face. I placed primer to minimize the texture of my face a bit, applied a high coverage foundation of a slightly lighter shade than my skin to have a better canvas. On the right side of my face I contoured and on both areas of my dark circles I applied concealer to neutralize and lighten slightly. I sealed my face with loose translucent powder to make it easier to blend the shadows I was going to apply and leave the other side matte.
---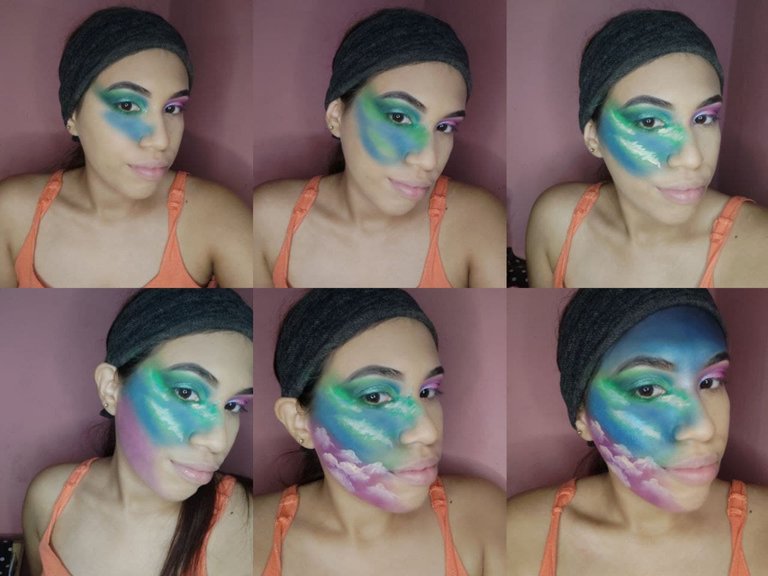 ---
Comencé aplicando sombras y pigmentos, principalmente azul y verde, luego experimente un poco con corrector para hacer algo parecido a la aurora boreal, un intento leve. Después fui colocando sombra morada en la parte baja de mi rostro donde luego hice nubes utilizando corrector. Volví a subir en mi rostro colocando sombras azules en mi frente, mezclándola un poco con negro. En cierto punto de mi look coloque un poco de sombras metálicas para potenciar más el color.
I started by applying shadows and pigments, mainly blue and green, then experimented a bit with concealer to make something like the aurora borealis, a slight attempt. I then went on to place purple shadow on the lower part of my face where I then made clouds using concealer. I went back up on my face placing blue shadows on my forehead, mixing it a bit with black. At a certain point of my look I placed some metallic shadows to enhance the color more.
---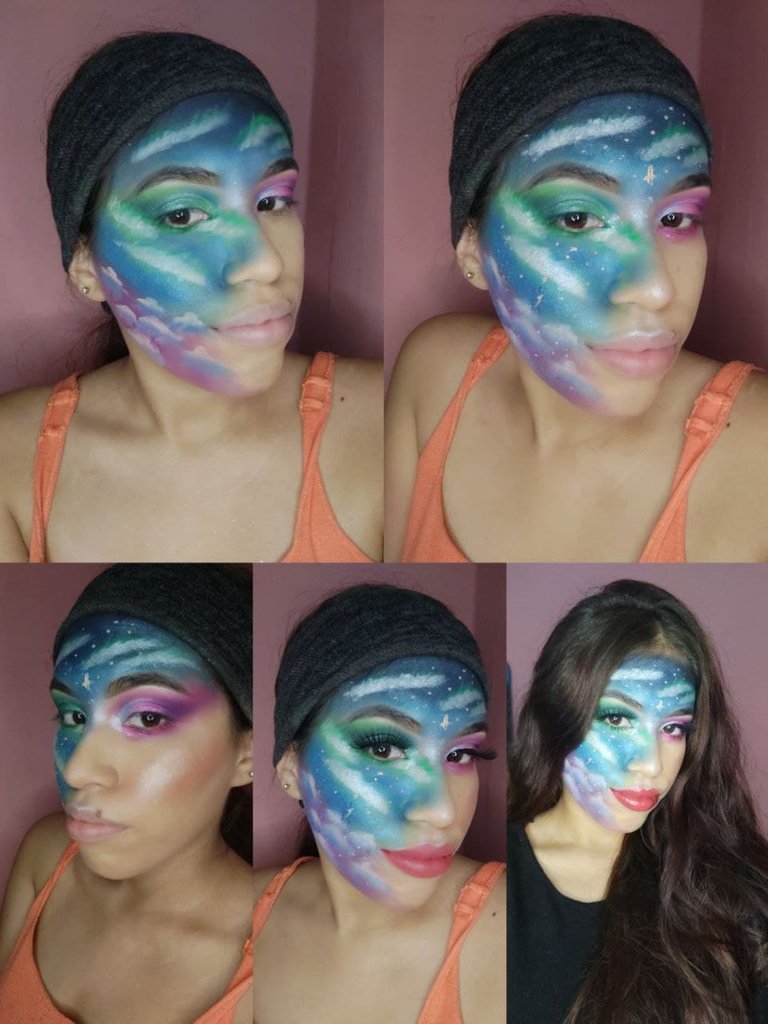 ---
Siguiendo con la forma de la "aurora boreal" lo lleve en mi frente y seguí integrando con el look, difuminando con los pigmentos y colocando más sombras metálicas, con un pincel hice puntos simulando estrellas. En el lado derecho de mi rostro coloque iluminador y rubor en polvo, complete la línea de las pestañas inferiores en el lado rosado, aplique un labial matte junto con un gloss después, finalice con pestañas postizas y mucha máscara de pestañas.
Continuing with the shape of the "aurora borealis" I took it on my forehead and continued integrating with the look, blending with pigments and placing more metallic shadows, with a brush I made dots simulating stars. On the right side of my face I placed highlighter and powder blush, completed the lower lash line on the pink side, applied a matte lipstick along with a gloss afterwards, finished with false eyelashes and lots of mascara.
---
---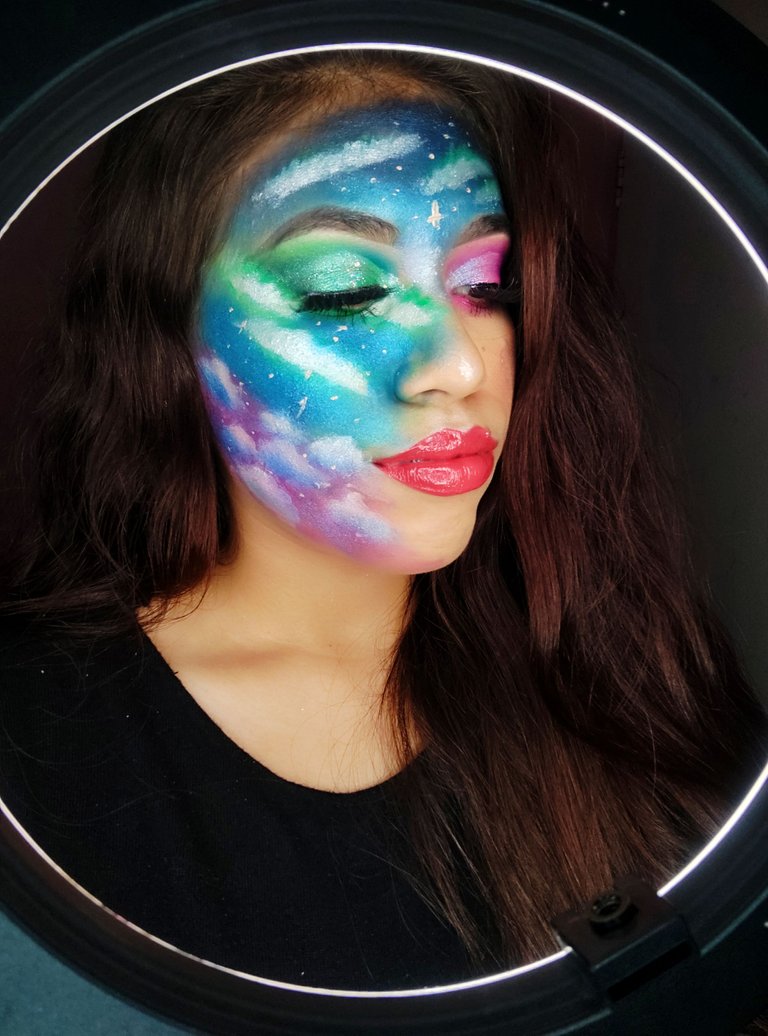 ---
---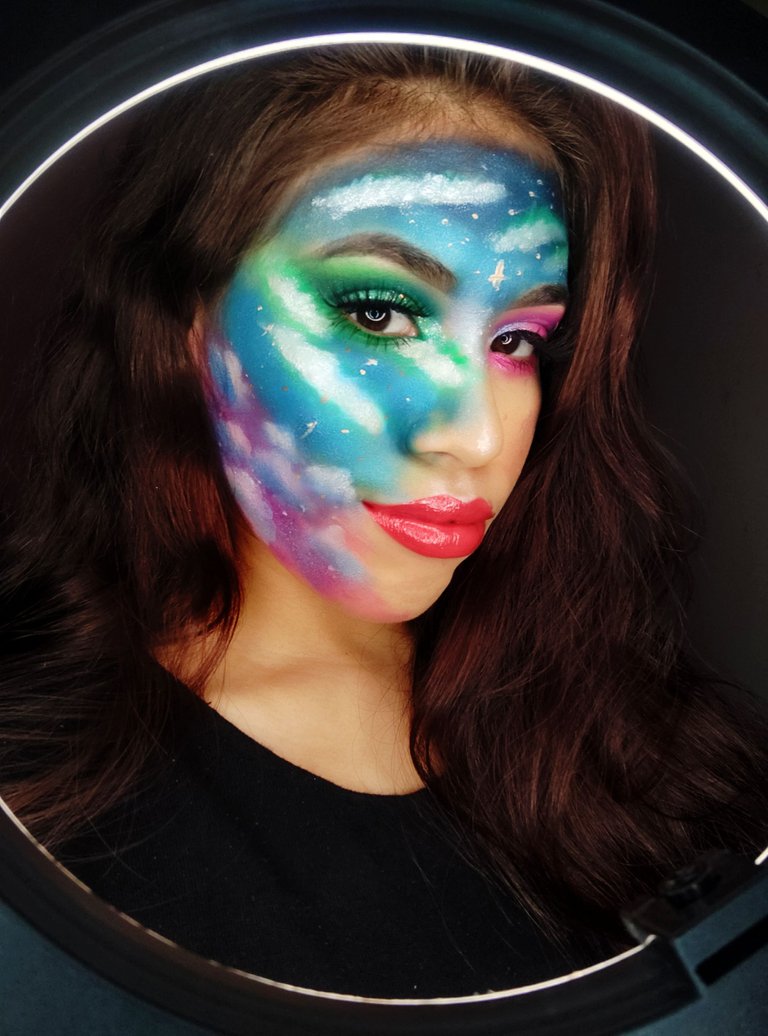 ---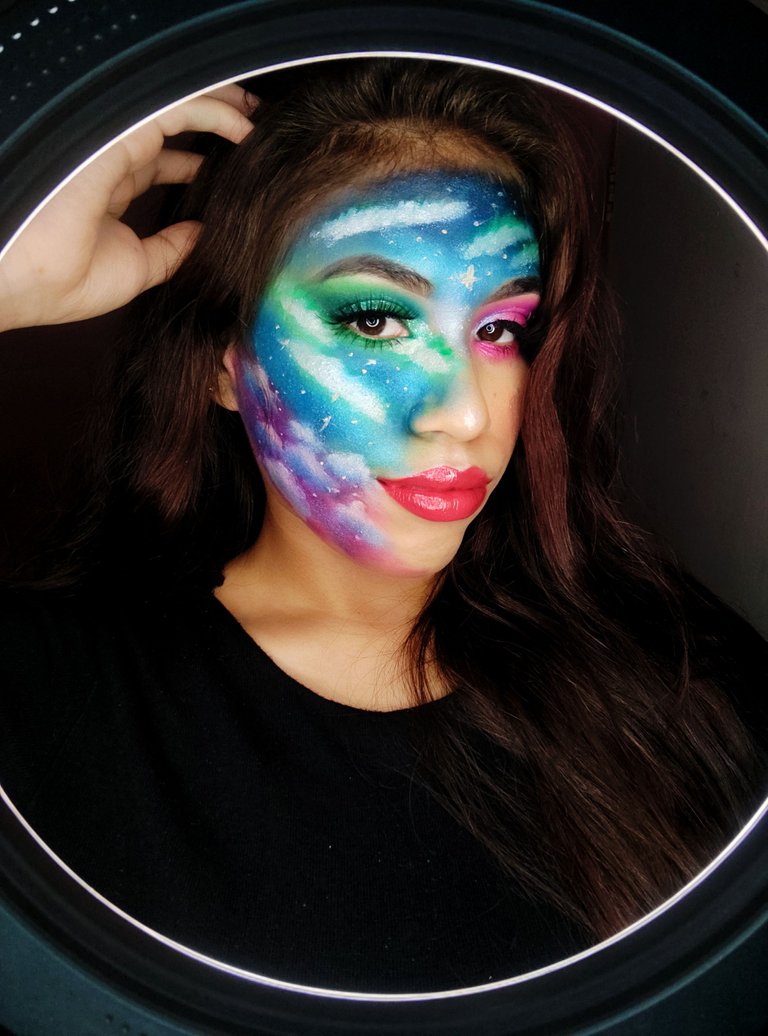 ---
Finalmente solté mi cabello y pase a tomar las fotos, siento que fue un poco desastroso pero logre mi objetivo con este look. mi cabello esta en su estado natural y suele estar siempre esponjoso así que lo pueden ver en las fotos un poco rebelde. Este maquillaje no tiene un nombre, me inspire en una artista del maquillaje que me gusta mucho pero no le coloque un nombre al look ya que no se muy bien que significa jajajaja. Espero que les haya gustado, nos vemos pronto!
Finally I let my hair down and went to take the pictures, I feel it was a bit disastrous but I achieved my goal with this look. my hair is in its natural state and it's usually always fluffy so you can see it in the pictures a bit unruly. This makeup doesn't have a name, I was inspired by a makeup artist that I really like but I didn't name the look because I don't really know what it means hahahaha. I hope you liked it, see you soon!
Pictures of my property.

Camera: CellPhone Xiaomi Redmi Note 10.









Si te gusta el maquillaje, el mundo de la belleza o hacer arte en tu piel te invito a la comunidad y al Telegram:




If you like makeup, the world of beauty or making art on your skin I invite you to the community and the Telegram:



---