Tales of the Urban Explorer: 'F.H. Brundle'

We had come for Eckersley Mill and had failed dismally. The problem with these derelict mills is that the owners try and rent out part of it, sometimes successfully and it's always the bottom floor spaces that get filled.
That leaves a huge upper empty mill with plenty of smashed windows but with an annoying business acting as 'guard dog' at the foot. They are hardly going to let us traipse through their shop so we can see the rest of it.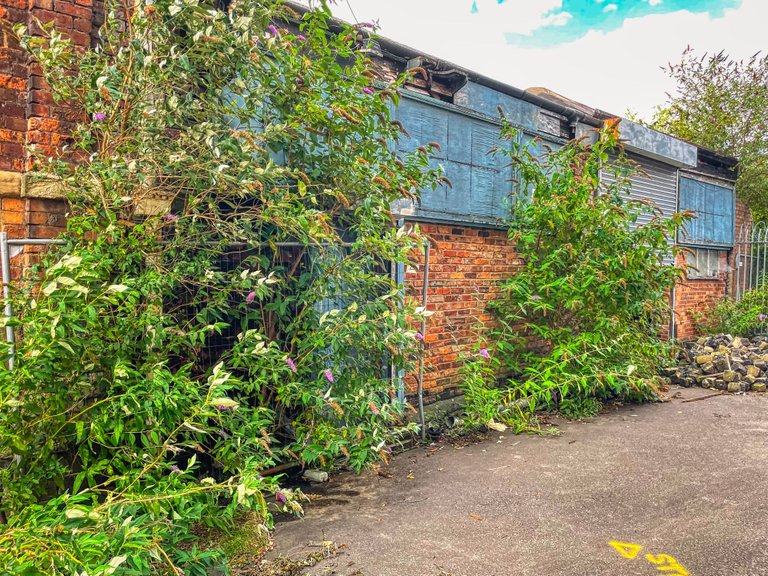 This was the case yet again. Mills are generally quite dull but on the odd occasion can surprise so we never discount them.
We were about to leave but spotted something terrible around the outlying edges. Terrible as in, overgrown with the customary laughable fencing trying to fend off intruders.
It was worth a look considering the day we had endured that had been filled with burnt-out decaying wrecks, and you never know what's on the other side of the external eyesore.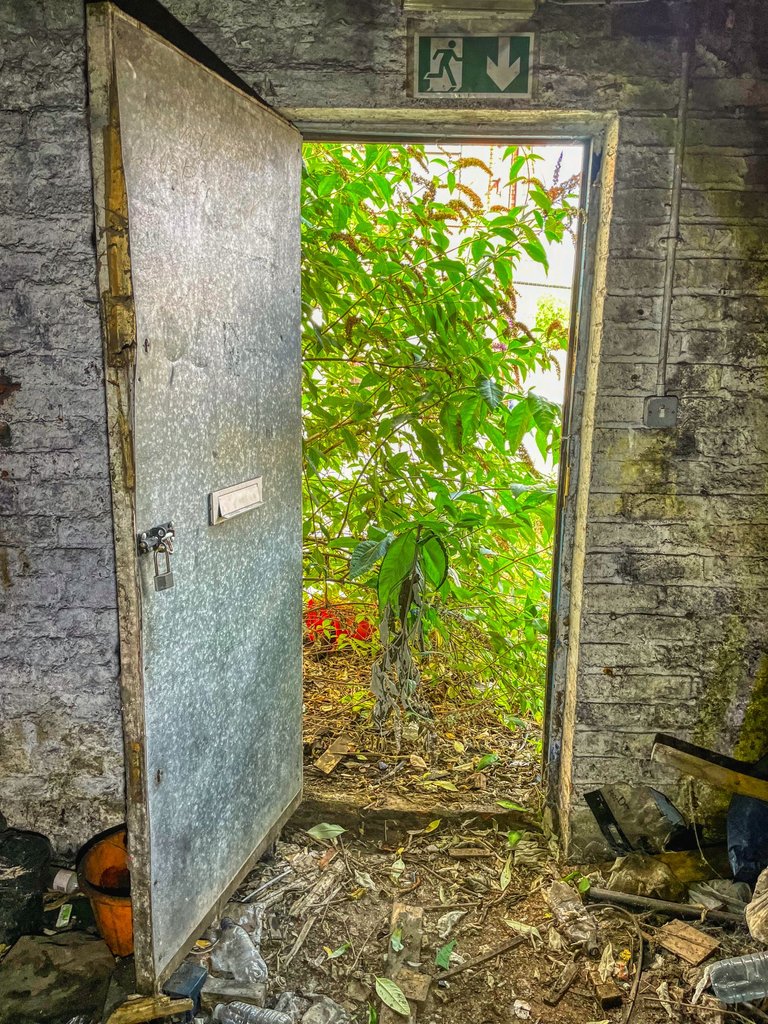 Working our way through the fencing we entered through a door boasting a padlock which was proving very ineffectual.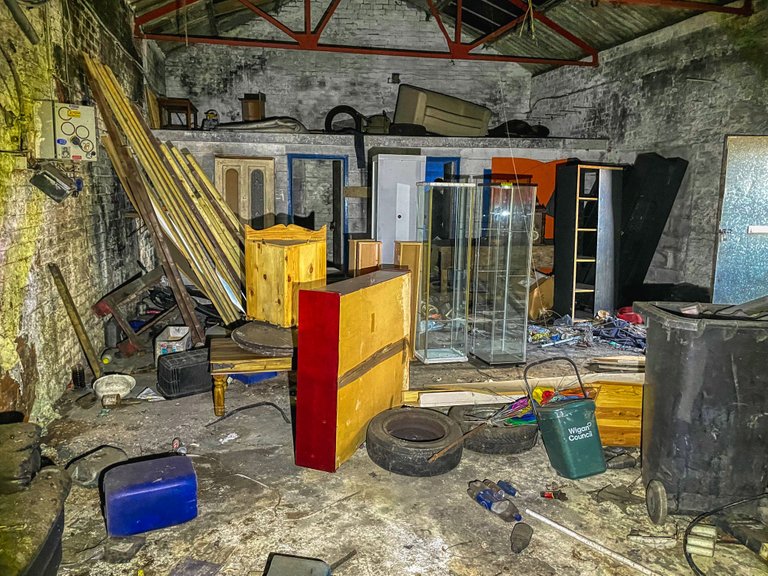 Inside was a mish-mash of junk and what looked like furniture parts, glass cabinets, and building materials none being of any vintage standard. Some old bald tyres had to join in of course as that is mandatory.
An office appeared to be at the bottom of the room and I made a mental note to visit that area shortly.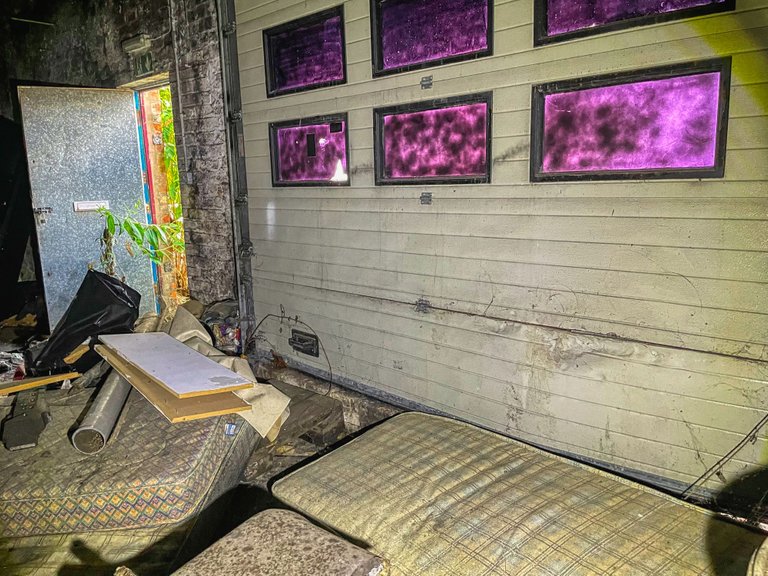 Either the homeless had moved in or this was also a place to store mattresses. The lack of slop-filled sleeping bags, used citric acid packs and needles told me otherwise.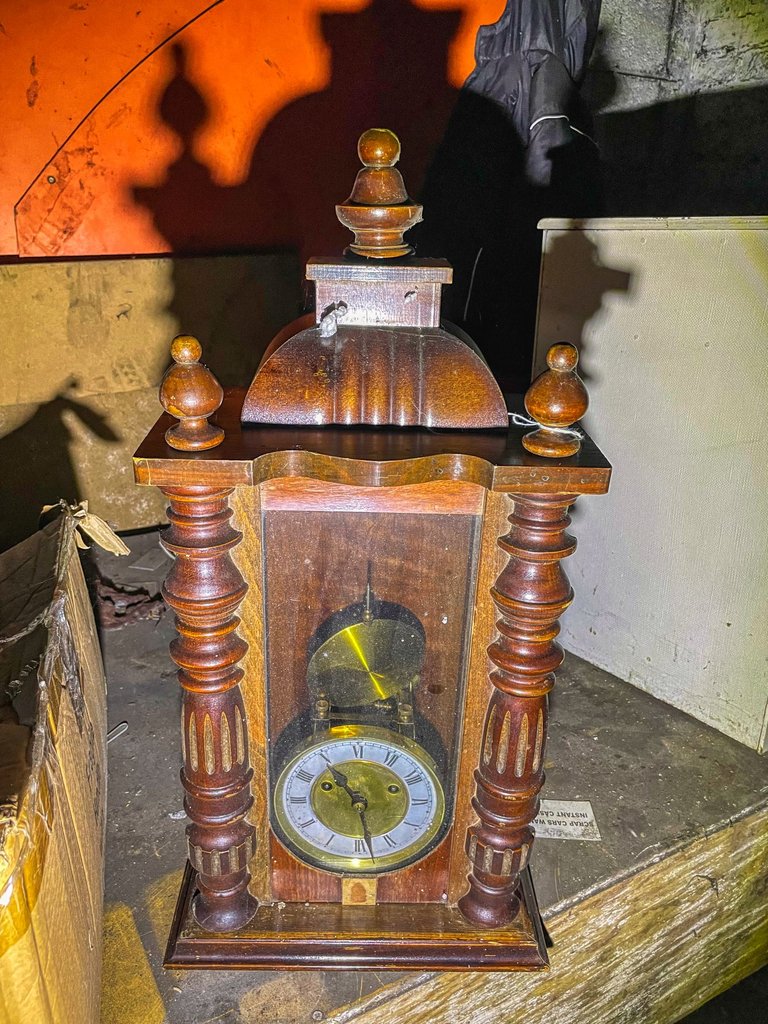 Was it an antique dealer who had left the clocks behind? I scrutinised one and it gave me the impression of 'Made in China' rather than lovingly hand-crafted in Switzerland by an old man with an enormous beard and crinkly eyes.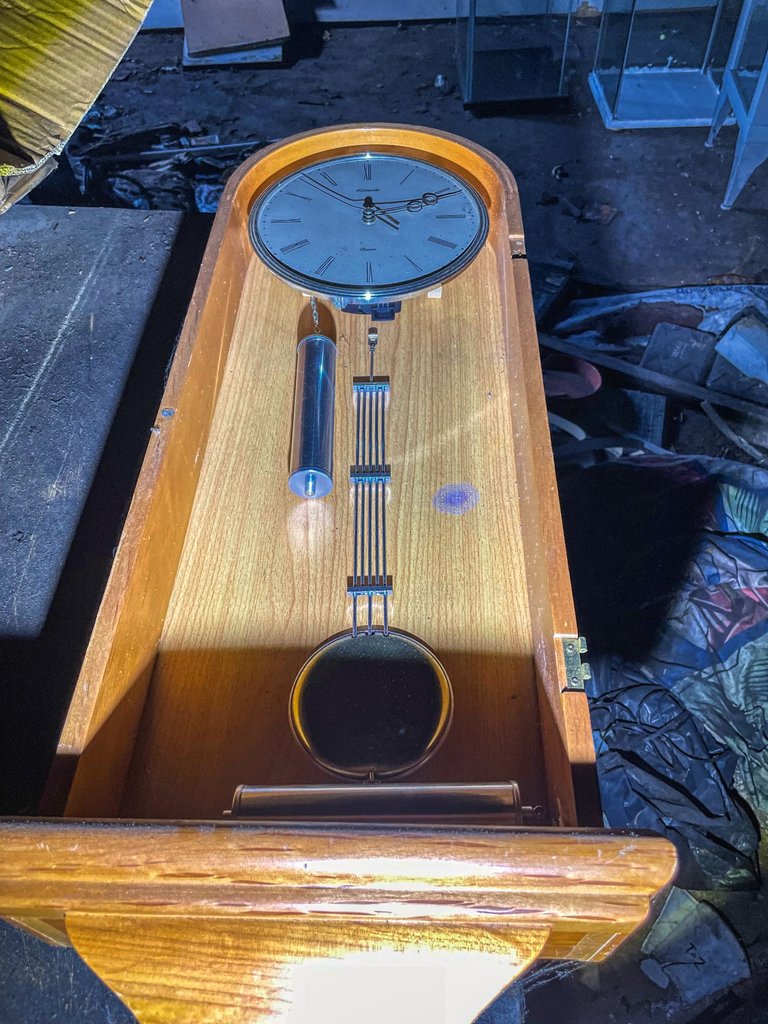 You may not find them in Pound Land but these clocks did not emanate a radiant quality. Placing them back, we headed to the rear intent on finding out the past life of this room, or building, or whatever it could be described as.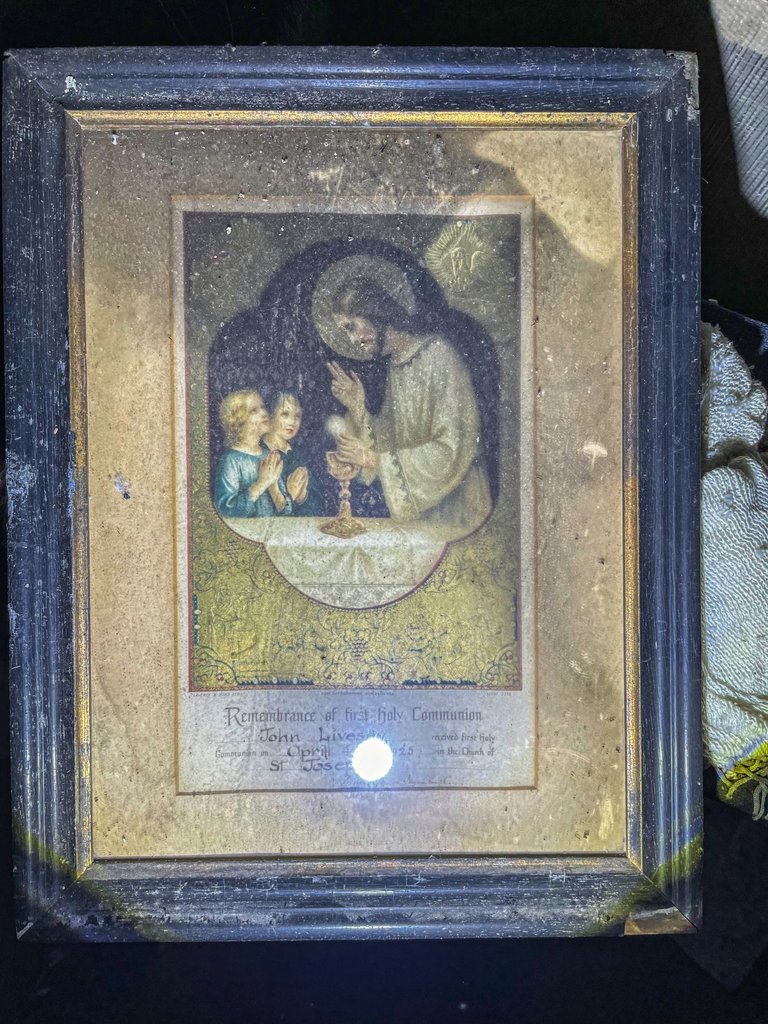 Bible-bashers perhaps once inhabited the room. It was pinned to the wall but 'John Livesey' had been baptised perhaps? I am not religious so feel free to correct me.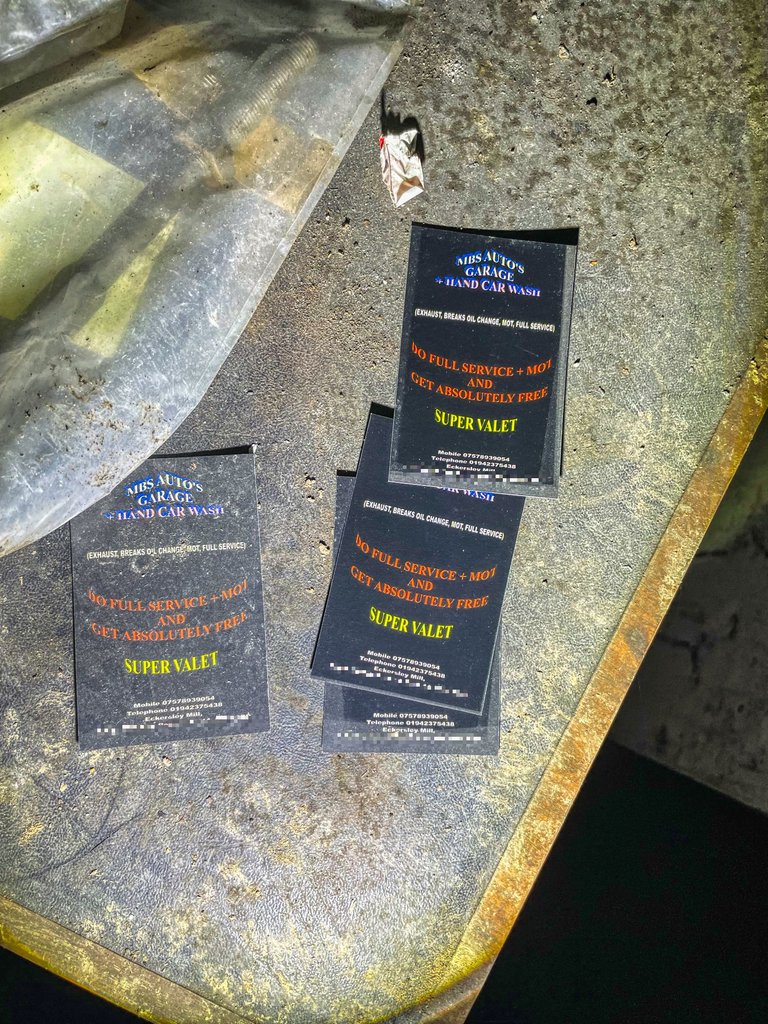 Was this a car wash that we were standing in? It looked pretty far from one of those, so why all the literature?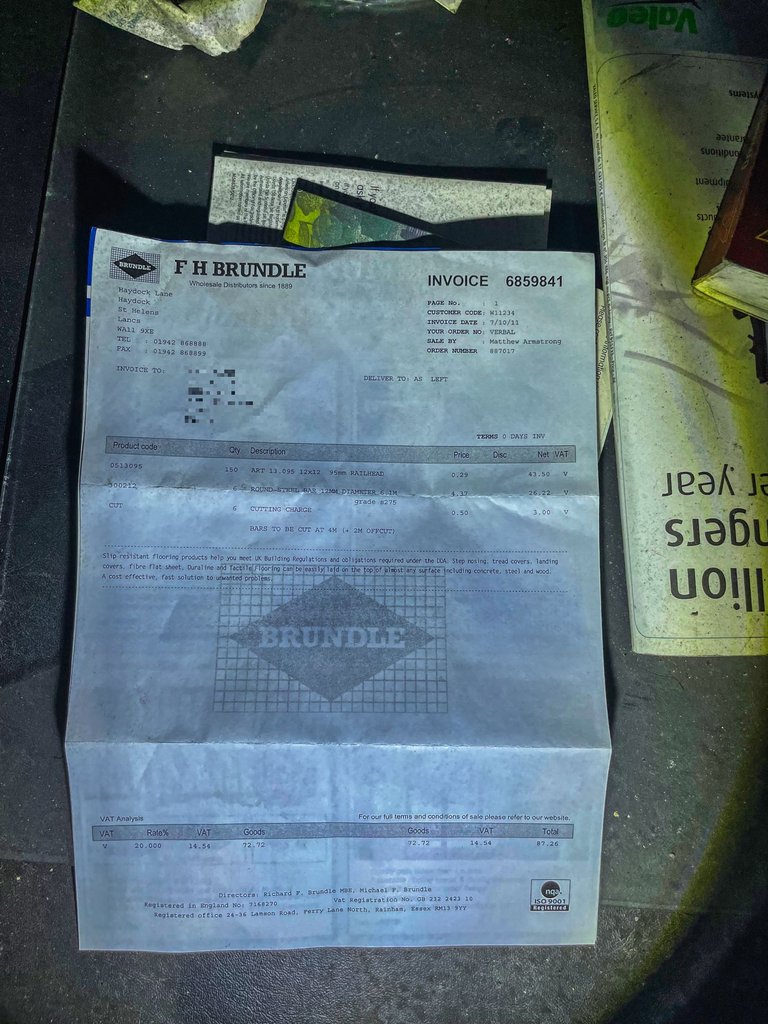 'F.H. Brundle' was the owner then? A wholesale distributor of cheap goods, or that was my impression so far.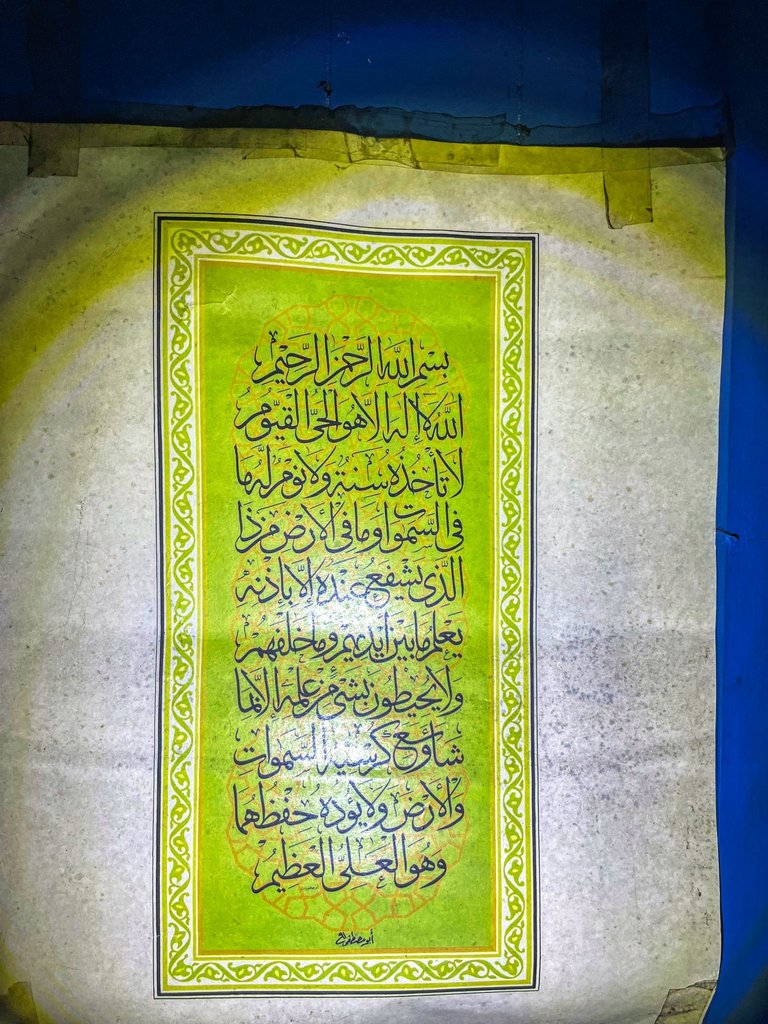 The next item I spotted caused more confusion. Were the owners of 'F.H. Brundle' susceptible to frequent religious changes? Each to their own, but make your fucking mind up.., it's either Jesus Christ or Muhammed.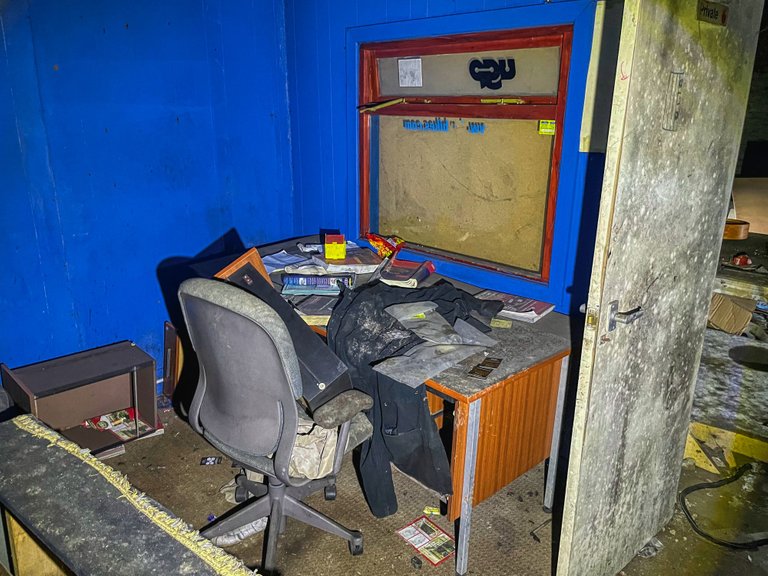 The drawer had been rifled through but this one looked quite 'explorer' free although finding this mess is hardly a claim to fame.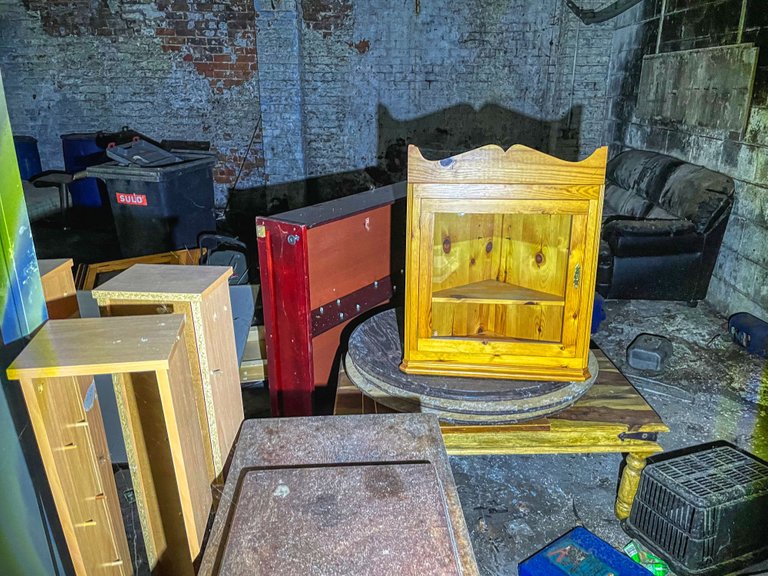 The teak ones on the left remind me of the posthumous company MFI and their 'build it yourself' furniture I used to buy when younger.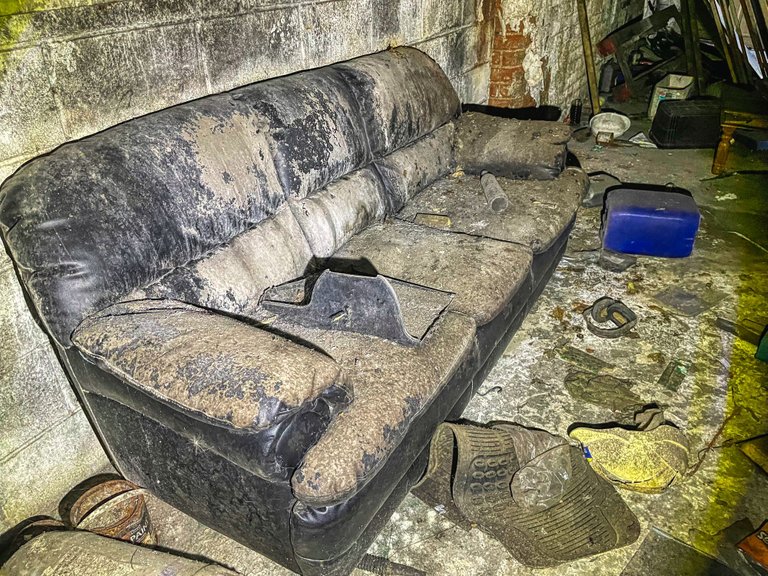 Here's some comfortable leather seating for the customers while waiting for their furniture order to be completed.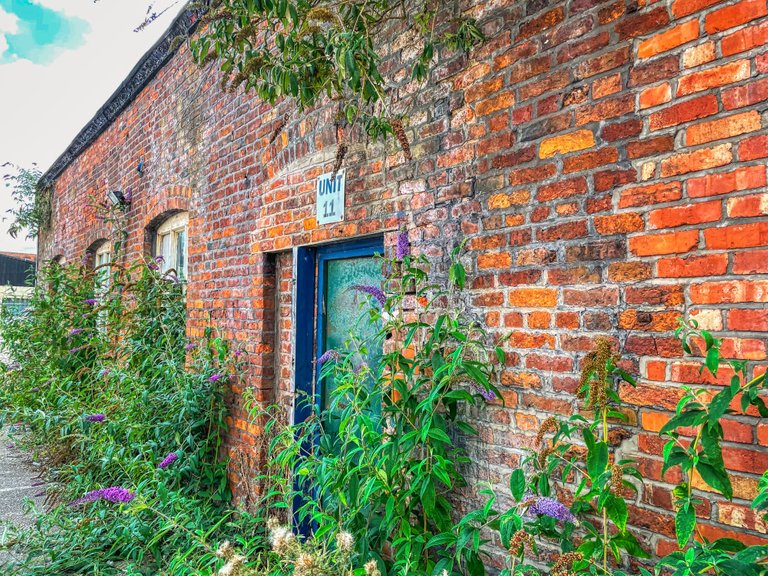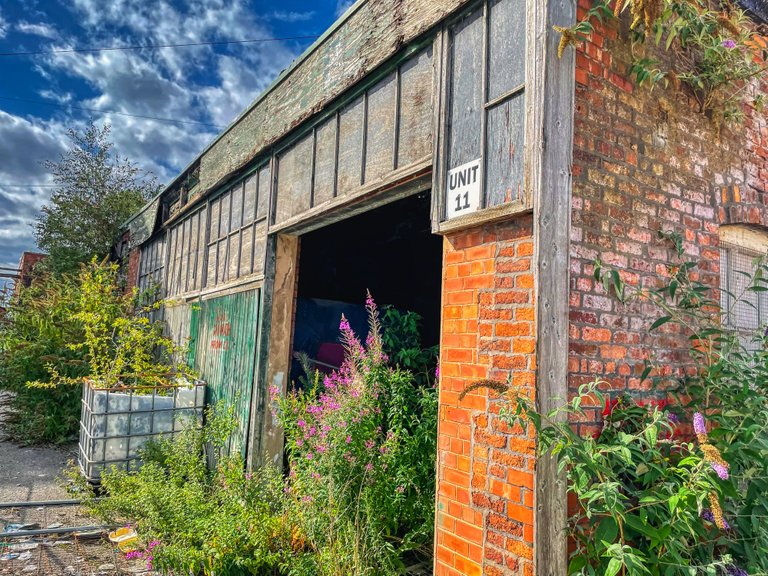 We exited 'Unit 11' hoping for a little more and found 'Unit 11' was a little larger than we had anticipated.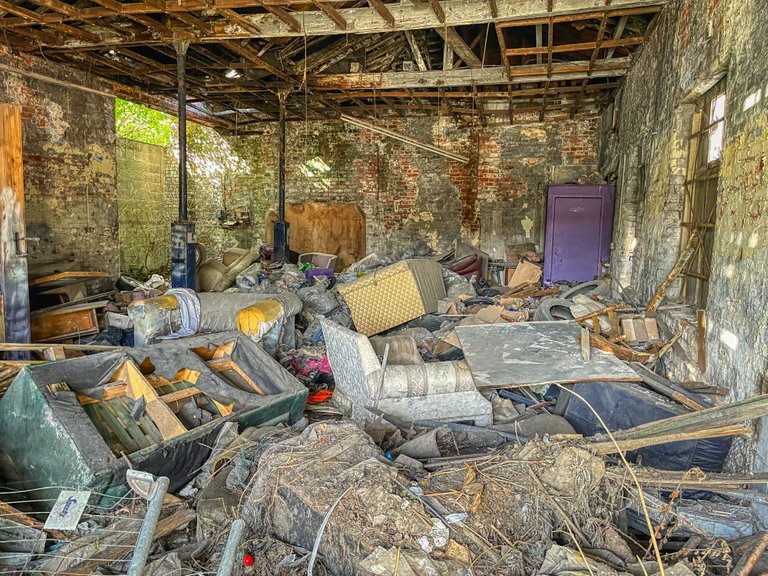 Some movement alerted me to the back area. It didn't take long for a sly cat to reveal itself. It had no intention of saying hello so we let it be.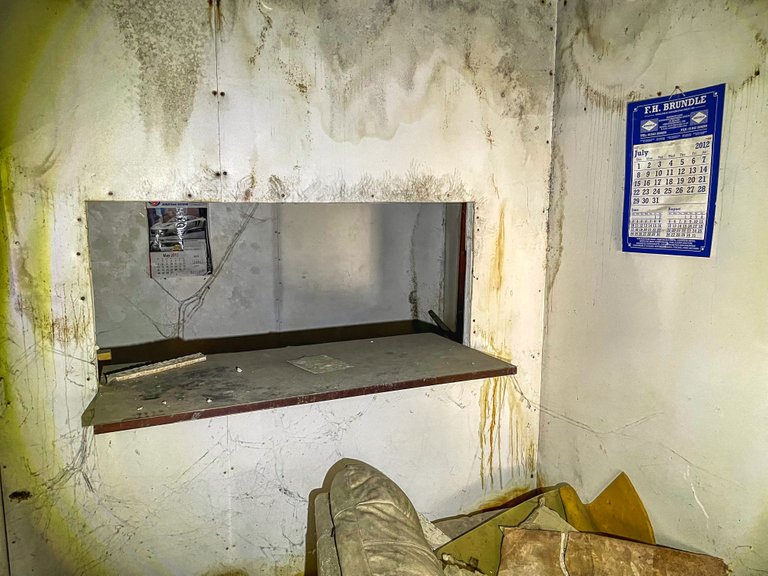 @anidiotexplores took one look and decided to exit. I had other ideas and stumbled my way over, climbing over lots of junk to what I guessed was the reception hatch. It was still 'F.H. Brundle' as shown by the calendar.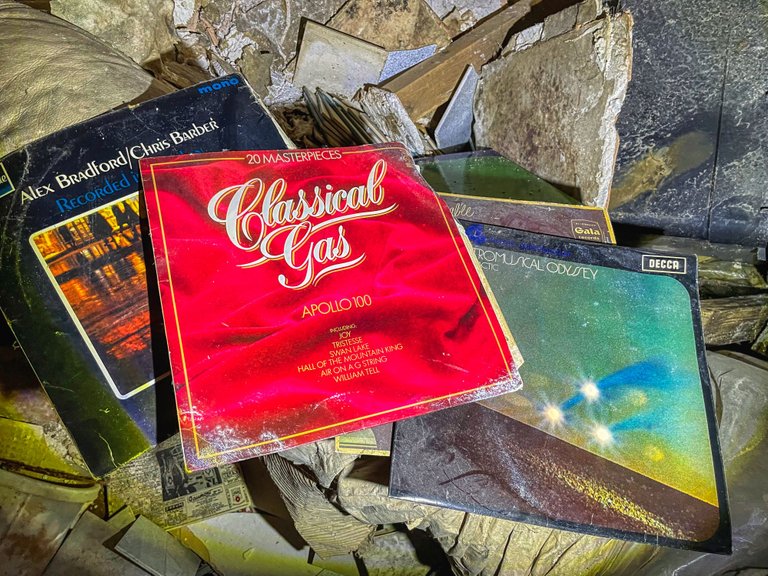 Climbing through the dust-filled, cobweb-ridded hatch I stumbled upon ancient LPs from another time, some in mono and all classical. Ugh, not my style at all.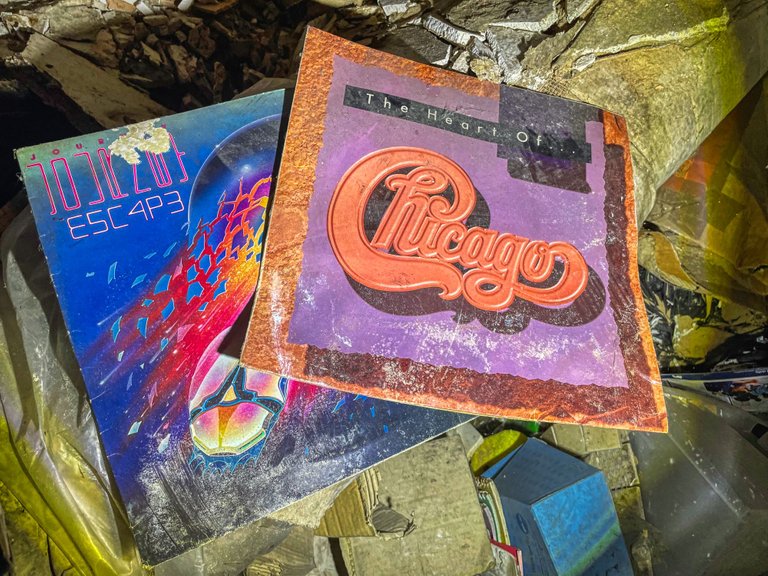 The Chicago one is passable, but adding it to a turntable could well cause damage to the player.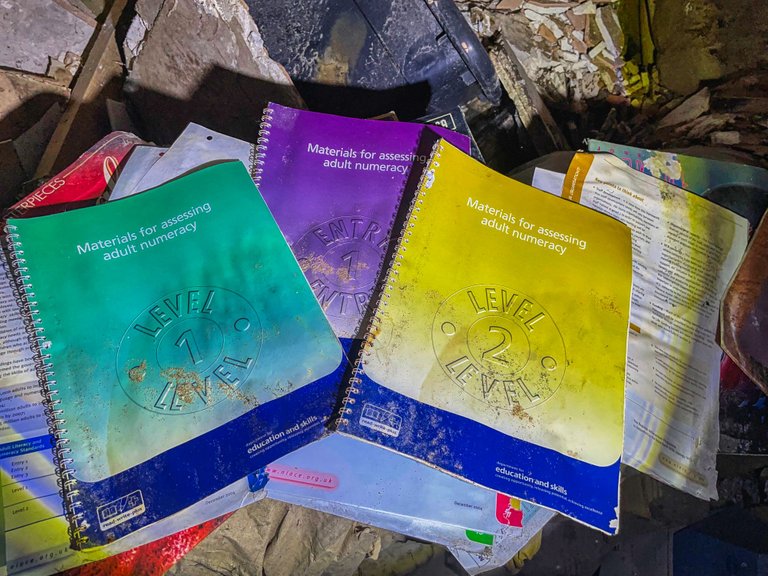 Beyond the decaying vinyl were adult numeracy courses and it was then I had that light bulb moment.
The owner could not count and on receiving £10 for a dodgy-looking clock always gave back £20 each time one was sold.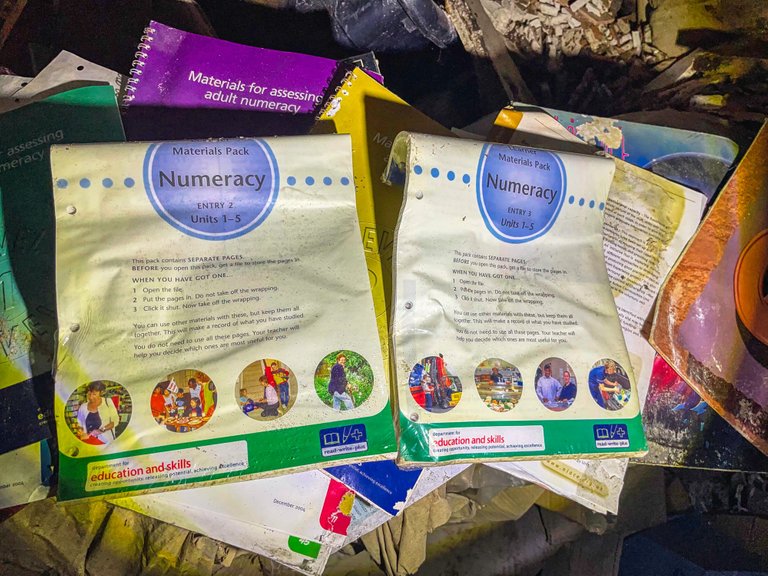 Crowds of people would arrive each day, all walking away with cheap 'Made in China' clocks and a crisp £20 note.
Over the months and despite the numeracy lessons, bankruptcy arrived through mathematical ignorance resulting in what is here today.
Panic had set in causing 'F.H. Brundle' (Fred?) to switch religions frequently only Jesus or Allah (depending on the day) wasn't too interested and eventually 'Fred' got evicted with the provision that he could only return on proving he could count to at least 8.
It all made perfect sense.
After another scramble, I exited 'Unit 11' filled with saintly knowledge and knowing exactly what had happened.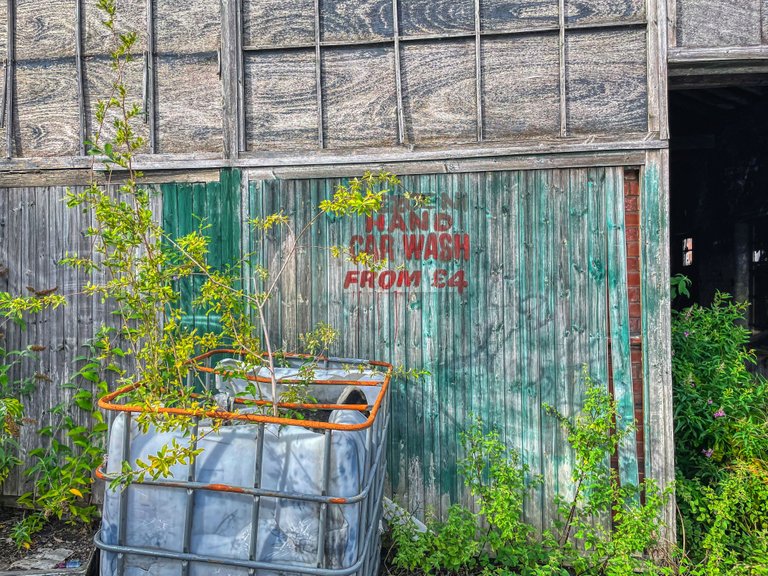 Next door was yet another shitty property, perhaps a Car Wash?
This was far less captivating than 'F.H. Brundle', the numeric-illiterate giver of clocks and £20 notes man but we were still going to have a look.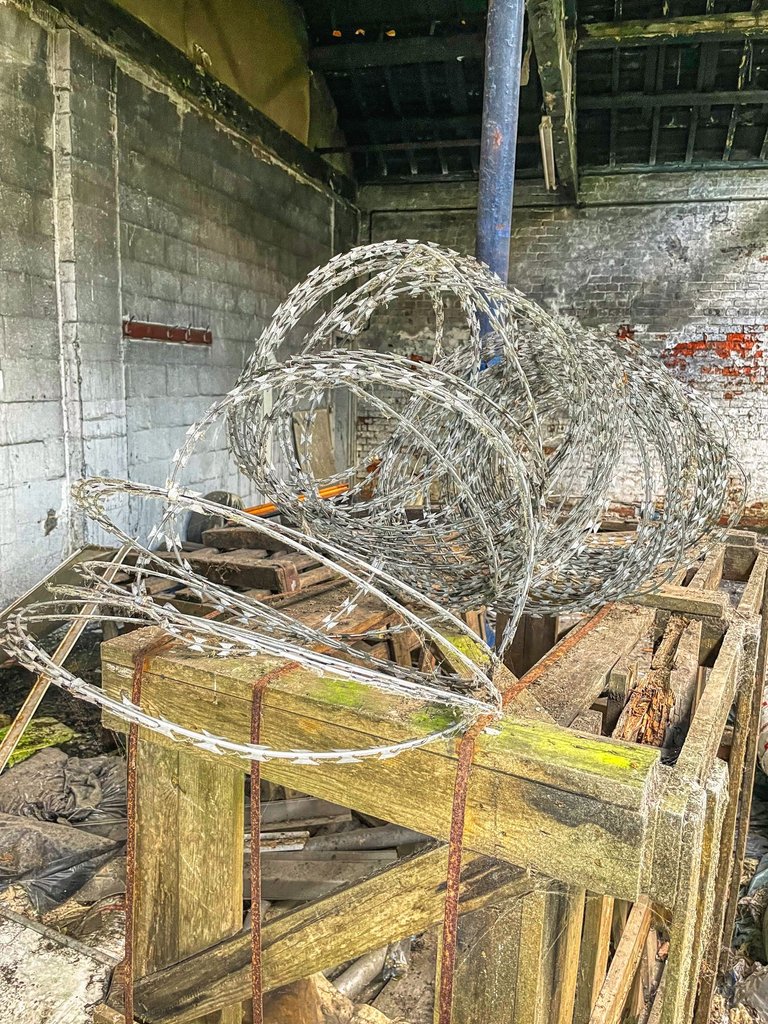 Some fresh razorwire, purchased but not used; that could very well have prevented us from getting in here and stopped us yawning due to severe boredom.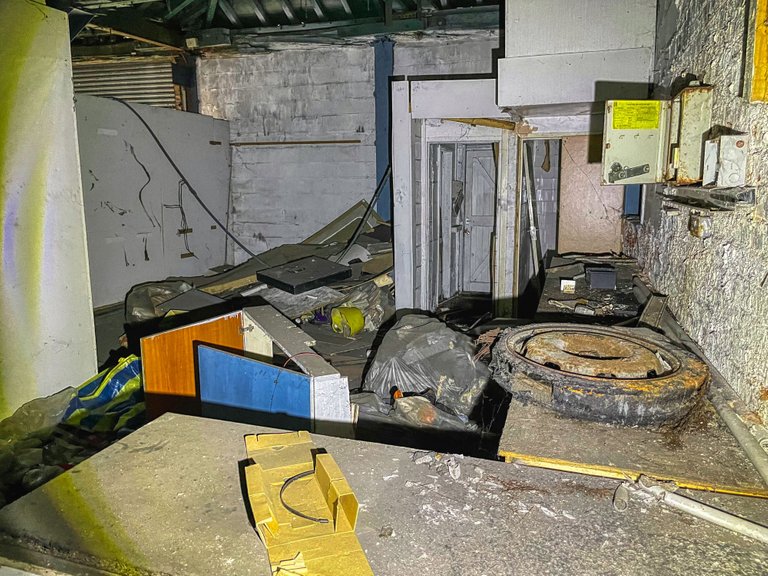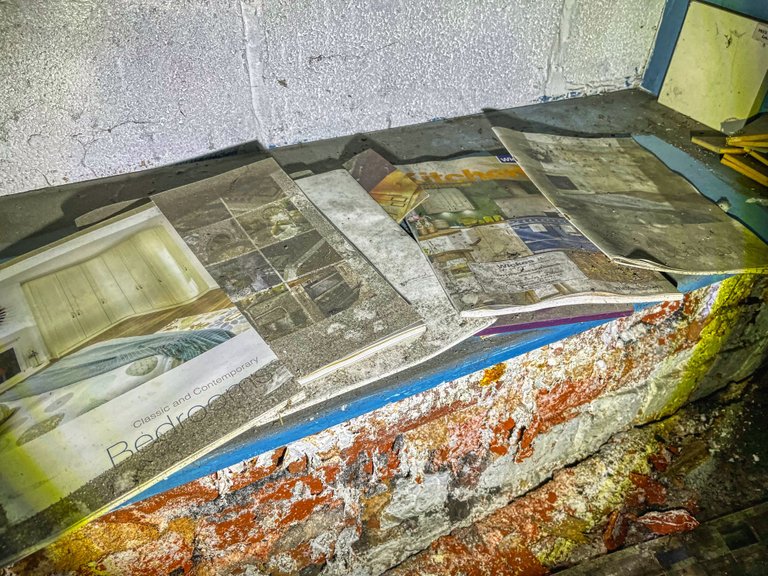 I suspected this was an entirely different business despite the Bedrooms and Kitchens blurb we found.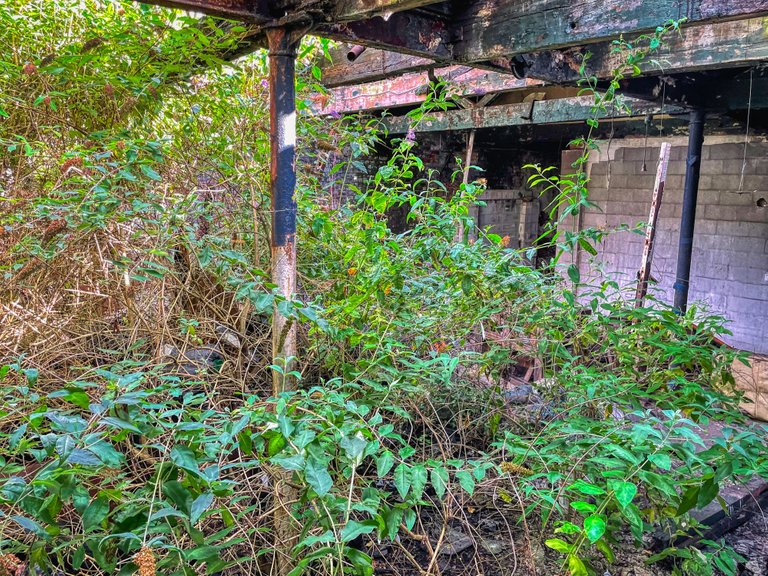 Through the back room at the rear things suddenly went very derelict.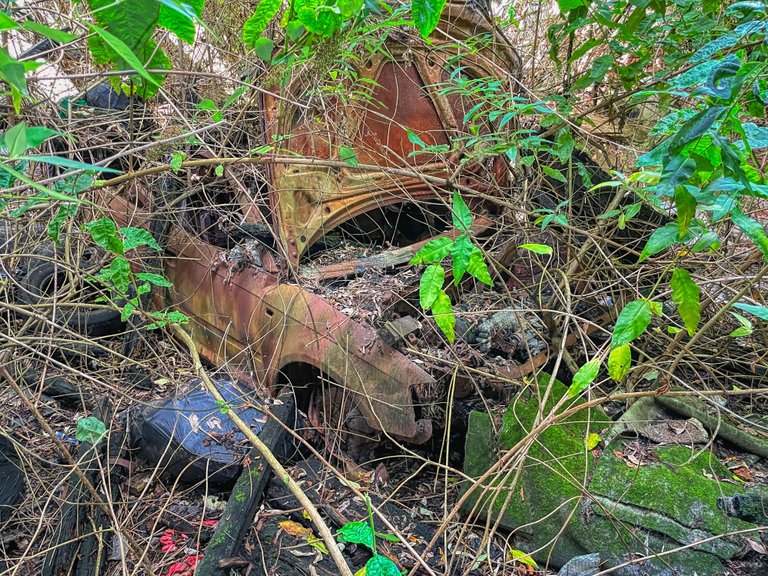 Something rusty was hidden under all that brush; a car, too far gone to recognise.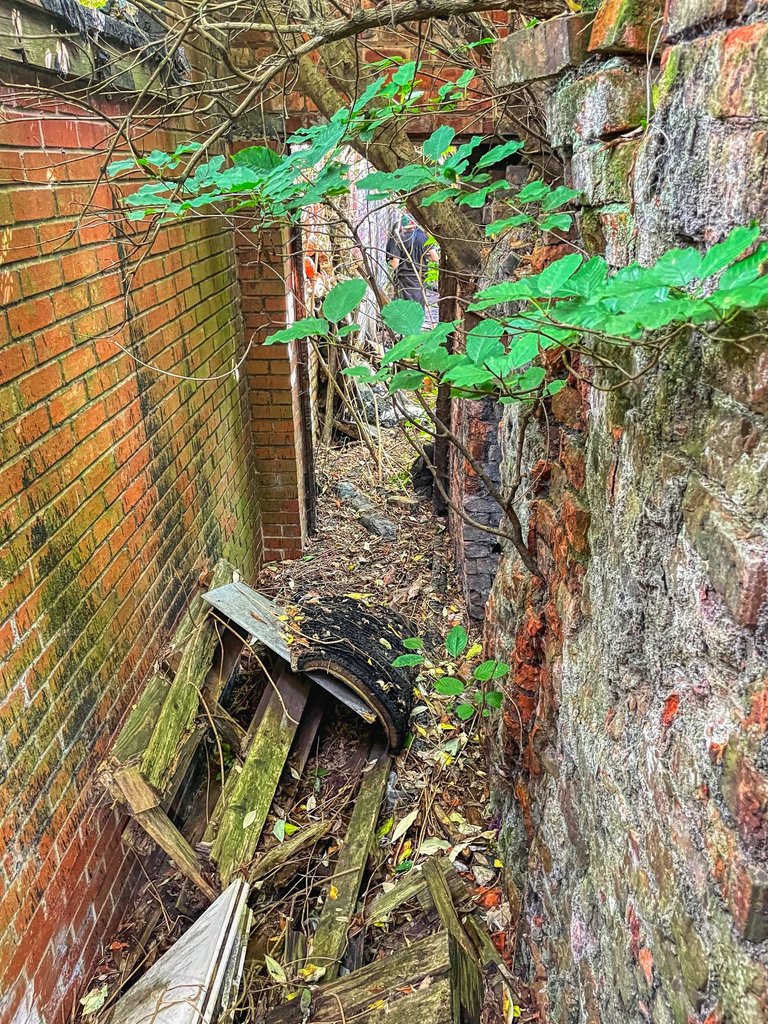 Peering over the wall at the rear we figured this was the end of the line. The bloke in the picture was in an adjoining business, one that astonishingly seemed active.
Yes, businesses did surive in this area! He failed to spot us and we took our leave.

Do you like posting your Urbex content and photography for FREE on Facebook and YouTube? I like to get some form of reward for my work and every time I create I do just that. Take a look at The Urbex Community on HIVE.
If you want to keep creating for FREE then ignore what you are reading. If you want to be like me and gain something other than BUGGER ALL for your work then click here and learn about posting on the HIVE blockchain.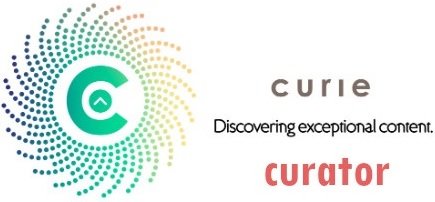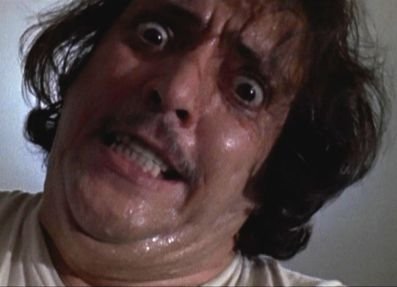 If you found this article so invigorating that you are now a positively googly-eyed, drooling lunatic with dripping saliva or even if you liked it just a bit, then please upvote, comment, rehive, engage me or all of these things.
---
---