Tales of the Urban Explorer: Top Bridge Works
This is a semi-continuation of a previous post, 'Tales of the Urban Explorer: Aladdin's Cave'. Reading that one first may be beneficial.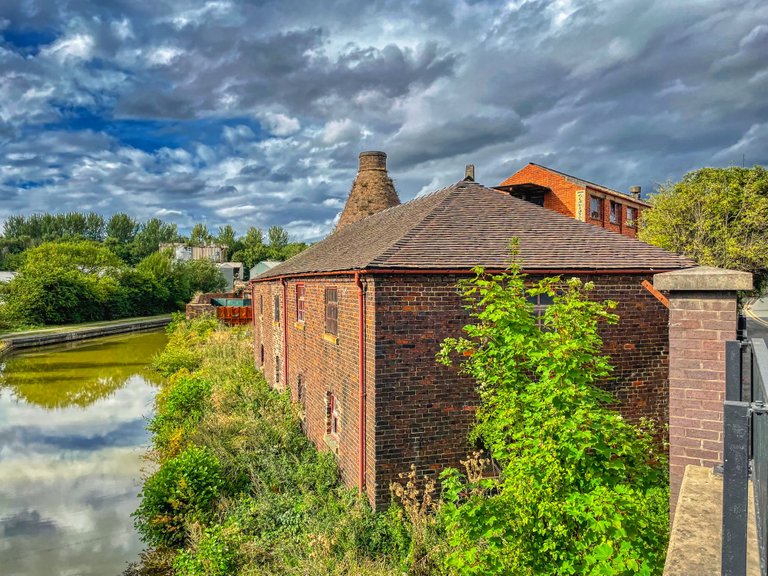 We climbed some stairs which would take us out of 'Aladdin's Cave' but at the time didn't know it. The place was a labyrinth of corridors, steps, both up and down which meandered everywhere like only British Architecture does.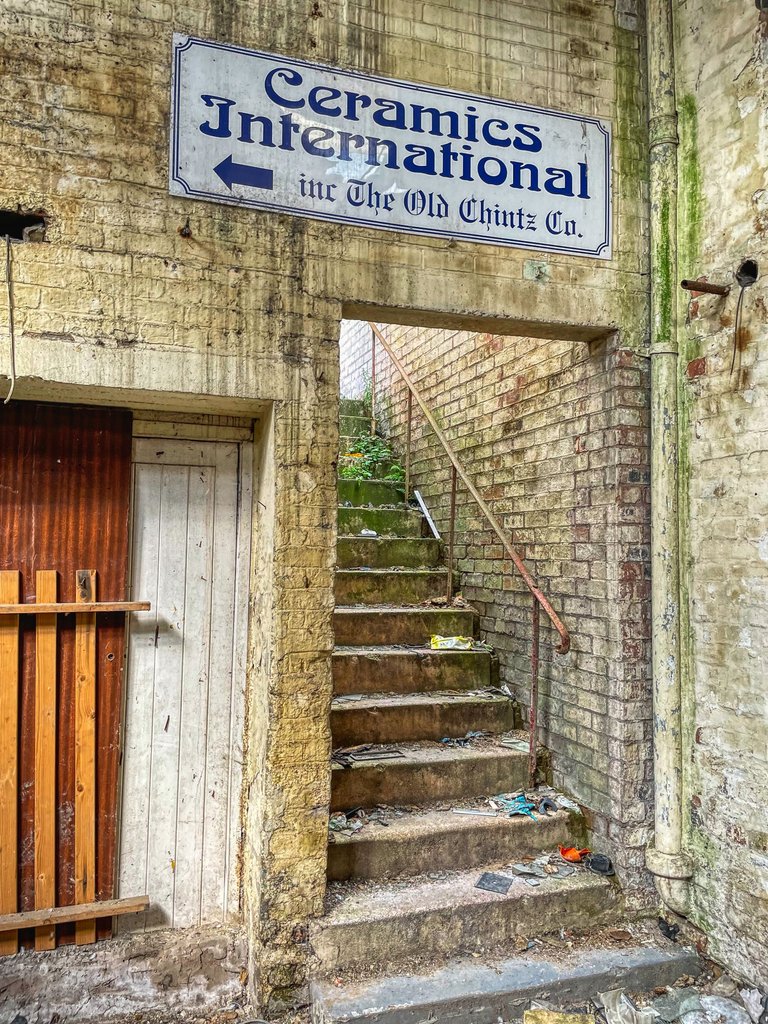 One minute we saw signs stating 'Ceramics International', the next we were in some old karate gym filled with old mouldy mattresses. I am guessing the owner sectioned the building out to different companies.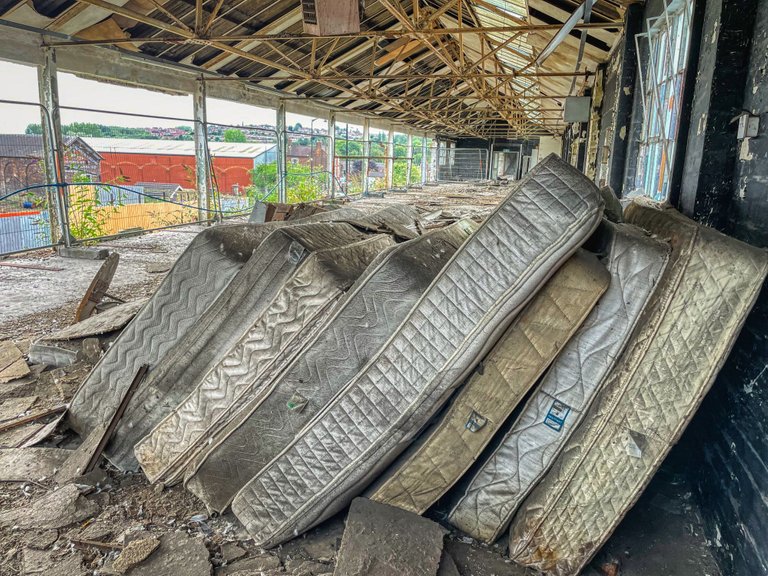 When it all went bust, said owner told them all to take a hike, and what remains is what we were seeing.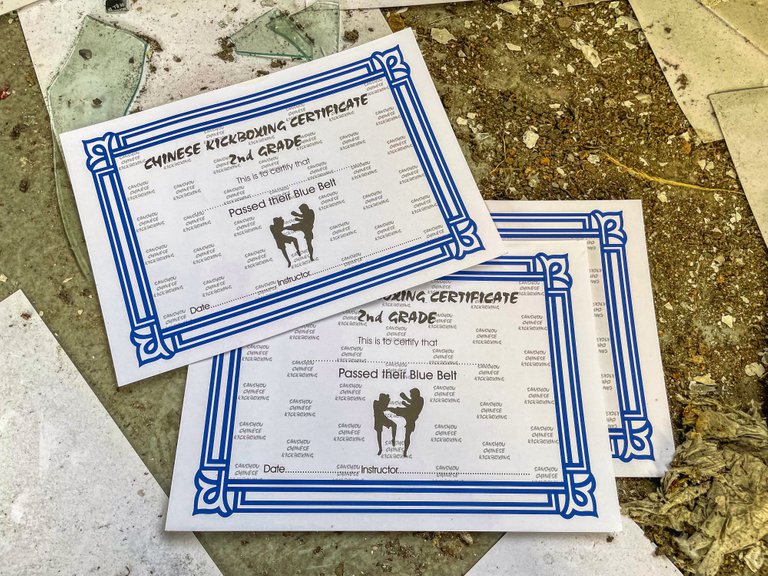 Crossing the 'mattress room' we noticed some grading certificates left behind. I just needed to sign it myself and I was an instant 'Blue Belt'. I never did pass 'Orange' when I trained decades ago.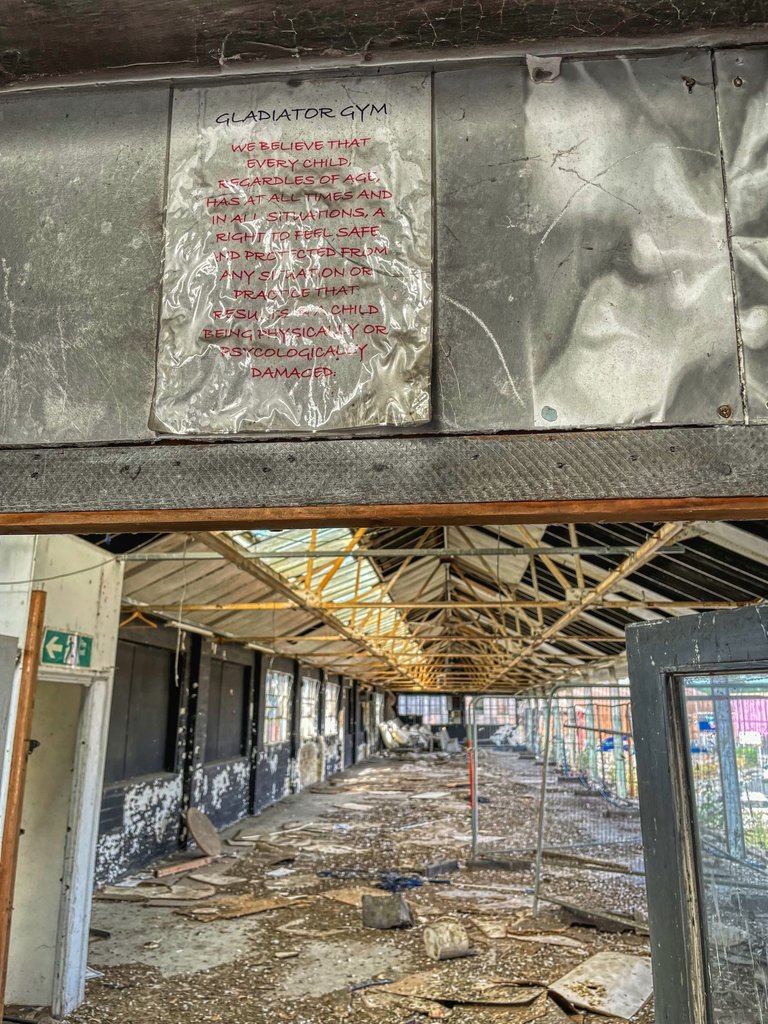 The 'Gladiator Gym' is no more and unlikely to return any time soon.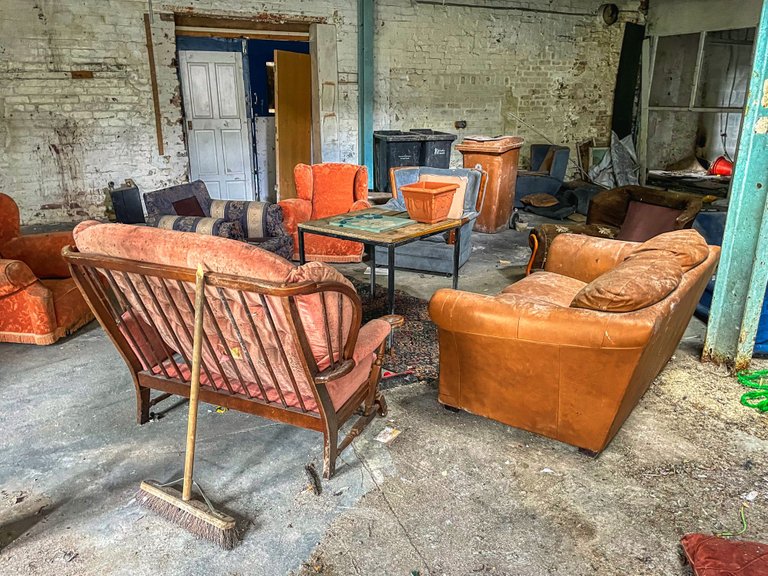 Heading down some stairs and out of the old gym we came across more comfortable seating. On seeing sights such as this, it is usually a hangout for smackheads taking refuge after their hit.
…'would sir care for a starter of some garlic bread perhaps?
No, thank you. I will proceed directly to the intravenous injection of hard drugs, please'…'
Source
On seeing no evidence the scene appeared innocent to the point of sitting down for some tea and biscuits, except none were on offer (or hard drugs).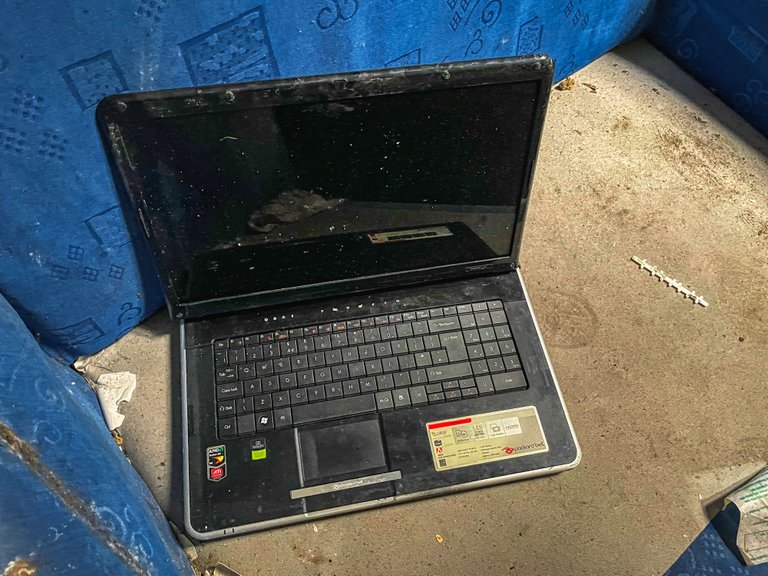 It could even still work, though the battery may need a little coaxing to come alive.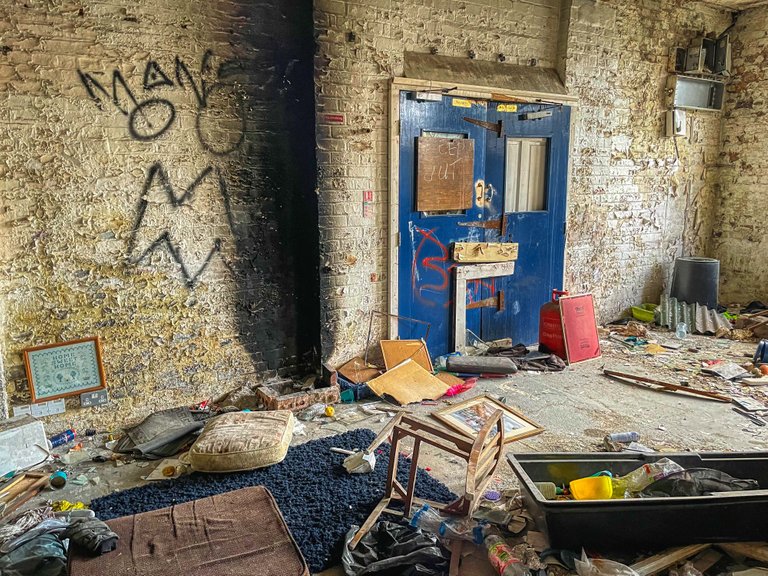 Some rooms are not meant to enter, even for us explorers. This one was quite in your face about it.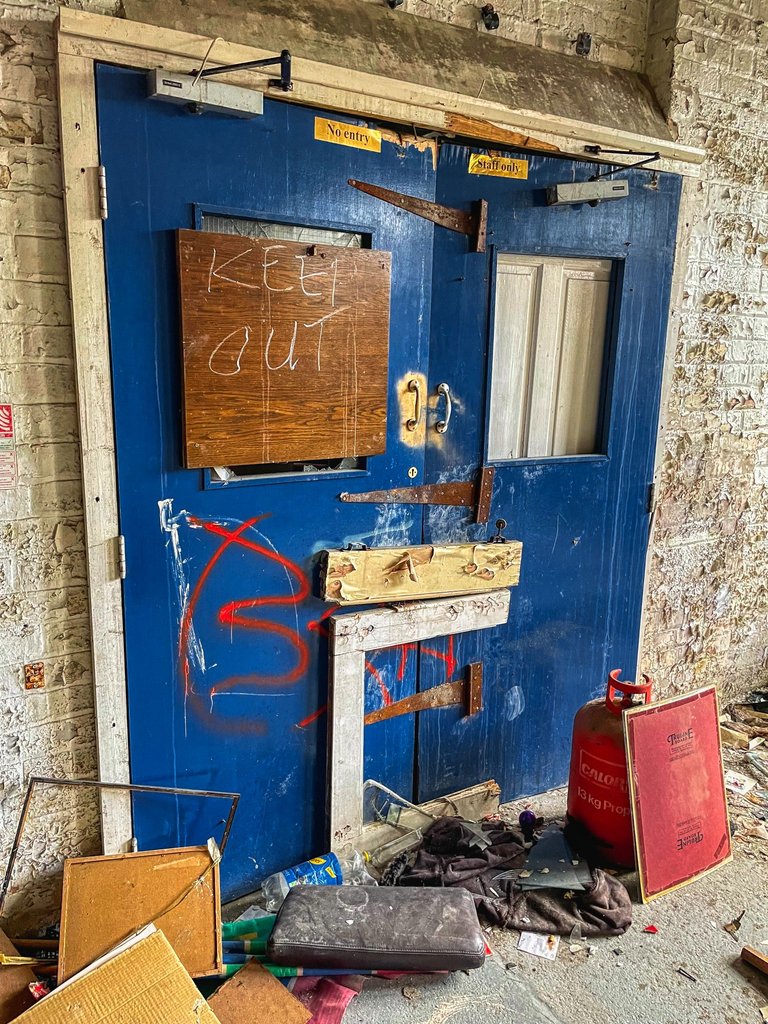 Not that it mattered much as in a labyrinth building such as 'Top Bridge Works' there are always multiple exits and entrances.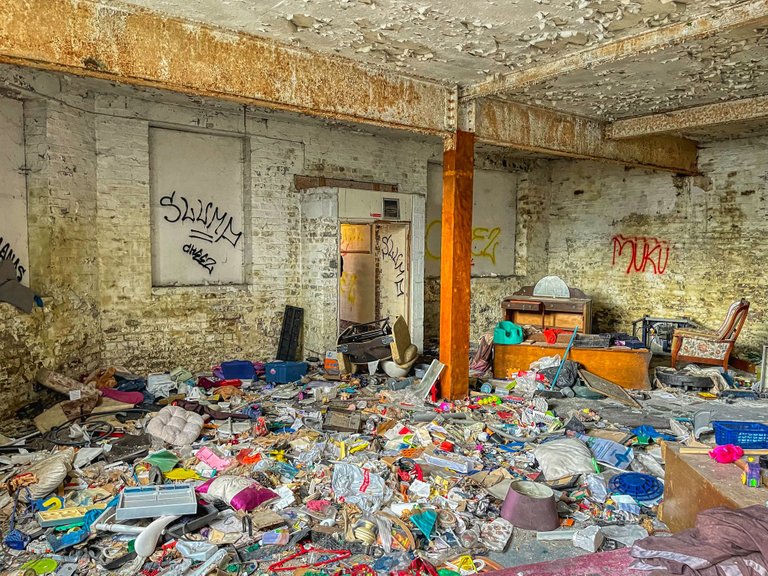 Things were starting to get more familiar and that means messier by the minute.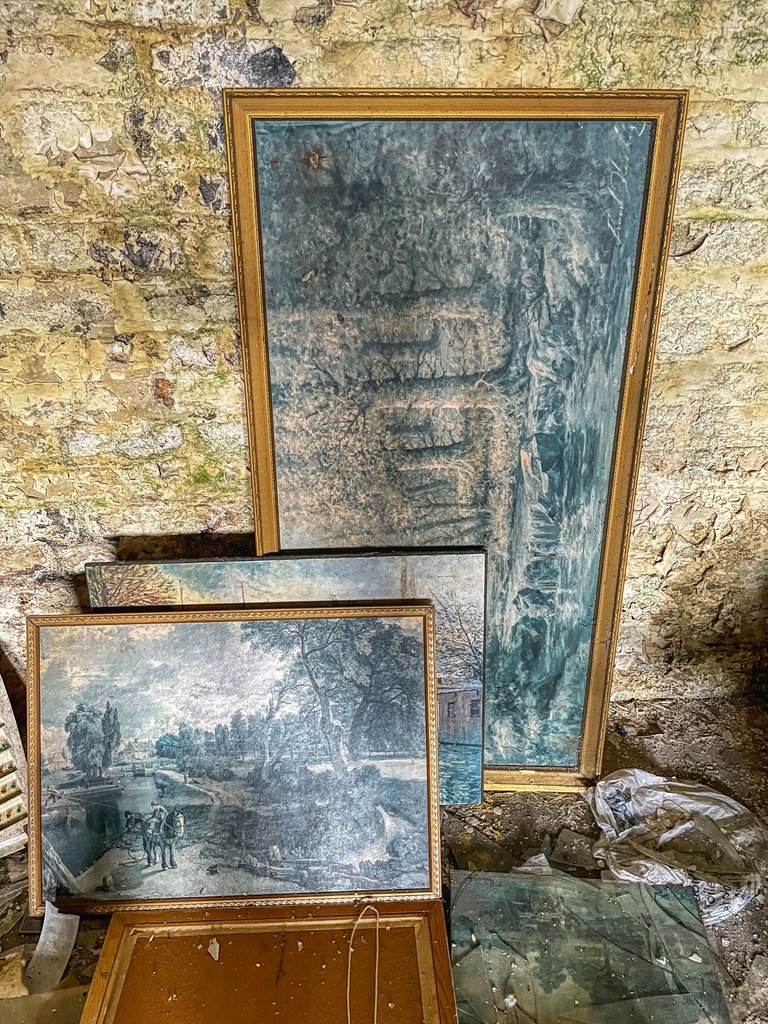 Was this more junk from 'Aladdin's Cave', none of us could be sure but they don't like original masterpieces.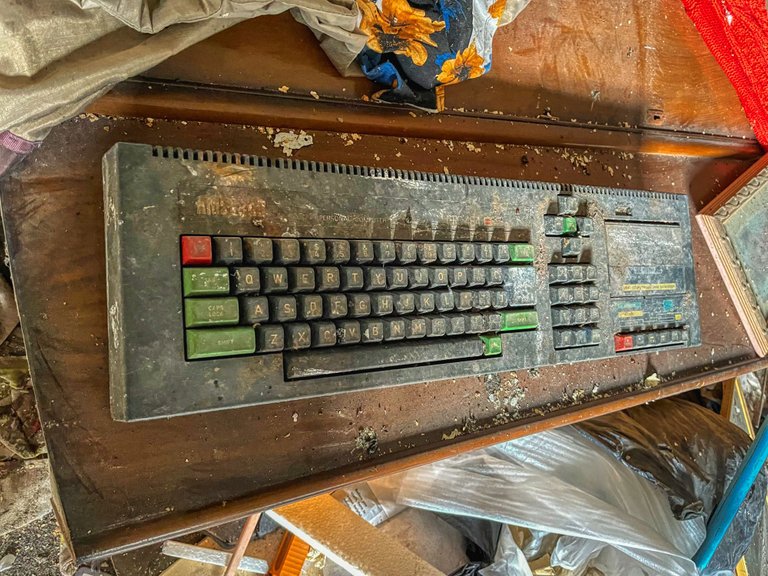 It is not often I see relics of the home computing scene of the 1980s. An Amstrad CPC-464; one of the more crapper devices of the time. Alan Sugar did a lot of good things, but his 'extra plastic' computers, both PC and otherwise were not one of them.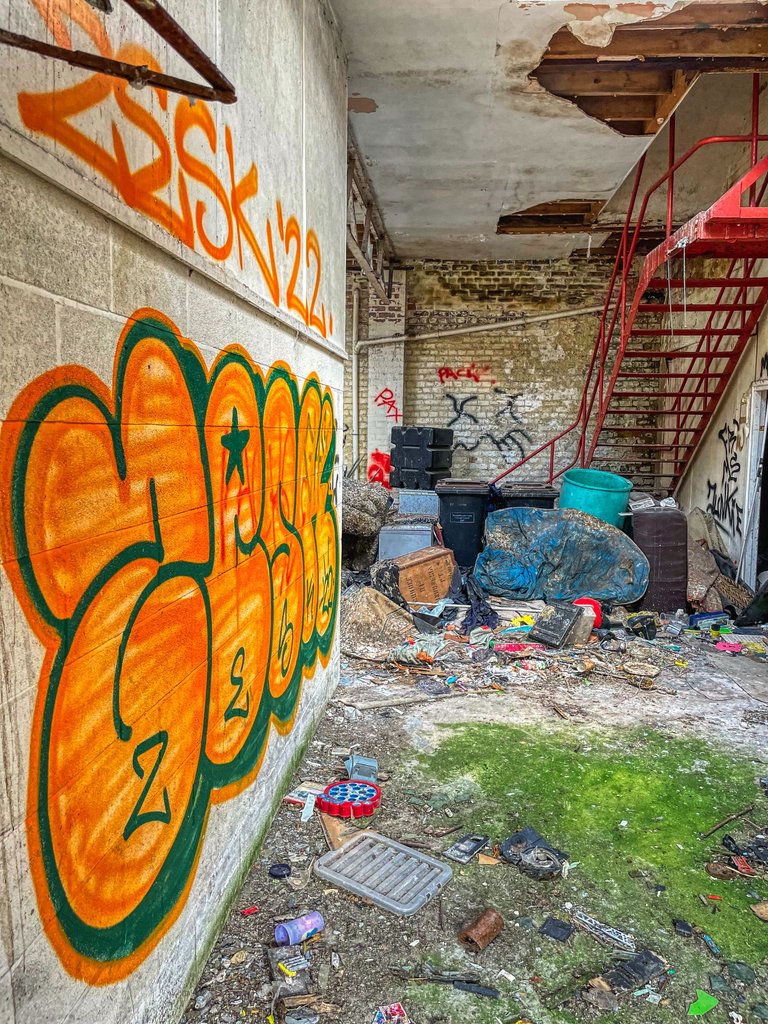 If you see red steps, you go up.., no questions asked.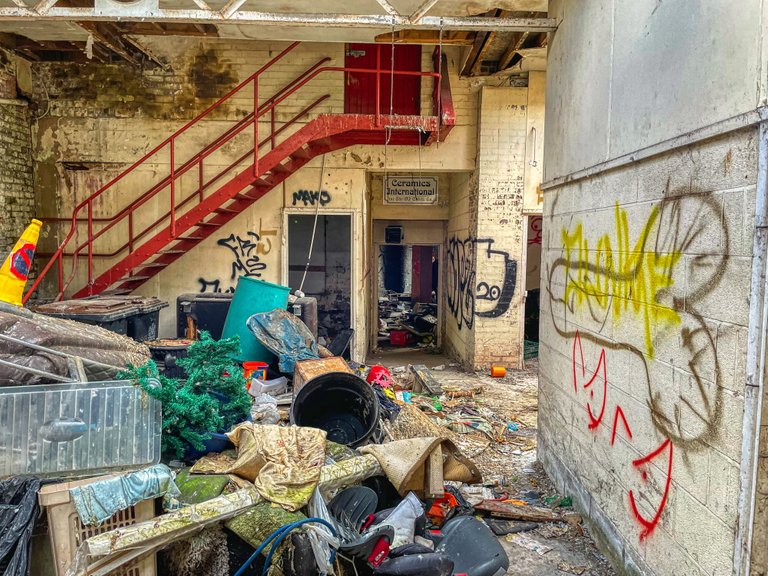 … and we are back again in 'Ceramics International' with extra cock to boot. This was turning into one weird explore.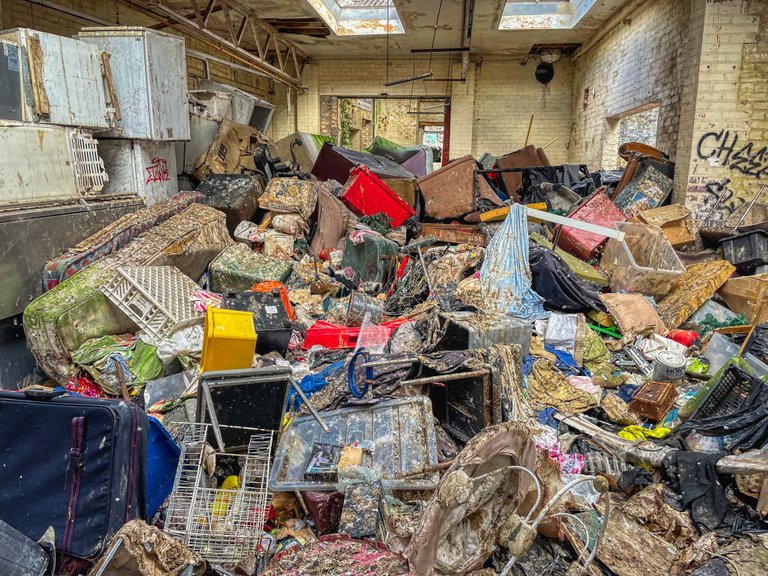 I could see now we were on the far side of the sofa room. Coming this way was much more preferable than climbing over that lot, especially seeing this side appeared to be caked in at least a fine coating of stale bird shit.
Where the fuck was 'Ceramics International'? I guess we will never quite know.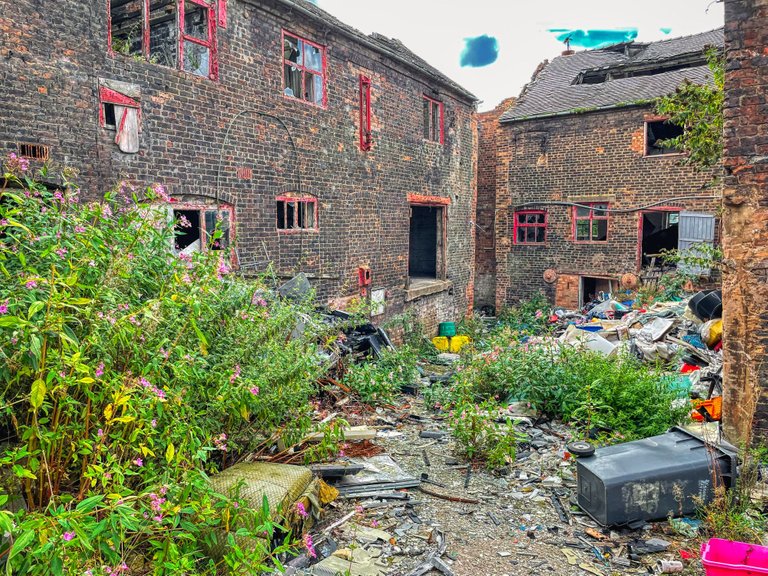 The factory opened up behind us into an almighty mess, but an accessible one.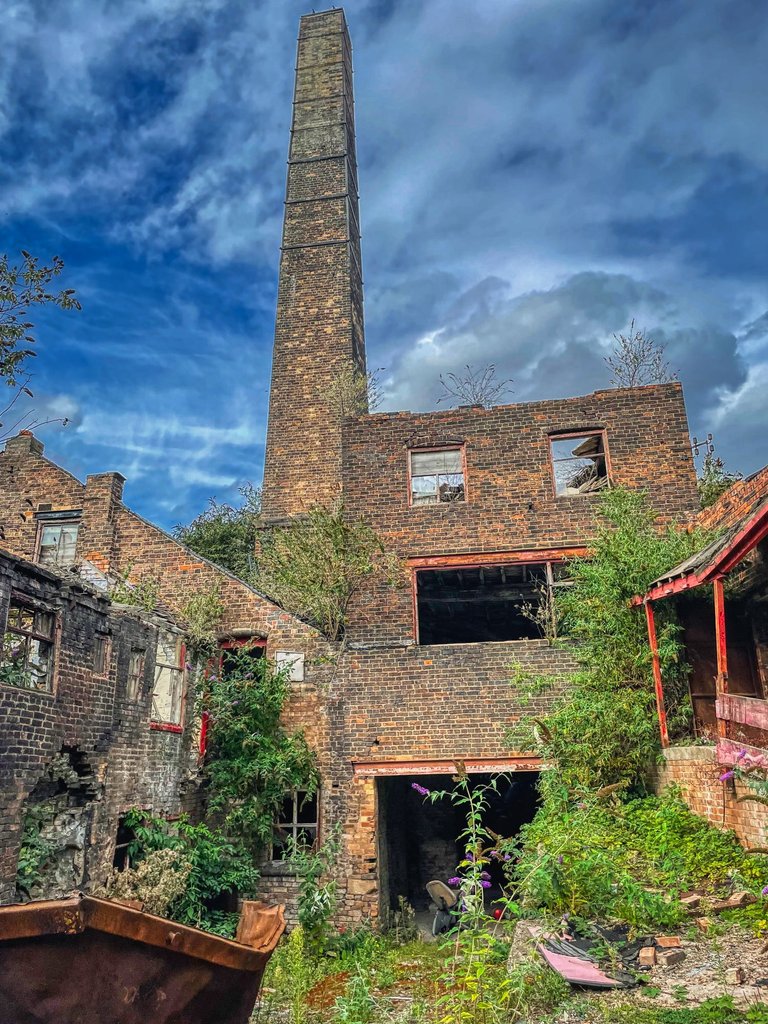 It was a question of, 'how much of it can take in'?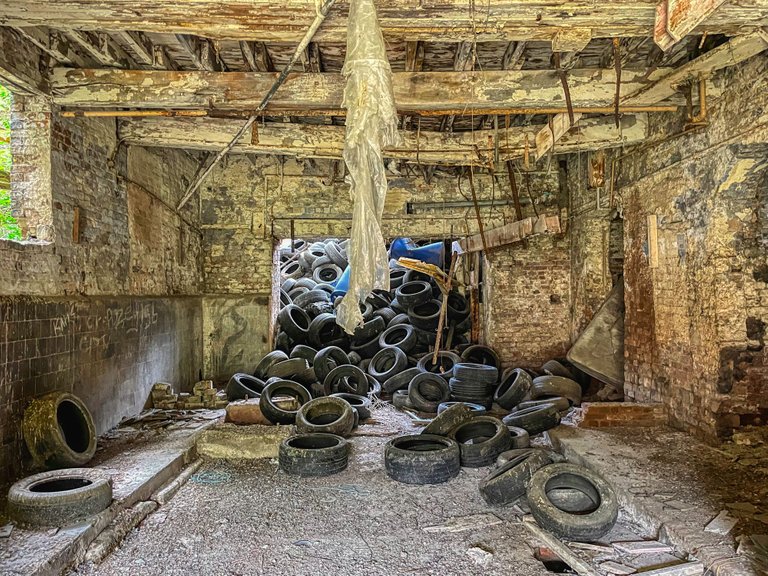 The rectangular hole in the wall yielded a holy shrine of used tyres. Don't tell me 'Aladdin's Cave' used to buy this crap and throw it all, 'out the back?'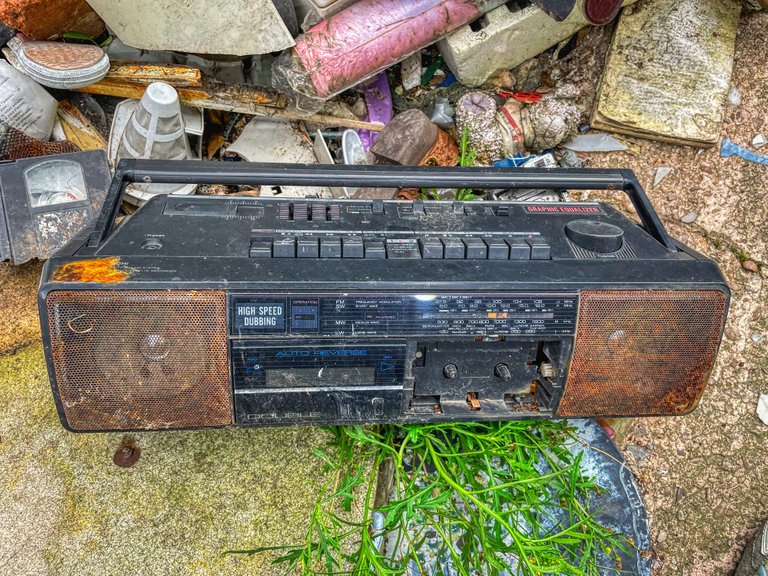 Is that rust on the ghetto blaster, or orange paint? It had seen better days.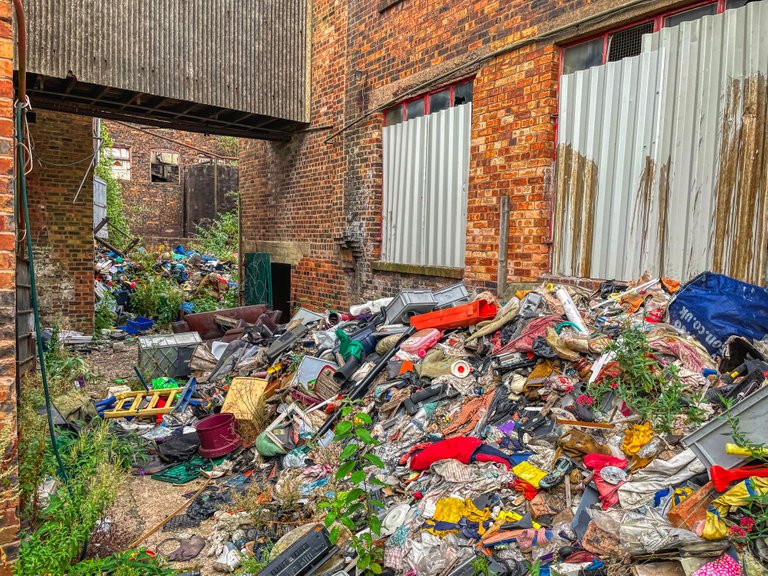 You can see how deep the junk pile is. Who knows what could be lurking under all that stuff?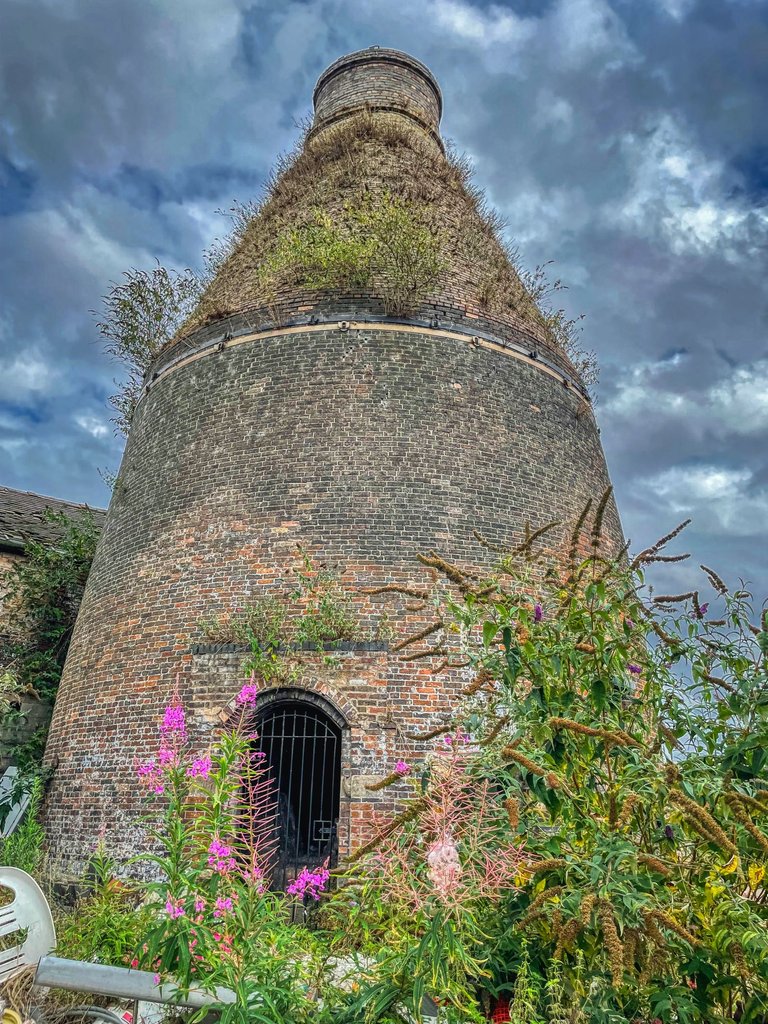 It's pottery themed, that's for sure albeit a little 'hairy'. Do they call them firing kilns or something?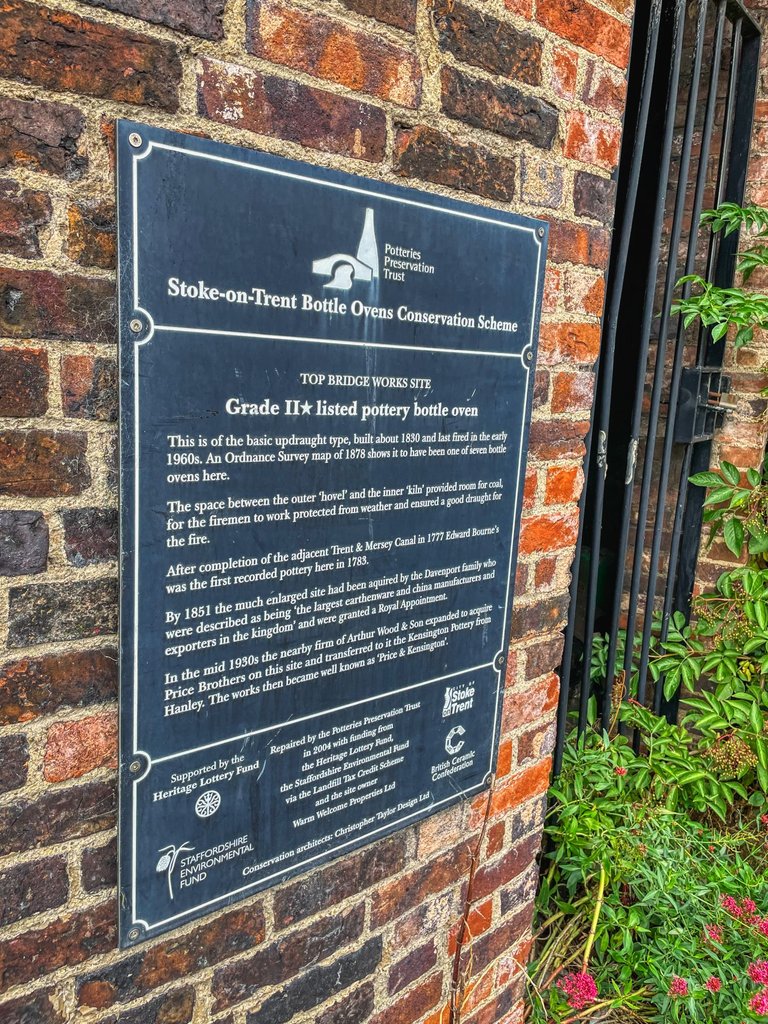 Built in 1830 it says, right at the start of the industrial revolution. Wait a minute, aren't these signs meant to be for tourists? I'm an Urban Explorer, not a bloody tourist!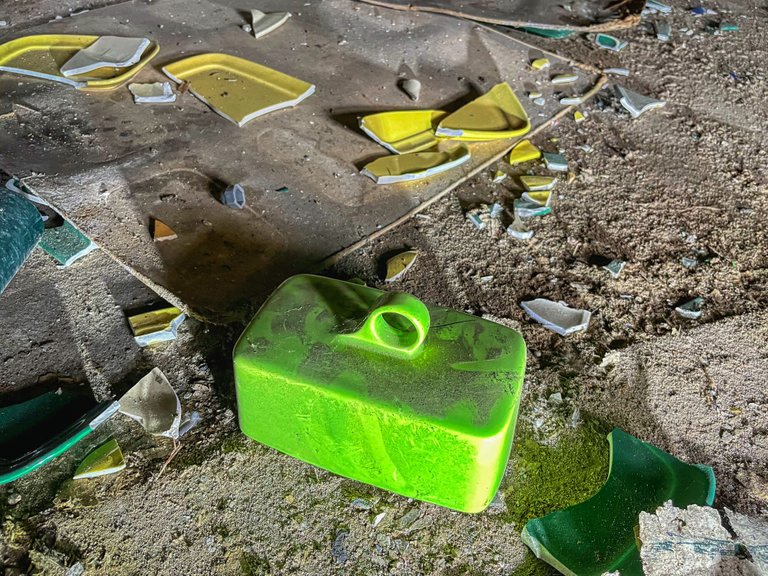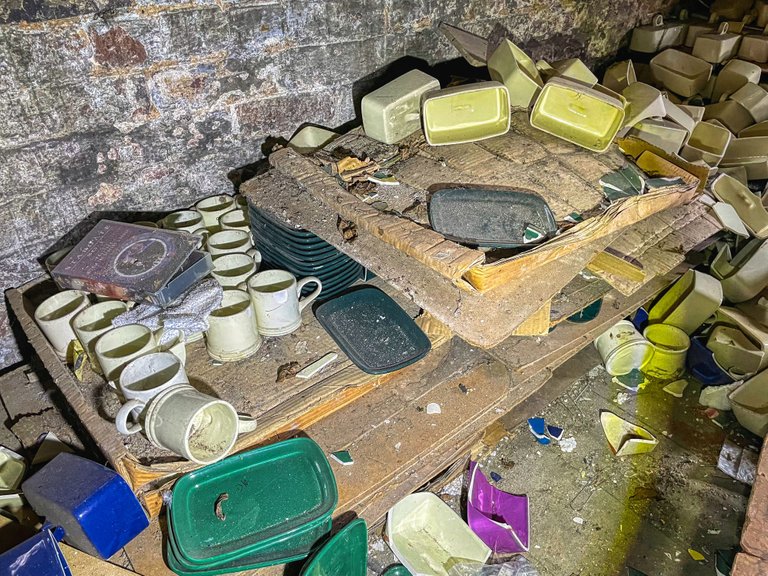 It took some time but we eventually stumbled on some pottery. We spotted many cups and the tops of butter dishes, even though they resemble used takeaway boxes from the local Chinese. There's some Stargate thrown in for good measure.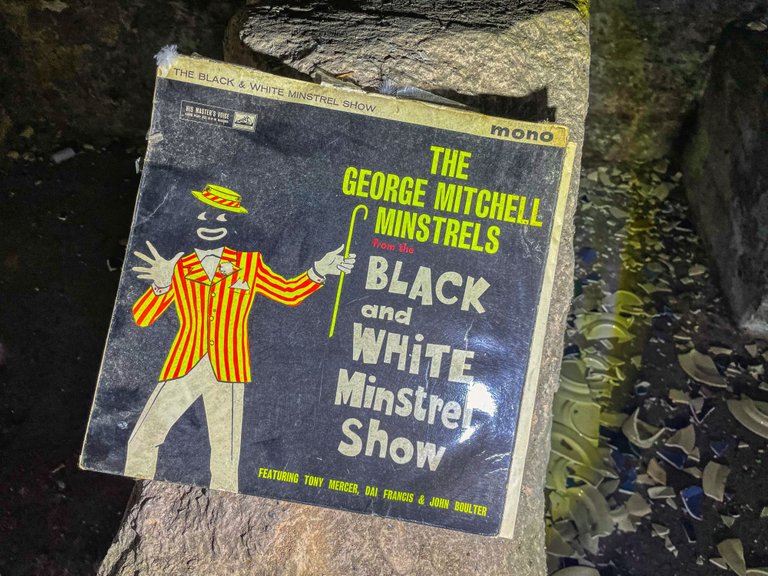 Ooh, so politically incorrect it makes my balls ache. I couldn't even look..., the shame of the white man persecuting his darker-skinned brethren; banned in 205 countries but not Stoke-On-Trent.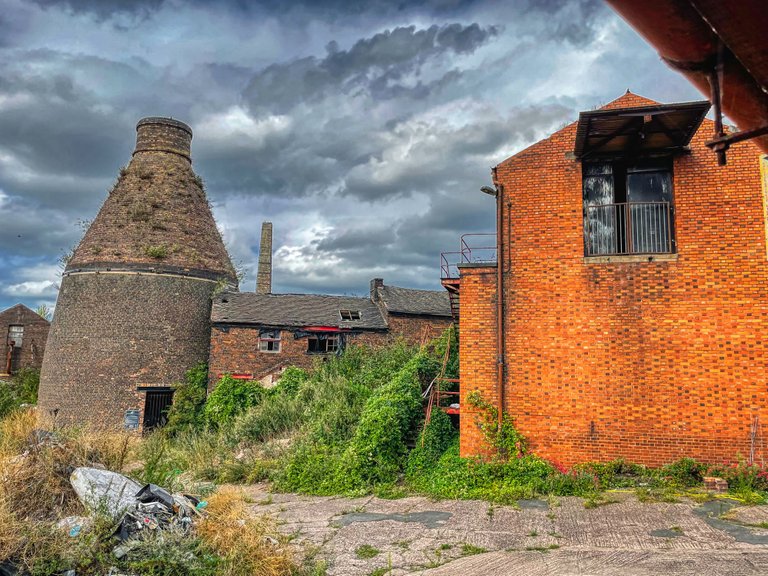 We headed up those stairs and back into the 'Gladiator Gym' thinking we had missed something. A crowd of bikers on the other side of the canal watched with gaping jaws as we diced with death on the rusty red steps.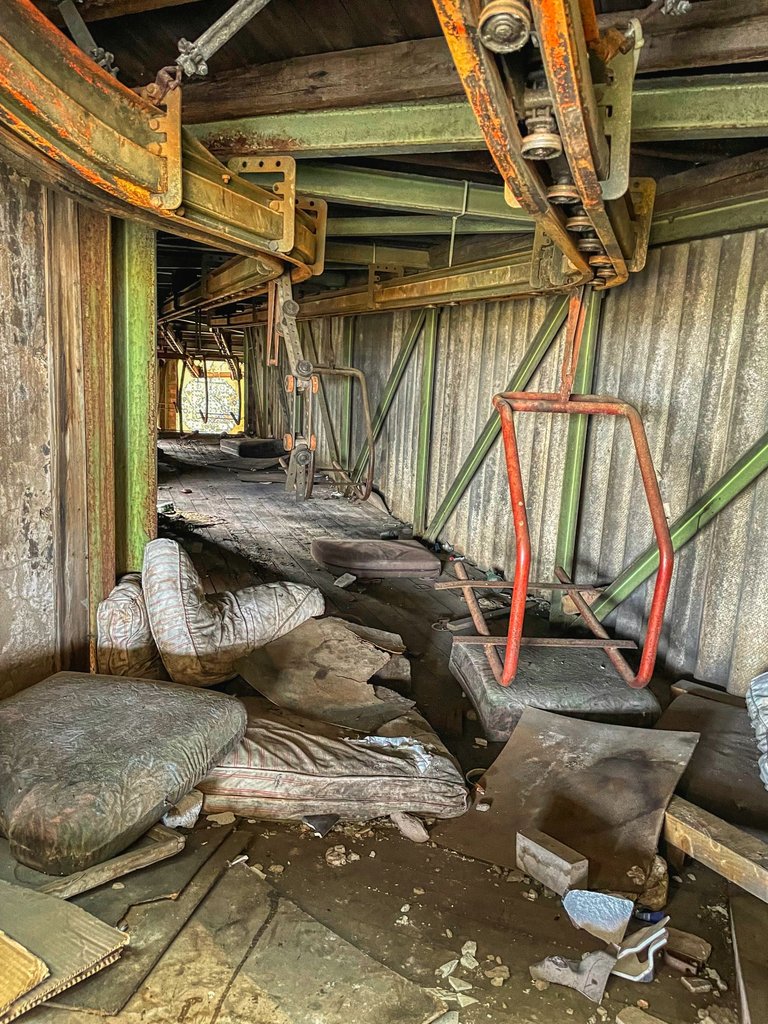 Halfway up the corridor and there it was; a hole into another universe. Well, not quite but it did take us into this conveyer belt area.
If the lifts were operational we could have jumped on but they were not. We snuck along the corridor hoping the wooden floor would not collapse.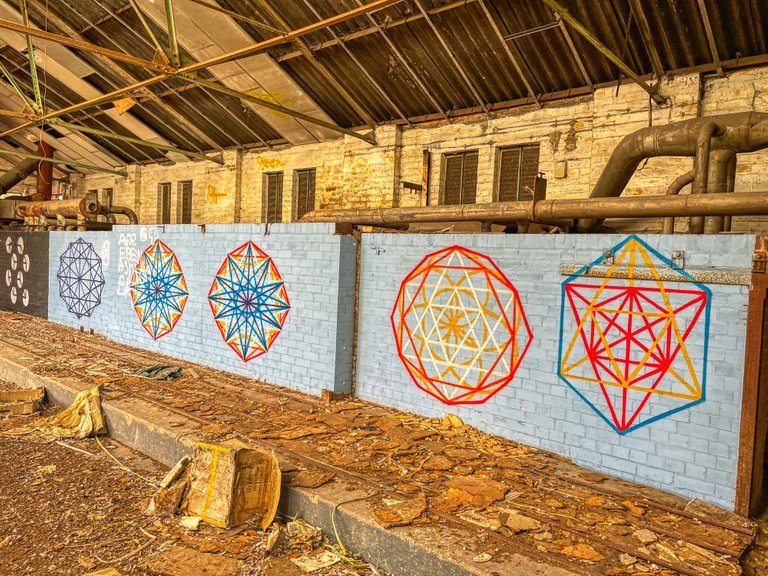 Jumping down into the 'factory' far side, we were at last inside one of the rotting, decaying main buildings.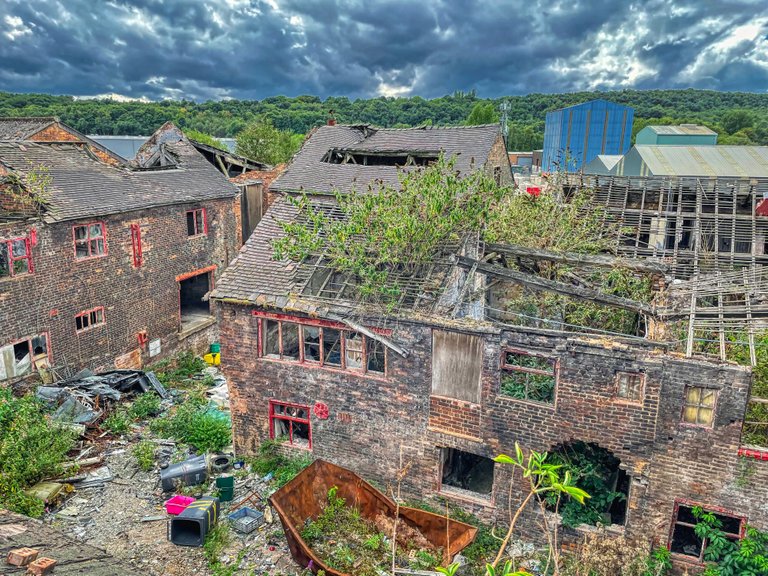 'the scenery was breathtaking. Buildings falling apart right in front of our eyes, we were aghast and stared in wonder'…
Doors perched high opened up onto balconies giving us more sights to feast on.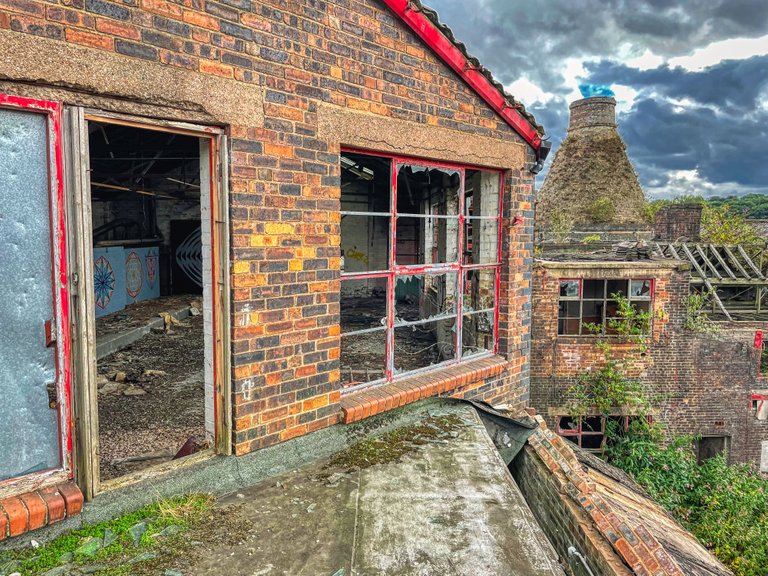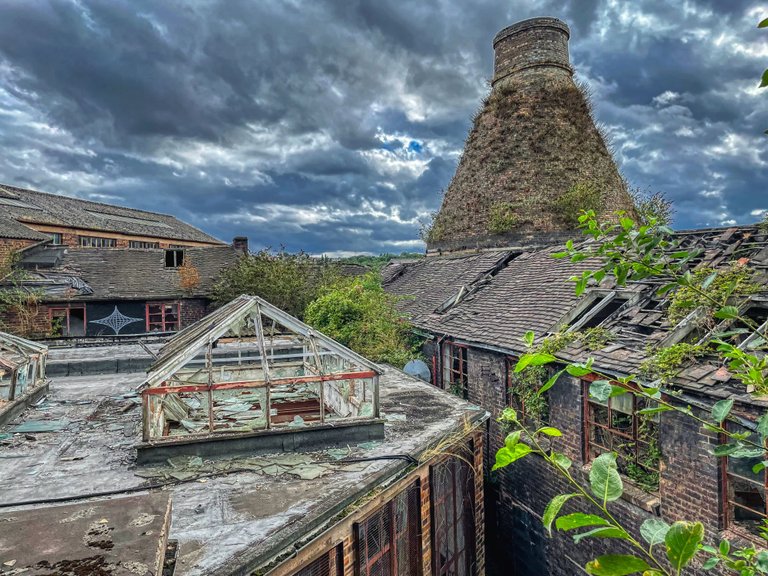 How many more of these wrecked buildings could we infiltrate was the question, before we got completely bored.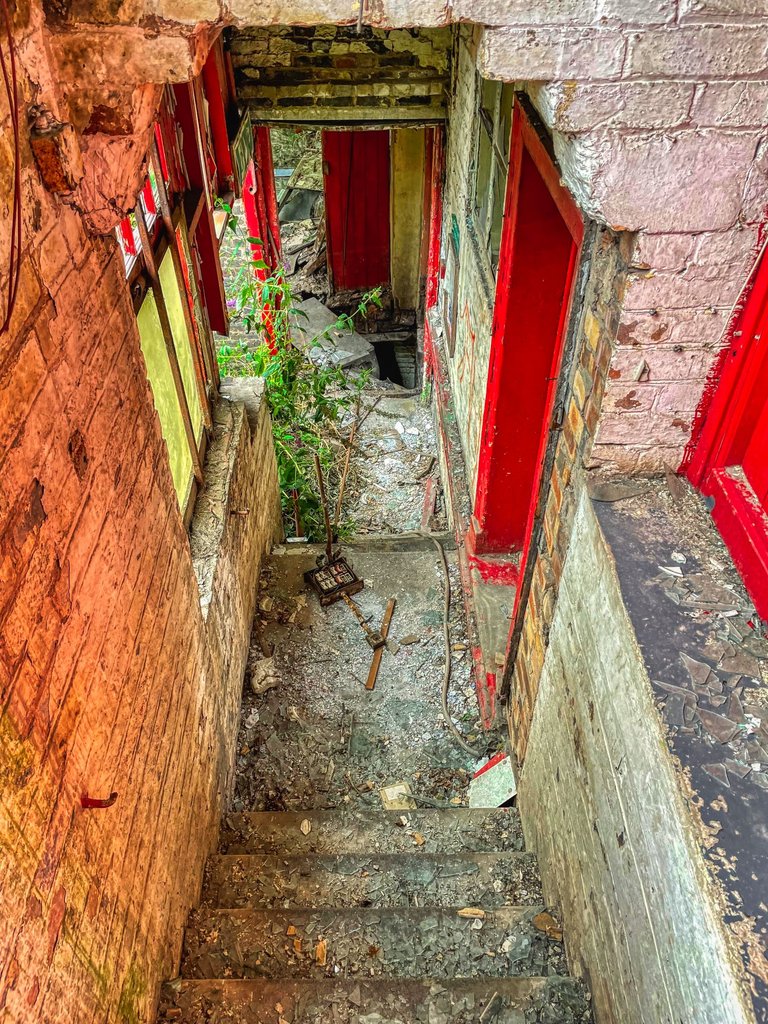 The corridors were many, twisting this way and that. Remembering which direction we had travelled was becoming more problematic.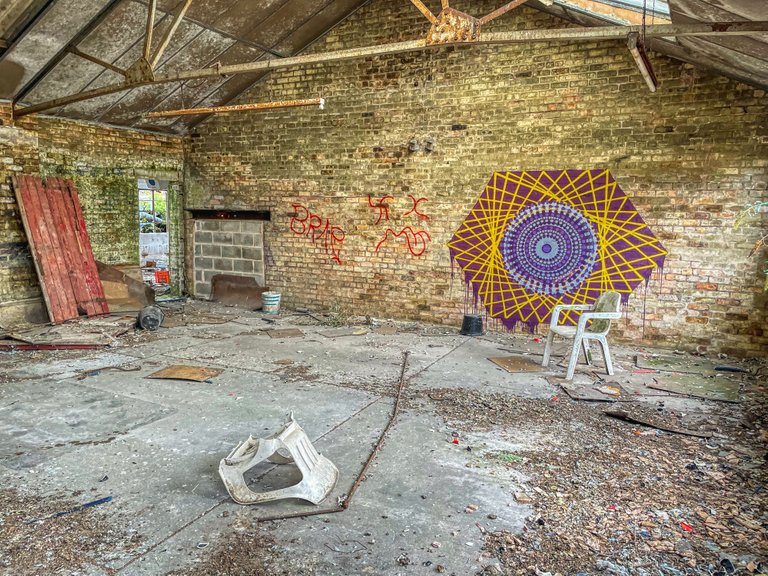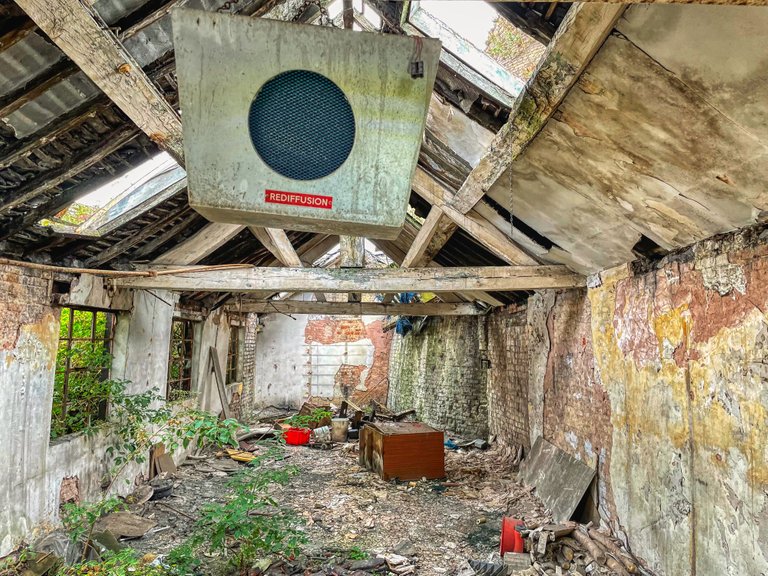 Most of the rooms were unfortunately void of features.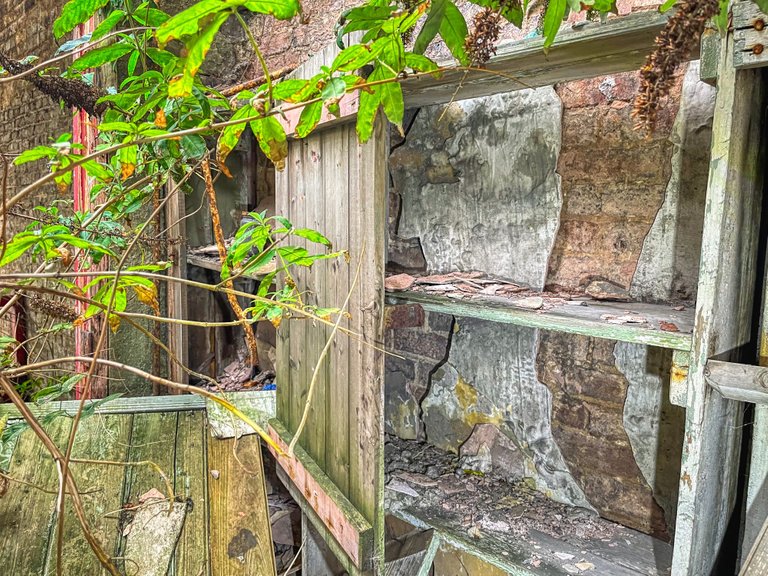 The shelves were quite bare.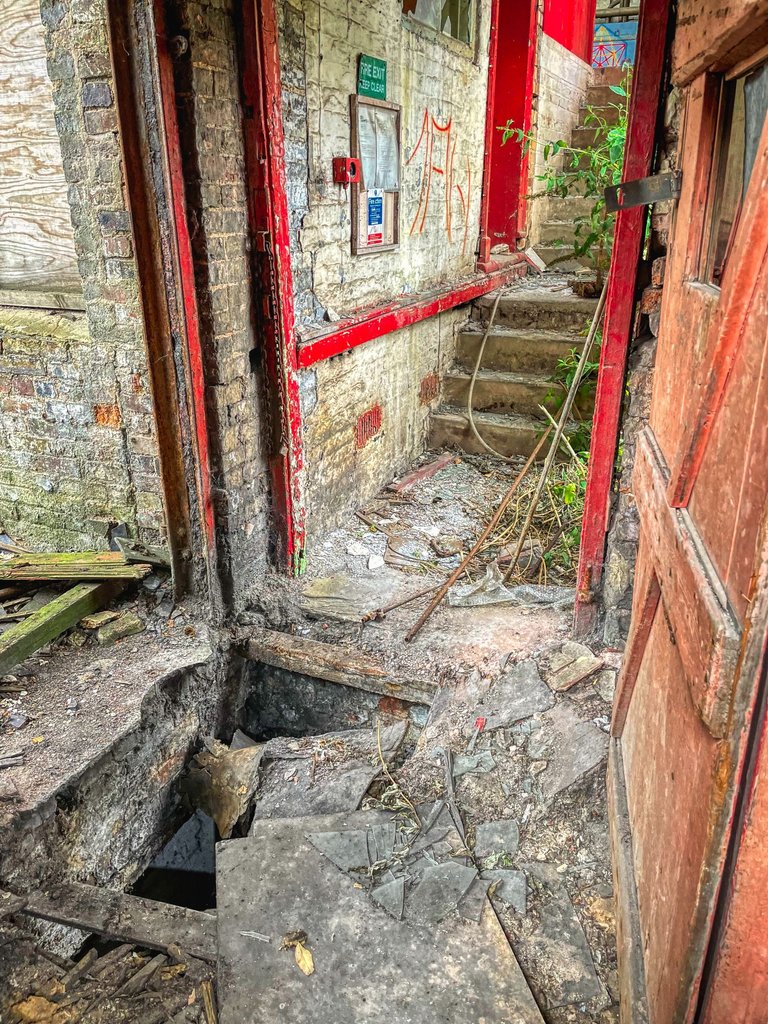 There are always bad floors to deal with, I had to jump over this one to make sure I didn't fall down there..., wherever 'there' is.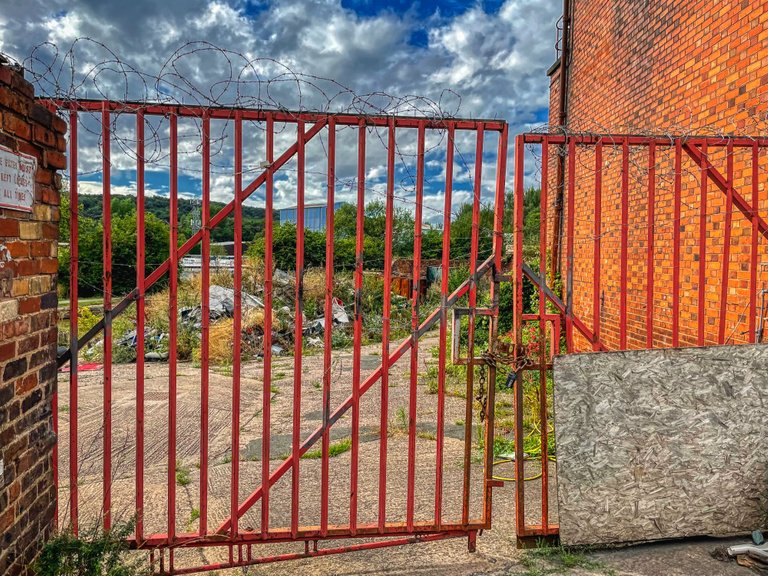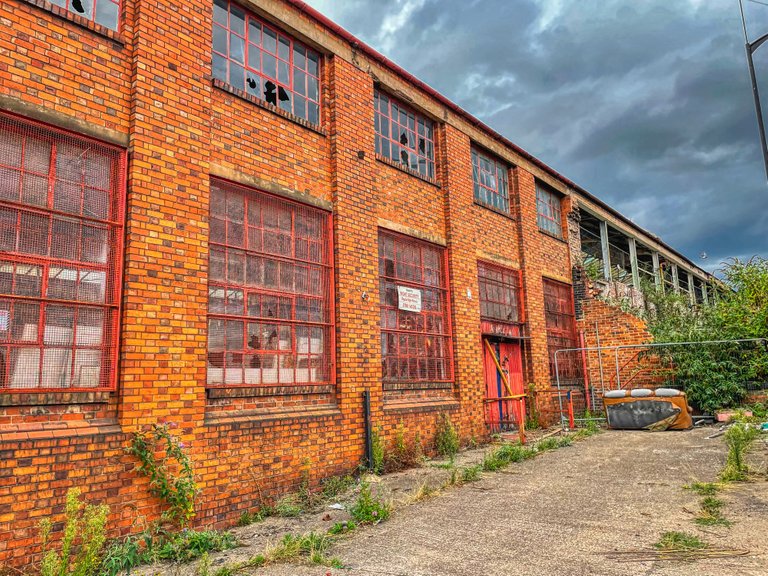 Without exploring every dilapidated building we made our way to the entrance of 'Aladdin's Cave' via one of the roofs. It was a tad more dangerous but a lot quicker and we were anxious to get to the next exciting (shit-hole) explore.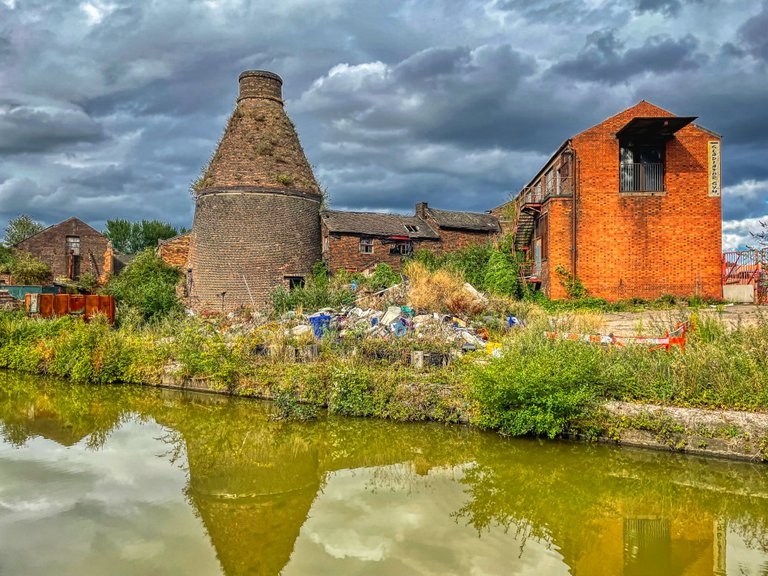 There are more secrets to be found in 'Top Bridge Works' if you want to stay there all day. We were done and satisfied.

Do you like posting your Urbex content and photography for FREE on Facebook and YouTube? I like to get some form of reward for my work and every time I create I do just that. Take a look at The Urbex Community on HIVE.
If you want to keep creating for FREE then ignore what you are reading. If you want to be like me and gain something other than BUGGER ALL for your work then click here and learn about posting on the HIVE blockchain.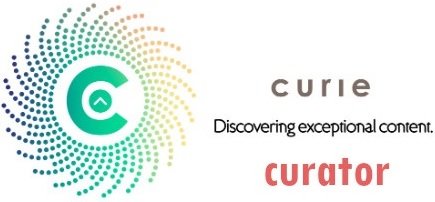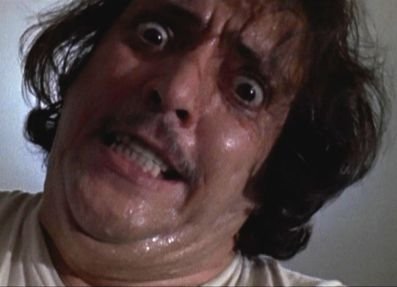 If you found this article so invigorating that you are now a positively googly-eyed, drooling lunatic with dripping saliva or even if you liked it just a bit, then please upvote, comment, rehive, engage me or all of these things.
---
---