JUNE 12 PROTEST IN NIGERIA TOMORROW || WOULD THERE BE ANOTHER BLOODSHED (SHOOTING)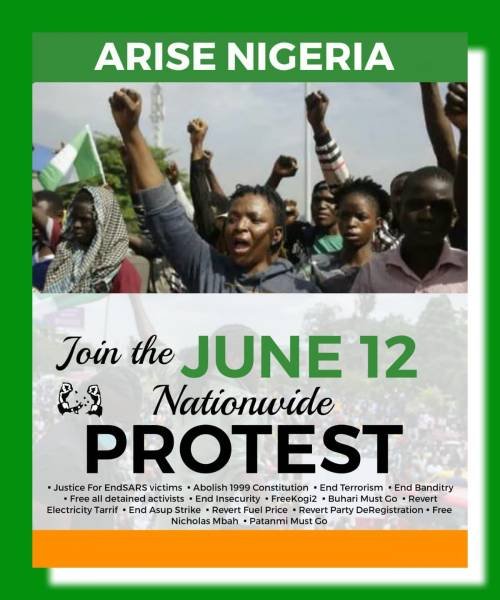 In Nigeria tomorrow, June 12 to be precise, there would be a nationwide protest to fight for justice and freedom of the people. The Nigerian government has not been fair to the citizens and is not finding ways to please the citizens instead doing things that would make things a lot harder for its people.
Now the question here is, Would there by bloodshed tomorrow? I can remember vividly that days before Twitter was banned in Nigeria, there was a threatening tweet by the President of Nigeria before it was deleted. The tweet read by:
"Many of those misbehaving today are too young to be aware of the destruction and loss of lives that occurred during the Nigerian Civil War. Those of us in the fields for 30 months, who went through the war, will treat them in the language they understand."
What did the President Imply by this tweet and who is he directing this to?
Moreover, I can also remember that in the last protest, there were lots of bloodshed and shooting by Nigerian army on unarmed citizens. What chance do we have that it would not repeat itself. The president himself did not mention anything about the shooting in his speech in the last protest, is there by anyway he would care if another shooting repeats itself most especially when he has made a threatening statement beforehand.
I understand that this protest is for a good cause but still does it still worth loosing our lives in the process. The government is damn determined at wasting lives from the way that I see it and this has got me thinking, if at all we want changes in power and government, can it be done by protesting?
Let us see how tomorrow is going to play out. I just hope there would not be another bloodshed and lives would not be wasted. Since that is what our government is best at doing instead of finding ways to improve the country and making it a better place.


Click the banner to get redirect to The Newbie Initiative

Click the banner to get redirect to Blogging Challenge Community

Click the banner to get redirect to SMILE server, or: https://discord.gg/wyhVUvt

---
All illustrations made by @tripode in Adobe Illustrator.
---
All images are mine except indicated otherwise
---


IF YOU LOVE THIS POST, YOU CAN KINDLY SUPPORT BY YOUR COMMENTS, REBLOG AND UPVOTE. IT WOULD BE MUCH APPRECIATED

THANKS FOR VISITING MY BLOG 😇💕
---
---