The new HiveFest⁶ attendee badge is waiting for you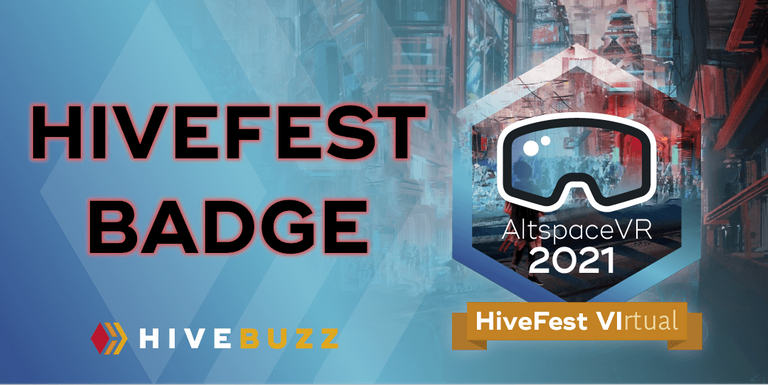 One week left before HiveFest⁶
As you all know by now, HiveFest⁶ will take place on November 12 and 13. If you missed the announcement made by @roelandp, you can read it here.
Onece again, for obvious reasons, HiveFest⁶ will not take place in a country somewhere in the (real) world but in the virtual universe of Altspace VR.
While many of us are sad that we cannot physically meet each other, the good news is that many more users will be able to participate as there will be no travel and accommodation costs. All you will need to plug into the virtual reality is your VR-goggles or a computer with AltspaceVR installed on it.
Meet HiveBuzz at HiveFest⁶
The HiveBuzz team also actively prepared for the event and we will try to add our little extra touch of fun.
And as for last year, the magic of virtual universes will allow you to meet HiveBuzz and discuss with our team.
Earn your commemorative badge
The commemorative badge is ready and waiting to be activated on your HiveBuzz board.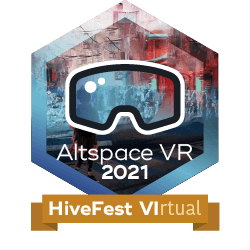 How to get it?
HiveFest⁶ taking place in virtual reality doesn't mean you shouldn't work a bit to earn your badge.
If you haven't already done so, hurry to register for free before November 5th!
On the D-day, you will need to confirm your attendance.
Wear your VR headset or install the AltspaceVR software on your computer and join the virtual world of HiveFest. Everything is planned so that you can confirm your arrival easily and automatically receive your badge a few minutes later.
The badge will be displayed in your personal tab on your board.
Some useful links:
HiveFest⁶ announcement
HiveFest⁶ official website
HiveFest⁶ Community - All the HiveFest⁶ related posts
HiveFest⁶ Telegram group
See you soon in the metaverse
We look forward to meeting you and really hope you attend HiveFest⁶
The Hivebuzz Team
---
---