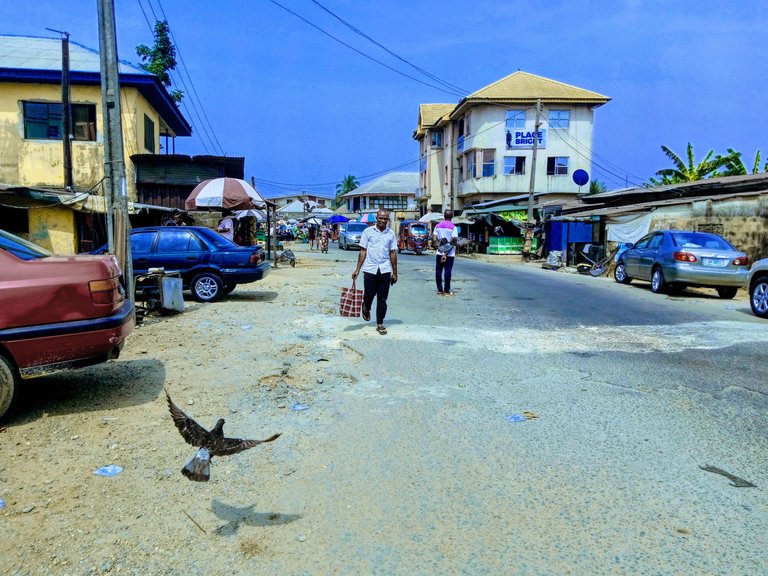 Walking down the busy road, with the camera already position as always, it caught the flying feathered fella.
No, it wasn't an intentional shot but a random capture.
The bird was already on its heels to take off and so the camera caught it in that movement
Does it seem it's flying towards the man walking opposite it? Well, in my case it seems its take-off showed that it is heading towards that direction but I was wrong.
Feathered fella never flies towards people, they rather run away from them since that humans aren't in their species.
The photo was captured in the middle of the street and I am a little obsessed with #streetphotography these days and because of this I caught that lovely fella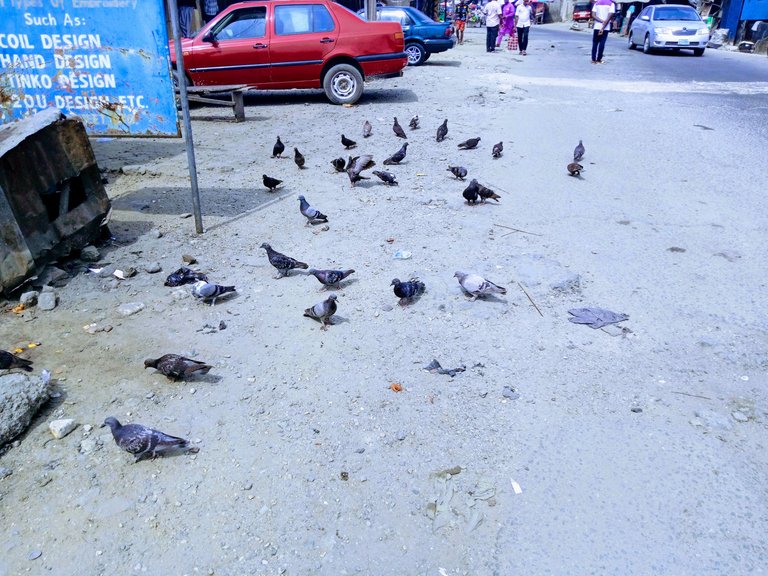 Look closely in the photo below and you will observe those four friends trying to take off as well. Three flapped their wings to fly off while one had its wings spread out already and was a few meters in the air.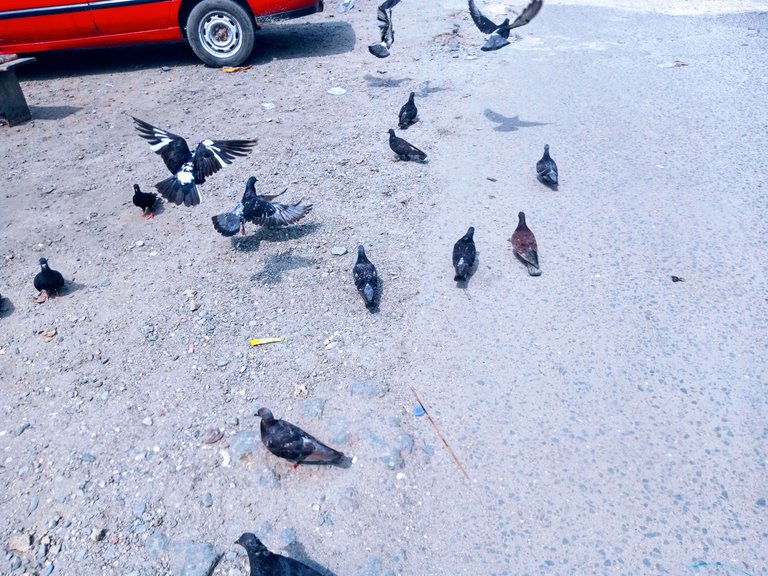 And we have the gathering of the feathered fella. They were picking up small pebbles and food particles.
This street and this particular place is their food meeting point.
They tend to find more food particles around here to fill their stomach.
Every time I go to my workplace, I usually see them gather to pick and peck on food particles they saw on the ground.
There are restaurants quite close to this meeting point and this is one of the reasons why they never lack food particles to peck at.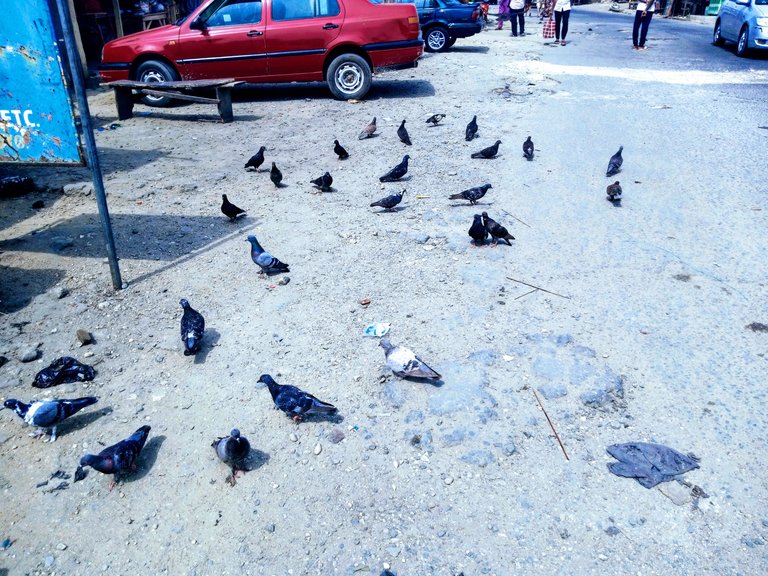 This is my first time in this community. I came across this contest and decided to give it a try.
I am so glad to share my first post here and at the same time, join and subscribe to this community.
PS: The first photo is my entry for the contest Bird In Black
Before I finish this up, tell me what do you think of the feathered fella?
What do you admire about them?
For me, it's their freedom and free will.
Spreading out their wings and roaming the air is an experience that I personally think is great.
Thank you for sparing this post your time and for reading through.
I am your new feathered friends lover ;)
SPANISH
Caminando por la concurrida calle, con la cámara ya en posición como siempre, captó al tipo con plumas voladoras.
No, no fue un disparo intencional sino una captura aleatoria.
El pájaro ya estaba pisando los talones para despegar y por eso la cámara lo captó en ese movimiento
¿Parece que está volando hacia el hombre que camina frente a él?
Bueno, en mi caso parece que su despegue mostró que va en esa dirección pero me equivoqué.
El tipo emplumado nunca vuela hacia las personas, prefieren huir de ellas porque los humanos no están en su especie.
La foto fue capturada en medio de la calle y estoy un poco obsesionada con #streetphotography estos días y por eso pillé a ese chico encantador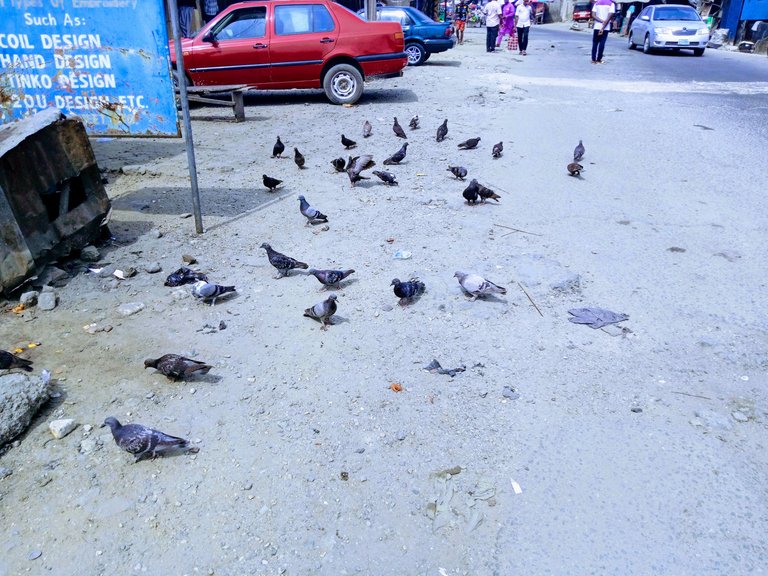 Mire de cerca en la foto de abajo y observará a esos cuatro amigos tratando de despegar también.
Tres batieron sus alas para volar mientras que uno ya tenía las alas extendidas y estaba a unos metros en el aire.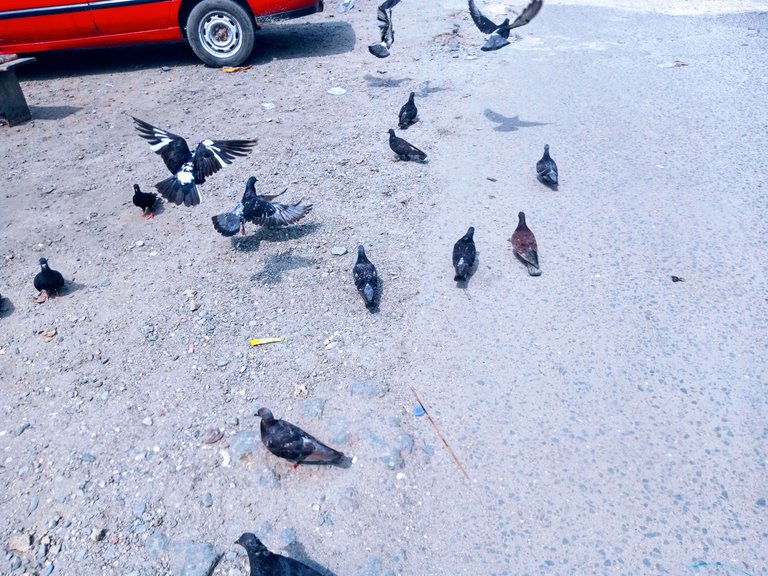 Y tenemos la reunión del tipo emplumado.
Recogían pequeños guijarros y partículas de comida.
Esta calle y este lugar en particular es su punto de encuentro gastronómico.
Tienden a encontrar más partículas de comida por aquí para llenar su estómago.
Cada vez que voy a mi lugar de trabajo, normalmente los veo reunirse para recoger y picotear las partículas de comida que vieron en el suelo.
Hay restaurantes bastante cerca de este punto de encuentro y esta es una de las razones por las que nunca les faltan partículas de comida para picotear.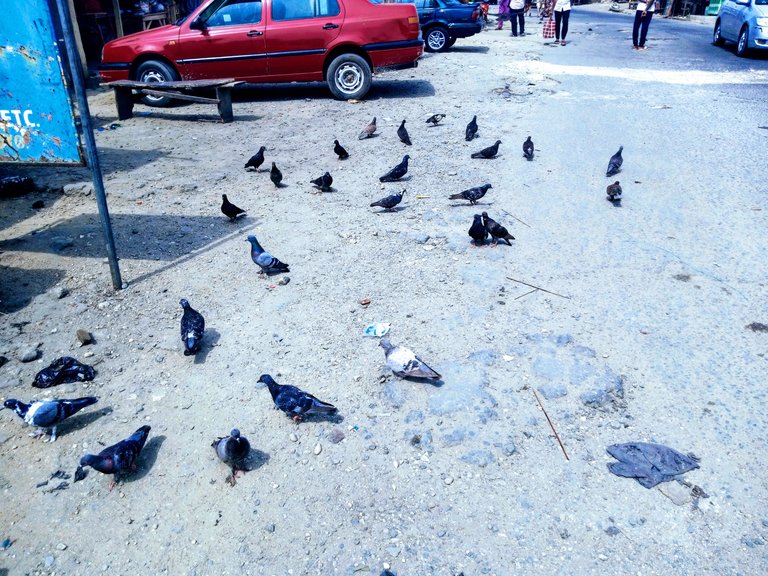 Esta es mi primera vez en esta comunidad.
Me encontré con este concurso y decidí intentarlo.
Estoy muy contento de compartir mi primera publicación aquí y, al mismo tiempo, unirme y suscribirme a esta comunidad.
PS: La primera foto es mi entrada para el concurso Bird In Black
Antes de terminar esto, dime ¿qué piensas del tipo emplumado?
¿Qué admira de ellos?
Para mí, es su libertad y su libre albedrío.
Extender sus alas y vagar por el aire es una experiencia que personalmente creo que es genial.
Gracias por dedicarle tiempo a esta publicación y por leerla.
Soy tu nueva amante de los amigos emplumados;)