My interactions with the newcomers: #02 | Curated 6 posts with the #introduceyourself tag

Hello, friends! Here is my 2nd curated collection post on the #introduceyourself tag. It contains collection posts of the newcomers. I have read, curated and commented on each of the posts. A warm welcome and a few suggestions may help them start a smooth journey here.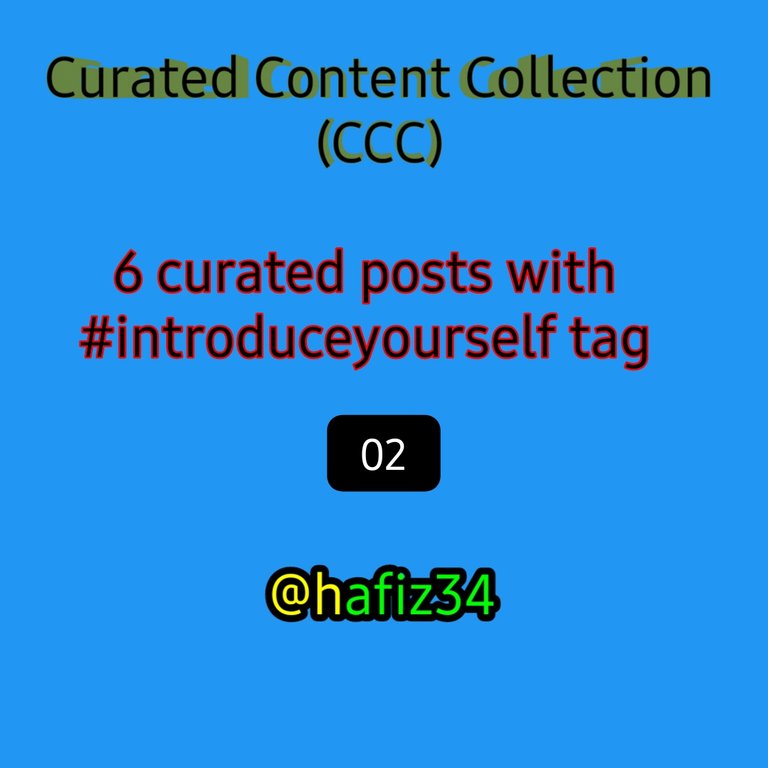 ---
https://peakd.com/hive-153850/@haideremti/my-introduction-post-on-hive-blog-by-haideremti
Say hi to brother Emtiaz (@haideremti). He is from Bangladesh. He is a future electrical engineer. He is also a member of a foundation that is working for street children. He loves reading books and watching TV series.
---
https://peakd.com/hive-148441/@diegob/esp-eng-mi-presentacion-el-hivemy-presentation-in-hive
Meet Diego Moisés (@diegob)! He is from El Pilar, Sucre state, Venezuela. He is 18. He, along with his parents, sell food for their living. He loves cooking, agriculture and listening to music.
---
https://peakd.com/ocd/@ddev/introduction
Let us welcome D Dev (@ddev), from the land of God, Uttrakhand, India. He is already running a business and that is a snooker club. He likes photography and loves her Jenny (A pet)
---
https://peakd.com/hive-158693/@sophiapics29/introducing-myself
Here is Sophia (@sophiapics29). A model and photographer from Abuja, Nigeria. She even studied photojournalism.
---
https://peakd.com/introduceyourself/@aleksdi/bg-en-predstavyane-zdraveite-az
Let me introduce Alex (@aleksdi), a Bulgarian who decided to join our community. She loves her country and loves to visit the historical places of her country.
---
https://peakd.com/hive/@v-nai/my-introduction
Say hello to Vinay (@v-nai), from India. He is working as a storekeeper in the Metro cash & company. His hobbies are photography and designing mograph. You can expect posts on mograph, nature, travel etc. from him.
---
---
WeAreAlive tribe: An active and promising tribe on Hive
Do you know that we have an active community (We Are Alive Tribe) or tribe (WeAreAlive) on the Hive blockchain, and it is easy to participate? The easiest method is that you have to just tell the world that you are alive. Follow these easy steps mentioned in the following image and/or visit here for a full guide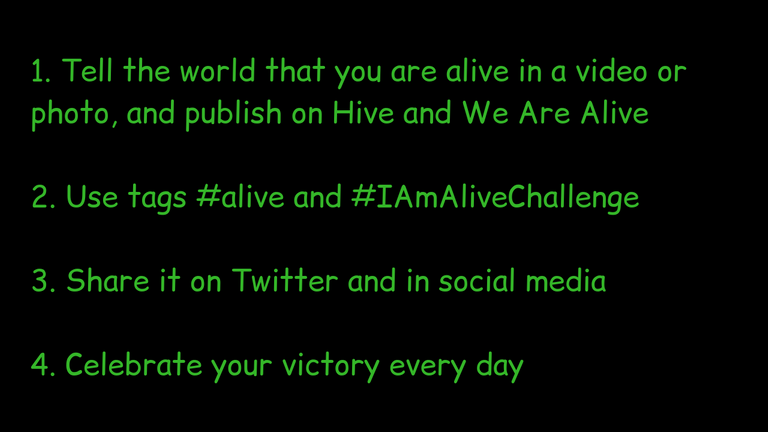 image credit goeses to Erik Gustafsson
This tribe has its own token known as ALIVE token. Meaning, by participating in the tribe (or community), besides $hive, you can earn ALIVE token as well in your Hive-engine (H-E) wallet. You can earn ALIVE tokens in the following ways:
As Author rewards: From your posts with #alive tag and quality & meaningful comments, upvoted by the community account and top ALIVE token holders.

As Curation reward: If you stake the ALIVE token in your H-E wallet, you can curate other members posts/comments and earn ALIVE tokens. The reward is split 50-50 between the author and curator.

By Mining ALIVEM tokens: You can buy ALIVEM tokens in the H-E and stake. This mining token will give you ALIVE tokens. In this tribe, the price and availability of the mining token are kinda different. Currently, 1000 ALIVEM is in circulation and anyone can buy with 5 hives each. For the next 1000 ALIVEM, the price will be double (10 hives) and it will keep doubling for every subsequent 1000 ALIVEM. So, if you want to buy the mining token, now is the time. About ALIVEM

By getting tips: You can get 0.1 ALIVE tokens as a tip for every meaningful comment in the community or tribe. The token holders can distribute the tips.

By taking part in the contest: The person behind the tribe/community is @flaxz. Currently, he is arranging a weekly contest where you can get ALIVE tokens if you stake your token in the H-E wallet. About the contest
What are you waiting for?
---
---