In a world where everyone is expecting the bull-run to start ... hopefully some of you are just relaxing and enjoying their journey inside the vast ocean of #crypto ... like our famous example here, Moana and her little piglet, while they enjoy the breeze of the ocean ...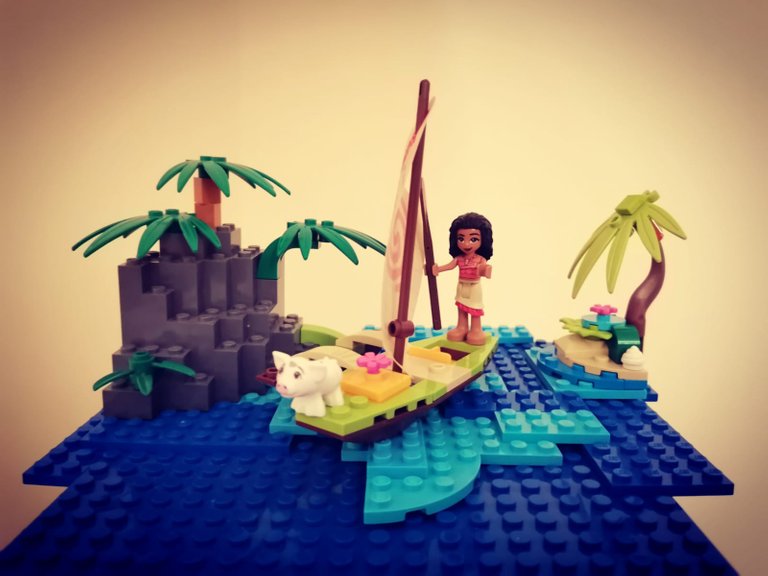 This whole action of this famous movie happens on this awesome Motunui island ...
Moana, is showing us the the story of a strong willed daughter of a chief of a Polynesian village, who was chosen by the ocean itself to reunite a mystical relic with the goddess Te Fiti.
The whole story sounds cool, but i've liked just to take her example, as a relaxed goddess, somehow, who, instead of getting stressed on high tides, she's actually relaxing on her canoe ... something that most of you should apply inside your lives, especially now, when the entire society is transcending an important phase inside the process of evolution that the New World had been programmed already for eons ...
Maybe the Encrypted goddess, Te Fiti will be present inside the artistic #crypto space as well ... and will lead all the artists on their journey to find that island from the promised Paradise, and the most important thing, to find the Tree of Eiwa ...
Maybe in such a place, you won't need any #bitcoin to buy anything ... everything would be from abundance :)
Who doesn't feel cool to travel with the magical canoe inside the encrypted ocean of the #blockchain , should contact my buddies, Stuart and Bob ...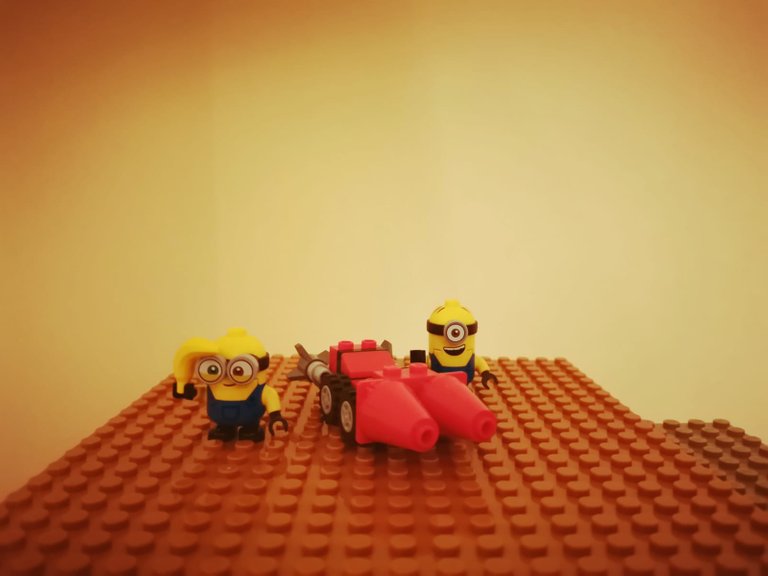 They have prepared their own futuristic time travel machine and can take you with them ...
The journey will be interesting and filled with lots of funny moments ...
Maybe they will be able to give you some advice regarding this weird bull-run, that somehow looks to take the opposite direction soon ...
At some moment, they've been in a meeting with their good friend, Sybill Trelawney, which is a master in divination, in hope that her crystal globe will define much more precisely the futuristic matrix of this new world of crypto market ...
She predicted somehow that the next few weeks, won't be the well expected "bull-run" and there will be a deep correction inside this market ...
Anniway ...
Sybill Trelawney said that, if someone is still hoping that the crypto market will hit very soon those expected prices, such as 1 million of $ and other crazy amounts ... they should think again and try to understand that the World is not prepared for such a thing yet ...
Especially because the displacement oof an amount like 21 millions of btc was not made yet to the entire population of this Earth ...
Therefore, such an environment, will remain as an alternative, for the moment to the actual system ...
Maybe, those who will expect that by having a substantial amount of btc will make them millionaires ... think again ... maybe by the time when btc will hit at least 100K most of them will be lost on an imaginary and personal island, with their soul lost and their bodies looking already like skeletons ...
Hahahahahahahaha ... may i laugh a lil'bit?
Even if you would have thousands of D2 R2 robots as servants, it won't help your body to recover ...
It's just for the non-altruistic World and the illusoric matrix in which we live, and, to entertain this spectrum, i've thought that some comedy and parody would suit very well in an abstract combination ...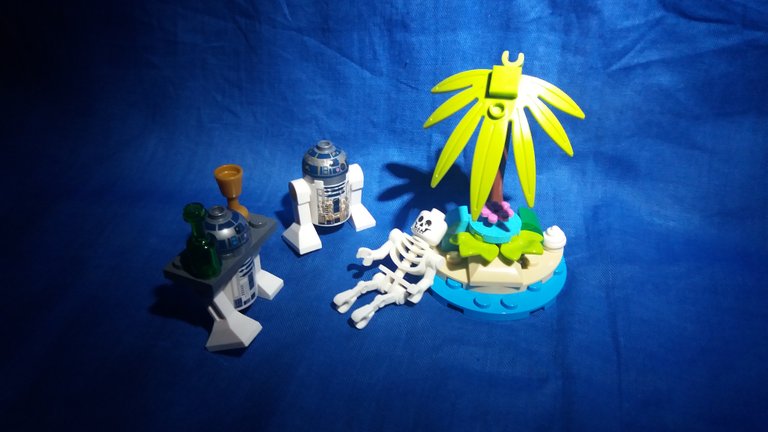 Maybe at some moment, Sybill Trelawney will be understood and the whole cryptonian world will understand the entire illusoric game ...
Even though, at that moment, maybe more than 51 % of this Earth will be in an environment like the one i've mentioned above, but maybe each individual will be a skeleton on his inner island :-)) trying to reach Sybill Trelawney to receive through her crystal ball the future statistics on the "none-moneypulated" market :-)))))))))))))))))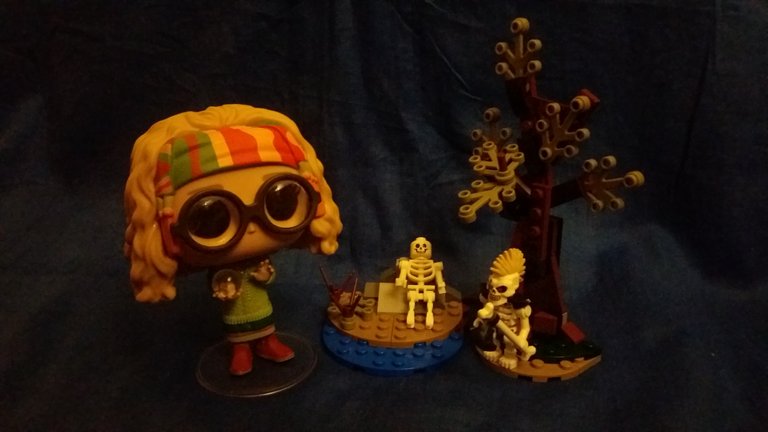 Maybe you'll have your own Mad Max scenario, having some skeletons friends, ready to ask about your inner calculations on your vision upon the so called market ...
But who cares?
Maybe the best way would be to take your buddies and pass your inner desert ... like me with my friends, Ali'ah Tusken Raider and SandolOrion Trooper, with whom, once in a while, we explore the vast #crypto desert within' the Marsoom planet ...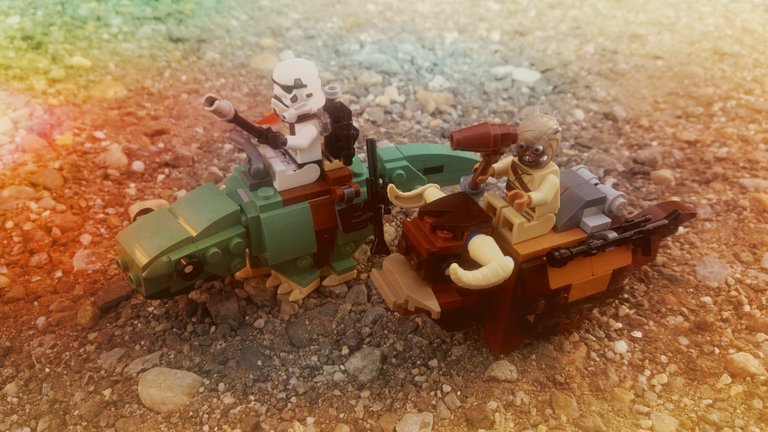 Other wise, assume everything for an interesting future, and, forget to pass your inner desert to reach a secret place, with a secret hut inside the most wonderful spectrum, no matter if it would be in a desert of Jakku planet, and to live in a hut like Rey's one ...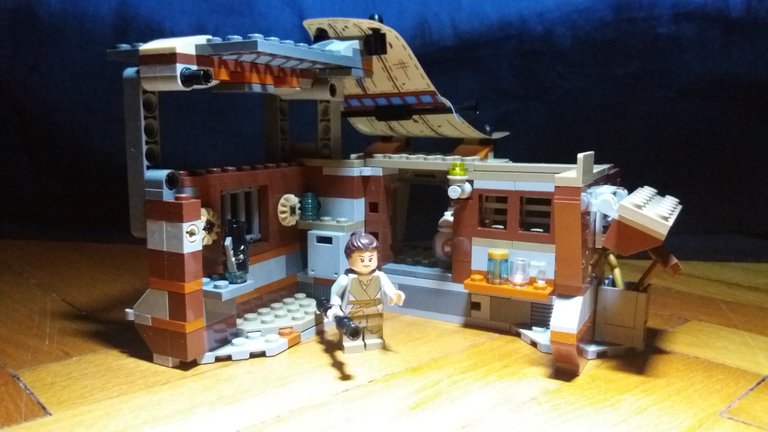 Such an environment, would be perfect for this modern world from this cryptonian planet, and maybe most of us would be more #creative in a much effective way, even if the actual society somehow gives us thousands of signs of weakness ... But maybe through fear and weakness, the protocol of transcendence would be much easier ? Or not ... ?
Meanwhile, i'll wait to see, IF, there will be a true bull-run, or through the injection of the market through the appearance of some big corporations inside the #crypto space, maybe there will be just a quick pump, and right after, guess what? A sleigh ride to the other part of the Moon :))
It's like in my #photo with these majestic characters, someone like Donald Duck tries to create diversion with his own magical skills, while the others are hidding ... and guess what? People will de diverted to have their attention to those who are playing with them , seak and hide ... :))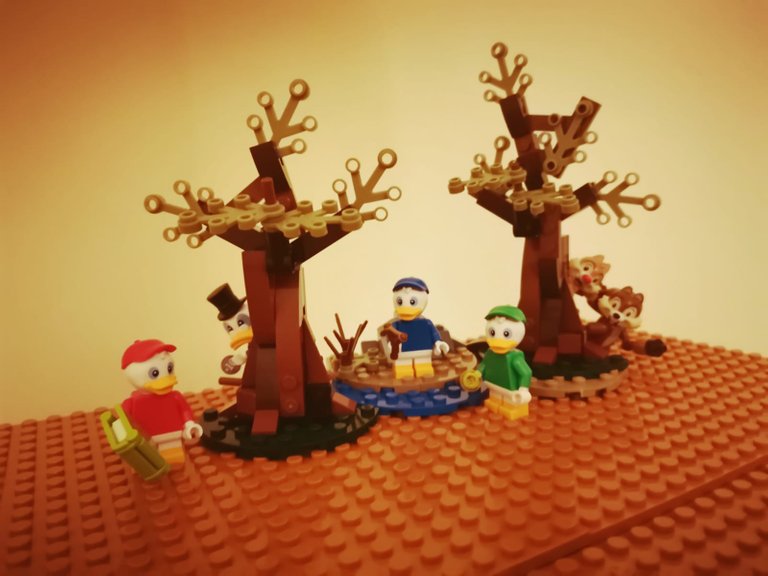 Maybe some of you will be curious in a game like this type of crypto seak and hide, to see, if, while the entrance of paypal inside this space, actually the $ won't have to suffer ... maybe than some wil expect ... ?
Let's wait and see ...
Meanwhile, let's play seak and hide with our best buddies, Chip and Dale ...
:))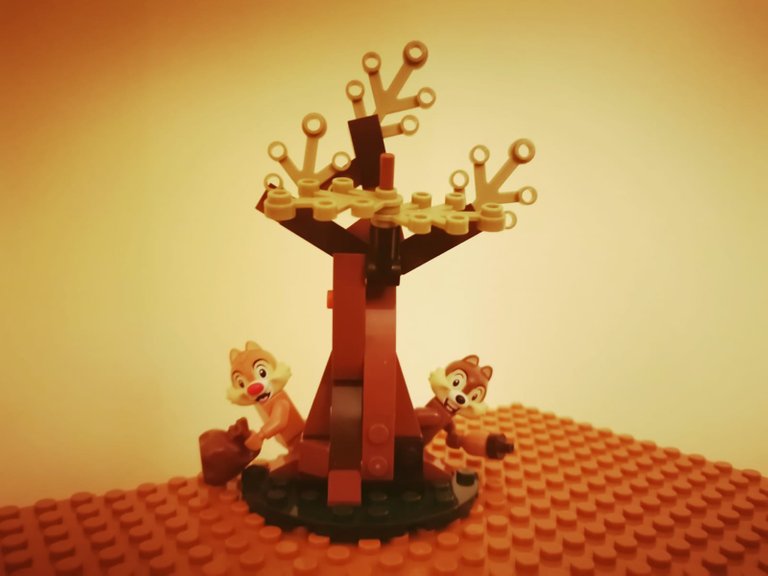 Ciao a tutti