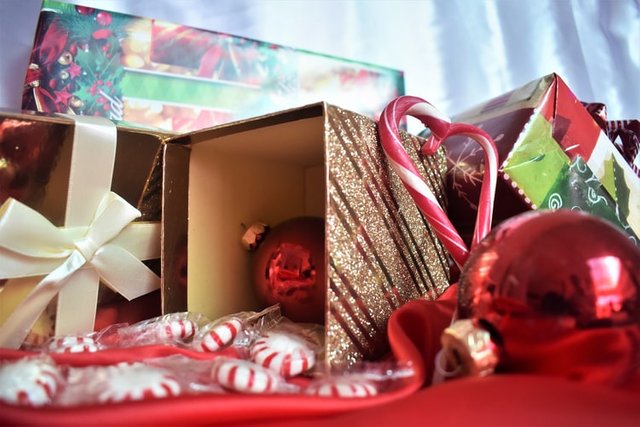 Image by Laura Gomez from Unsplash
@brittandjosie
CONTEST : CHOOSE ONE OF THE 6 AND ANSWER
Who When Where How Why What


What
What gifts did they leave under the tree this time? I asked myself in 2018 after all my family had left for the day, and I was about to tackle the cleanup. That was the second year in a row this happened. After all that hard work trying to decide what gifts to get them, then shopping until I found each one.
Hand-picked by me. The person who knows all of them the best! Wrapped and accessorized neatly, I thought those particular gifts last year were sure to be winners. Every last one of them.
So after the first disastrous year, I was sure I'd picked winners last Christmas. I purchased 5 Air Fryers on the online recommendation of best Christmas gifts for 2018. Then I proceeded to purchase a lot of other items as a surprise that would have been so cute and just right for them. Tearing open the Air Fryers and all the excitement over who was going to try which recipes and compare, I just knew they'd love the rest of my picks too.
Didn't happen. After Christmas, I packed the items to save for my family reunion. I was determined that someone was going to like those gifts.
Messaging my wounded ego over the fact that I really didn't know my family's tastes as well as I thought I did, I picked myself up and vowed never to put myself through that again.
January 1, 2019. A chance for a fresh start. I began a mission for this Christmas. I planned all year and purchased a few of the items each month. And, no more wrapping adult gifts. Only ages 5 and under will receive wrapped surprises.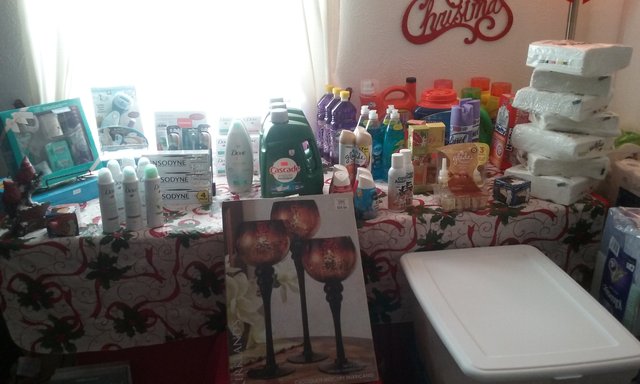 It's now Christmas Eve, and I'm so proud of myself. The surprise for all my family will be the items as shown in my picture above:
Paper towels;
Toilet tissue;
Detergent and fabric softener;
Soap and body wash;
Dishwasher liquid;
Air freshners;
Trash bags;
Tooth paste and tooth brushes;
Hand soap; and
Dinner napkins.
I set all items out on display on my banquet table. I purchased eco-friendly tote bags to carry them home. They can choose whatever they wish. This year will surely be a winner. I'll have to wait and see if any of the items will be left with me at the end of the day.

Thanks,
@justclickindiva
Happy rest of the week everyone with whatever your endeavors.
---
SOURCES:
a) JustClickin logo created at CoolText.Com
b) Unless otherwise noted, all photos taken by me with my (i) Samsung Galaxy 10" Tablet, (ii) Samsung Phone, & (iii) FUJI FinePix S3380 - 14 Mega Pixels Digital Camera
c) Purple Butterfly part of purchased set of Spiritual Clip Art for my Personal Use
d) Separator Lines Free ClipArt Belt from Public Domain Vectors & ShadedLine from ClipArt-Library
e) All Tribe logos used with permission of Tribe Discord Channel admins.




I SUPPORT THE FOLLOWING GROUPS: