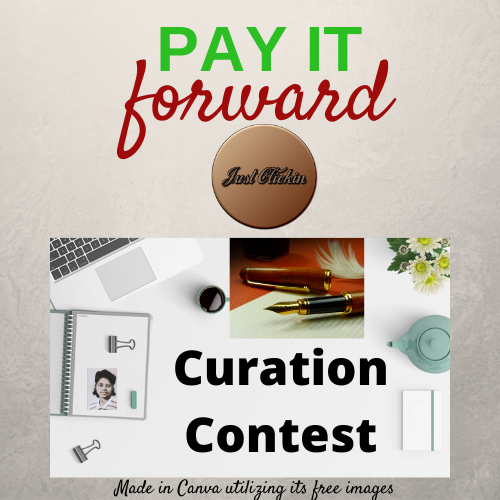 Featuring the Build-It Tribe: Week 87 - Pay it Forward
This week the PIFC is focusing on the Build-It Tribe. While I'm not a do-it-yourself person, I love to see others handle simple to complex tasks. The author I chose from this Tribe is a homesteader and raises organic foods. She posted two great blogs I'd like to highlight:
Post 1
In this post from @goldenfarm, Wreath Making at Old Deerfield - December 4, 2019 @goldenoakfarm, she shows how teamwork can help a community. She and other friends collect materials all year, then meet to make wreaths for Old Deerfield Village doors. The community provides some materials to them. She states that she has only been making them for a little over two years.
@goldenoakfarm and her friends show you step-by-step how to make the wreaths. I can tell in the picture how much fun they are having. This a picture of one of the wreaths. I know the residents of Deerfield appreciate their hard work.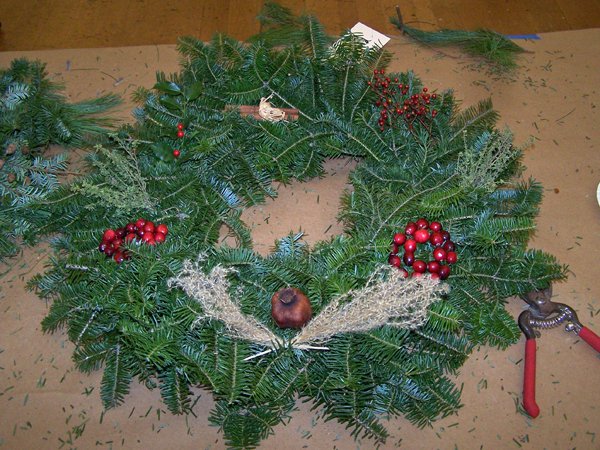 Image and Source on Owner's Post
This is an excellent post by @goldenoakfarm. Not only does she and the other volunteers make beautiful wreaths, but they practice sustainability by utilizing raw materials from the community itself and giving back these beautiful works to be seen by all. It shows the compassion and love of community to attempt a project such as this. I recommend you visit her post when you get a chance.

Post 2
In this next post by @goldenoakfarm, Organizing Freezers - December 6, 2019 @goldenoakfarm, she shows off her organization an planning skills by giving us a glimpse of how she organizes her freezer for the coming winter months. I can see from her post of where they live that it's necessary because they never know when you may be shut in and can't make the trip to the grocers. You have to stock up on certain foods, staples, and other items.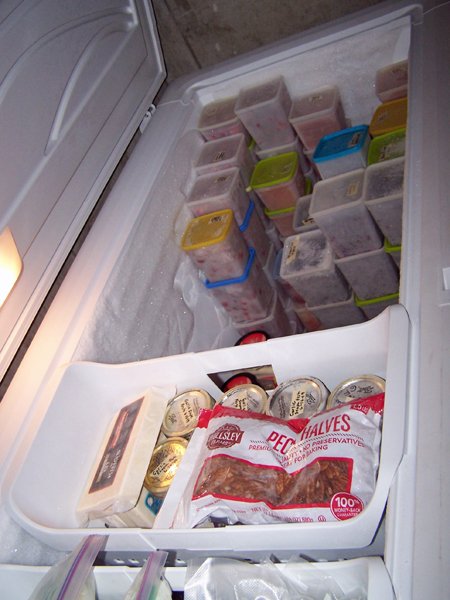 Image and Source found on Owner's post
@goldenfarm has more than one freezer. She tells us how she organizes and inventories each, tossing as needed.
I recommend @goldenfarm's post as a good read because it's and inspiration that shows dedication and organization to survive where she lives. She has convinced me that I need to get and stay more organized. Stop by and take a look at her freezers when you get a chance.
---
After curating these two posts for this author, I'm now fully convinced that I need to step up my game when it comes to organization. I do have a small plan though. Have to start somewhere.

Thanks,
@justclickindiva
Happy rest of the week everyone with whatever your endeavors.
---
SOURCES:
a) JustClickin logo created at CoolText.Com
b) Unless otherwise noted, all photos taken by me with my (i) Samsung Galaxy 10" Tablet, (ii) Samsung Phone, & (iii) FUJI FinePix S3380 - 14 Mega Pixels Digital Camera
c) Purple Butterfly part of purchased set of Spiritual Clip Art for my Personal Use
d) Separator Lines Free ClipArt Belt from Public Domain Vectors & ShadedLine from ClipArt-Library
e) All Tribe logos used with permission of Tribe Discord Channel admins.





I SUPPORT THE FOLLOWING GROUPS: