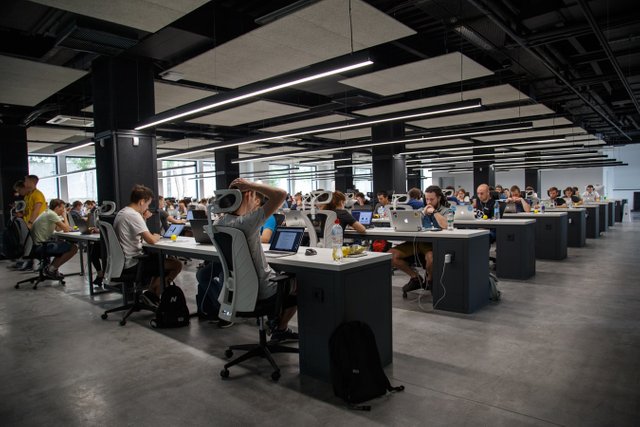 Image by Alex Kotliarskyi from Unsplash
Day 797: 5 Minute Freewrite: Thursday - Prompt: haters will be haters

"It and a Bit." Yep, that was the name I was given by my co-workers. Can't say I didn't know why. How do I know? Because I saw it in writing from one co-worker to another.
In my mind though, I always knew my name was on their lips whenever they huddled together at each other's desk. You see, I had an office. One like middle management. And at my salary grade and status on the corporate hierachy charts, that was an accomplishment. I could shut my door and draw the blinds as though shielding me from the bad words and thoughts echoing through their minds as they pass by in the hallway.
Anyone outside the department would agree that I deserved it, and let others know about it if asked.
Did I care? No. The fact is, as long as I can remember, I've been on the outside looking in. Marching to a different drummer. But that didn't solve my immediate problem of being labeled.
In this case, it was the "know-how". The ability to see a problem and attempt to solve it. The ability to teach myself a new office program that was essential to the daily work. The willingness to volunteer to take classes to help the department. It all sounds good like a reasonable person would expect any employee to do.
But those were not reasonable people, and those were not reasonable times. Layoff rumors catapulted down the hallway as if rushing to find the source and confirm its truthfulness. No one was safe. The atmosphere was so thick, I could feel the pressure as I stepped off the elevator, opened the door, and walked through the cloud of hatred each morning.
But I have another purpose that's not known to anyone there. My husband was injured on his job a year ago and only being compensated 80% of his normal salary. I am the only full-time household provider at the moment. Our mortgage is 3 months in arrears, and we don't yet qualify for a refinance to lower our monthly payments. One of our children was just diagnosed with an illness. Another one is not doing well in his studies. Our parents need us, mine the most.
My world is slowly tightening around me. My only concern is how to keep the migraines at bay by the time I wake up each morning.
Some nights, sleep evades me. But I have to force myself. 5:00 arrives as though I just saw the kaleidoscope of images behind my eyelids an hour ago. Kids need to be fed and out the door by 6:30 a.m. My husband tries to help as much as he's able.
But I have to press on. I volunteer for extra hours. I teach yourself the new office program. I volunteer for coffee bar attendee. I volunteer to help other departments. I become known outside my department as a friendly face each time they meet me. No one knows the tiredness, the uncontrollable urge that brings me to tears if I think about my world too long; the turmoil inside.
But I press on and get the highest evaluation rank and raise allowed. I get an office that no one else in my salary grade has.
And now my name is not Natalia. It's "It and a Bit."

Thanks,
@justclickindiva
Happy rest of the week everyone with whatever your endeavors.
---
SOURCES:
a) JustClickin logo created at CoolText.Com
b) Unless otherwise noted, all photos taken by me with my (i) Samsung Galaxy 10" Tablet, (ii) Samsung Phone, & (iii) FUJI FinePix S3380 - 14 Mega Pixels Digital Camera
c) Purple Butterfly part of purchased set of Spiritual Clip Art for my Personal Use
d) Separator Lines Free ClipArt Belt from Public Domain Vectors & ShadedLine from ClipArt-Library
e) All Tribe logos used with permission of Tribe Discord Channel admins.




I SUPPORT THE FOLLOWING GROUPS: