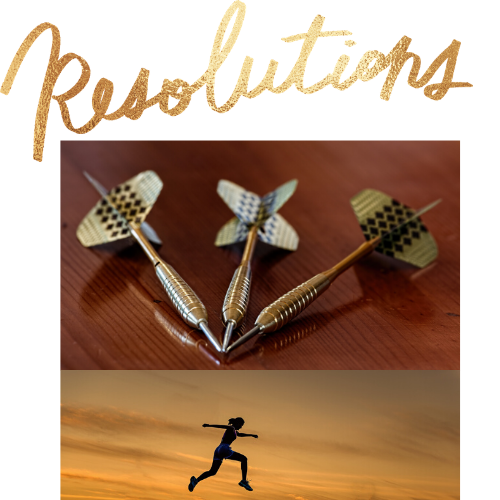 Source1
PowerHouseCreatives Contest | It's that time of the year again!
January 1, 2020. New Year's Eve is now a pleasant memory after I ate my last chocolate chip cookie. Why? Because my New Year's Resolution is:

2020 A1C Level Goal: Less Than 100
Why does my A1C Level need to be less than 100? Because I have Type 2 Diabetes. I was diagnosed in May, 2019. At that time, my A1C Level was dangerously high. Since then, I've struggled with trying to cut that number at least by half.
According to my doctor, I've made great strides. Look at where my number is now compared to where it started:
May, 2019 A1C Level: 288
Dec, 2019 A1C Level: 145
But for the past three months, my level has been hovering around 145 - 150. It feels like I'm at a standstill, and I won't be able to reduce it any futher. Often I get discouraged. It needs to be lower than 100 to improve my health. I'll always have this disease. There is no cure. But if I manage to keep my level under 100, I'll have a better chance to live a more healthy, productive, and active life.
Why has it been so hard for me? First, I have a family history of Diabetes. Also, other illnesses have interferred with my progress. As I reiterated during my November Diabetes Awareness Month series, you have to be aware of any changes due to internal or external stressors.
So when I receive injections in my knees, my A1C levels rise almost back to the starting point. No conrol over that, other than have complete knee replacements. One thing I have learned is you have to find solutions that will work for you. My doctor is looking at alternatives to knee injections.
In order to achieve a breakthrough, I have to face my nemesis. First I need to eat: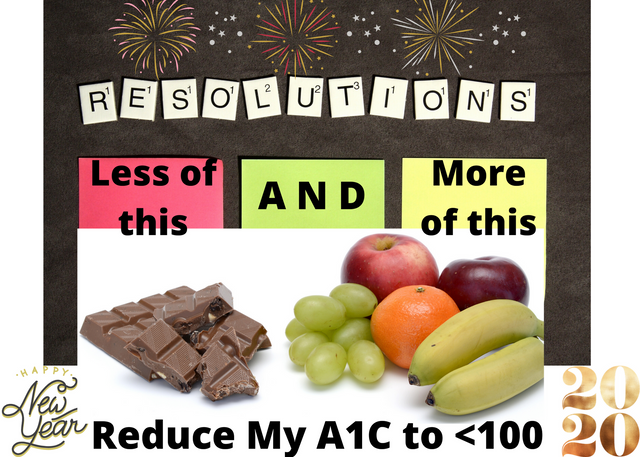 Source2
And incorporate more vegetables, and less meat. I recently met with a Dietitian. I'm now on my way to a new beginning. For me, timing makes all the difference.
So, now I have a plan. I'd already started to formulate one, but the holidays caught me again this year. The reason I have a picture of a calendar is because I have to plan out everything, month to month. If I have to accomplish something, writing it down works for me. It's just geting organized with all my plans that I need to be more diligent.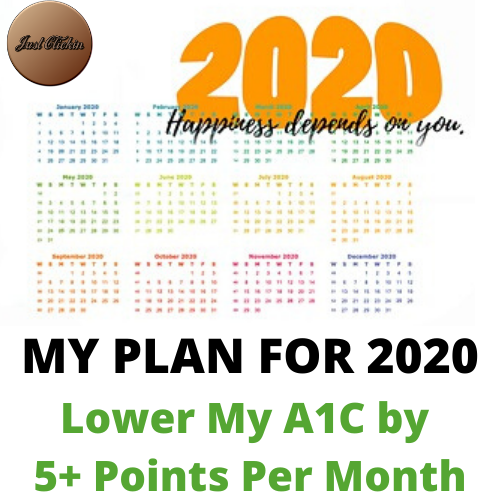 Source3 - Made in Canva by @justclickindiva
I think lowering my A1C by 5 points or more each month is doable
. At the beginning of each month, I plan to write down my A1C number. I'll monitor on a weekly basis to determine any improvement. Also, the Dietitian recommended I write down everything I eat daily. This is a new challenge for me. But I know it will force me to be more conscientious of what I put into my body. As my former employer used to say, "junk in, junk out." So true.
I'm making a chart now so I can share it with my family members. I don't know if they will be committed to using it, but I can only reach out to them and make suggestions. I'm determined or help myself and my family. In this regard, I'm going to check on their progress also on a monthly basis. I don't want to succumb, nor lose another family member to Diabetes.

Thanks,
@justclickindiva
Happy rest of the week everyone with whatever your endeavors.
---
SOURCES:
a) JustClickin logo created at CoolText.Com
b) Unless otherwise noted, all photos taken by me with my (i) Samsung Galaxy 10" Tablet, (ii) Samsung Phone, & (iii) FUJI FinePix S3380 - 14 Mega Pixels Digital Camera
c) Purple Butterfly part of purchased set of Spiritual Clip Art for my Personal Use
d) Separator Lines Free ClipArt Belt from Public Domain Vectors & ShadedLine from ClipArt-Library
e) All Tribe logos used with permission of Tribe Discord Channel admins.
Source1 - Made in Canva by @justclickindiva
Source2 - Made in Canva by @justclickindiva with free images
Source3 - Made in Canva by @justclickindiva with free images




I SUPPORT THE FOLLOWING GROUPS: