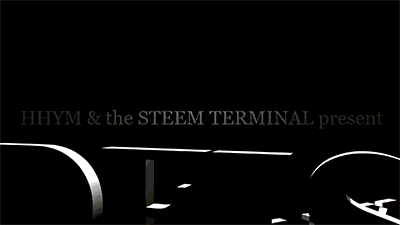 My knowledge of the blockchain is limited. What I do know about it has come from the training modules introduced to us by @jongolson of CTP. After its CTPTalk Tribe as created, I joined Steem in July, 2019 and joined its Tribe. I started blogging, then ventured out and met authors in other Tribes.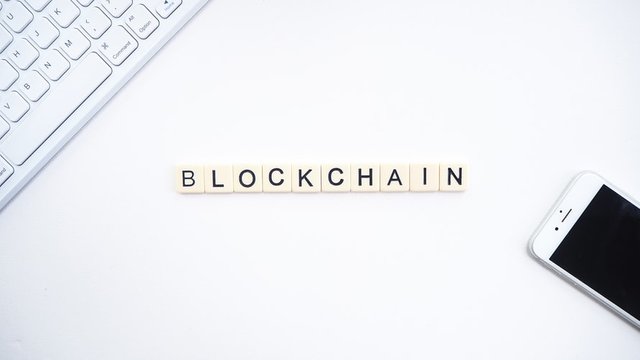 Source1
What I have learned in simple terms is that the blockchain contains numerous networks, and is a collection of information. However, it's how the information is handled that is different.
Our traditional methods of conducting financial transactions and social connections are being challenged with newer, more innovative ways to handle these aspects in our lives.
Financial Aspect
In our current financial world, regular transactions are handled by a third party, normally a financial institution, such as a bank or online via a payment processor, such as Paypal. These institutions usually charge a fee for processing your transaction. Then the financial institution would record the transaction on its books. The book is similar to our checkbook ledger.
But with the blockchain, there is no third party to handle the transaction. It is direct, with no physical ledger being kept in one place. The transaction is stored in your digital pocketbook, called a "Wallet."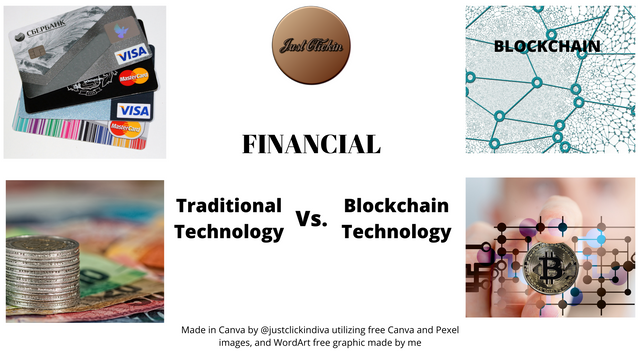 Source 2
There is no central location for information. This is called "decentralized". Rather, transactions are spread out over numerous computers. Once the transaction is verified, it's placed in a block. Then the block is attached or linked to other transactions in a chain. Hence, blockchain.
Social Aspect
There are numerous blockchains. One of them is a social blockchain called "Steem." @jongolson of CTP tell us that Steem is a non-traditional social media platform (1). The reason, he tells us, is that unlike other social platforms such as Facebook, Twitter, and Instagram, Steem doesn't own your account. The other platforms issue you an account. They are the owners and can recover it if you forget your password. But on Steem, once you are approved for an account, you are given a set of keys you must keep safe to access the features on Steem. Steem won't recover your account or reset your password. And, Steem is not censored.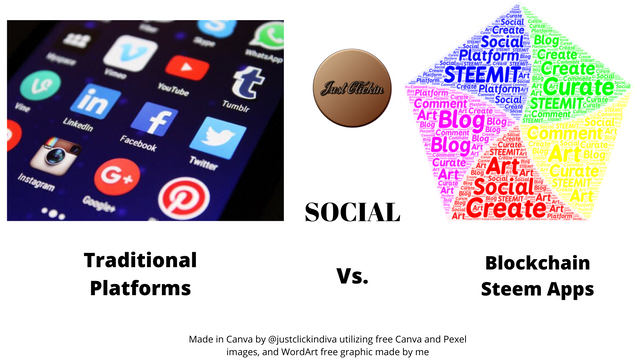 Source3
Another feature of Steem that
@jongolson
told us is that Steem rewards its users in cryprocurrency for sharing content. He stated that according to Steem developers, "it is currently the only blockchain that can power real applications via social apps such as Steemit (1). You can earn for sharing content on the following apps:
Blogging (Steemit.com)
Photography (Appics)
Fitness (Actifit)
Video (DTube)
Games (Splinterlands/SteemMonsters)
Mobil (Partiko)." (1)
You can earn digital tokens and currencies for creating content, as well as commenting on other author's blogs, and curating other blogs. You can also vote whether you like an author's blog. I am currently earning Steem and other tokens by completing the above each day. I may not get a chance to create content each day, but I try to engage with others by commenting and voting on their blogs.
Finally, what I like about Steem is that it contains Tribes you can join which are communities of like-minded individuals who get together to pursue a common goal to help each other on the blockchain. I have joined several Tribes and groups, such as CTPTalk, Steem Terminal, Power House Creative, Steemitmamas, Innerblocks that attempt to assist new members to Steem in growing their accounts and learning how to create content correctly and engage with others.
For the owners/admin/moderators of all the Tribes and groups I belong to, I'd like to thank them for their assistance, guidance, encouragement, and support.
Why not give Steem a try today!

Thanks,
@justclickindiva
Happy rest of the week everyone with whatever your endeavors.
---
SOURCES:
a) JustClickin logo created at CoolText.Com
b) Unless otherwise noted, all photos taken by me with my (i) Samsung Galaxy 10" Tablet, (ii) Samsung Phone, & (iii) FUJI FinePix S3380 - 14 Mega Pixels Digital Camera
c) Purple Butterfly part of purchased set of Spiritual Clip Art for my Personal Use
d) Separator Lines Free ClipArt Belt from Public Domain Vectors & ShadedLine from ClipArt-Library; and
e) All Tribe logos used with permission of Tribe Discord Channel admins.
Source1 Image by Launchpresso from Unsplash
Source2 Financial graphic made by @justclickindiva in Canva with free images from Canva;
Source3 Social graphic made in Canva using social media icons image by Pixelcult from Pixabay and Steemit image prepared by me in WordArt
(1) @jongolson. Click Track Profit. Training, Lesson, CLICK!, Module #5 "WTH Is Steem".




I SUPPORT THE FOLLOWING GROUPS: