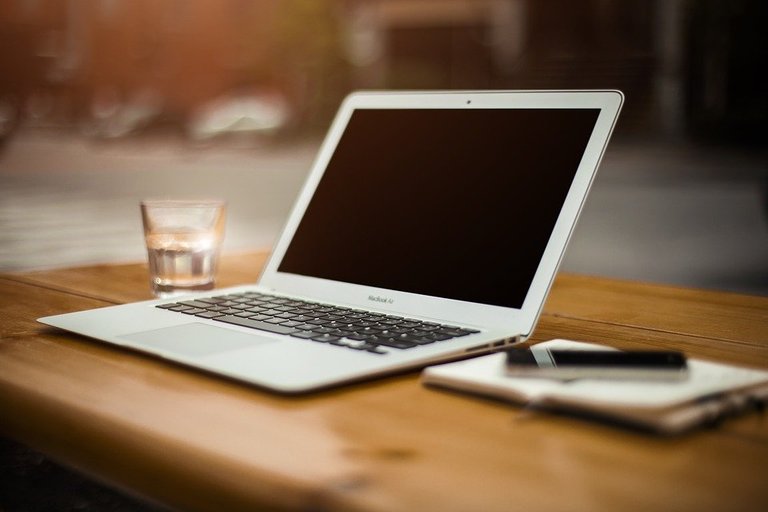 Image by Free-Photos from Pixabay
@zord189
PowerHouseCreatives Contest | Love Your Steemians (Contest Details)


Members at Power House Creatives ("PHC") were given the chance to highlight and support other PHC members by curating their content. This is a great idea and is what PHC is all about. It wasn't hard to find two PHC authors whose posts I enjoyed and would like to highlight. The authors are @papilloncharity and @fullcoverbetting.
Post 1
I have been a follower of @papillioncharity since I came to PHC. He is an active member who posts regularly, providing his readers excellent content. He resides in False Bay, South Africa, and lives amongst the most amazing nature. That's why his post, The fight of the year! caught my eye.
In this post, @papilloncharity shares with his readers pictures he captured of two birds (called Cape Glossy Starlings) in a heated battle. Over what, we'll never know. But, as @papilloncharity explains, these birds are known to be easy going that get along with other birds. So he surmises the battle was either over territory or to impress the female species. And that's usually the case with all animals.
The amazing part about his post is that he was sitting in traffic and happened to see the fight in a grass field next to the road. He admits it wasn't easy to captures the battle while in a driving position. To see such beautiful birds in action is amazing. Below is one of the pictures of the battle on the ground.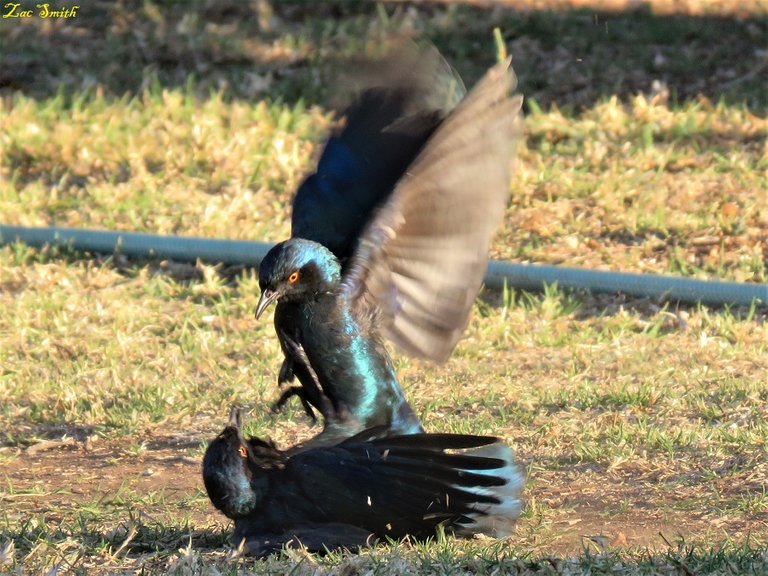 Image Source on Owner's Post
But it didn't start there. You see, the battle began in mid air. The battle scenes are awesome to see, and @papillioncharity provides numerous must-see pictures of the fight. Battles take place every days in the animal kingdom. And, yes, I know these encounters can be brutal at times. But that is the nature of animals. The fight for food, survival, and the right to continue the species.
@papilloncharity also provides in his post background information on the Cape Glossy Starlings, from their habitats to migratory patterns, to breeding habits. I appreciate his taking the time to share the amazing nature where he lives. If you'd like to learn more about what happened in the battle and about these birds in general, I recommend you visit his post, The fight of the year!.
Finally, I'd like to mention @papilloncharity's charitable organization, Papillon Foundation. That was the reason I started to follow him so that I could see what type of charity and the work it does. His passion for helping is heartfelt, and you'll agree once you see their work and his 3-page report Here it is! Papillon 2019 charity report! that he informs his readers contains verified statistics they submit to their Social Development Department of their national government every year-end, although they don't receive any government funding:.


Post 2
In this post by
@fullcoverbetting
,
High School education has changed a lot here over the years!
, he attempts to explain how the high school curriculum has changed in Belgium since he graduated in the mid 90s. He stated that, at that time, there were only 3 options available to him.
@fullcoverbetting shared this post because his oldest son will be entering high school after the summer. He states that the government decided a few years ago to modernize the education system. That sounds like a fantastic idea to me. @fullcoverbetting agrees, but feels that although it is good progress to better prepare their youth for the future, it also causes greater challenges to ensure their youth is making the correct choices.
He reports that his son now has 2 more curriculum choices than he did. So with this change, he decided to take the opportunity to revisit the country's education system so he and his son could determine how the modernized version could be best applied. @fullcoverbetting does encounter some surprises in the new curriculums. And just like all situations such as this, he'll provide his input, but encourages his son to make the final decision.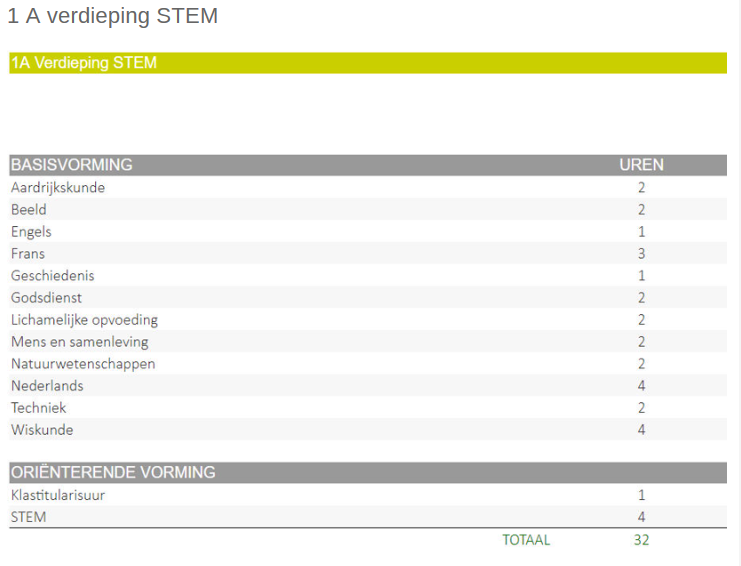 Image Source on Owner's Post
This topic is revelant to all parents everywhere who have or will have children attending any version of high school. The high school curriculum in the U.S. has become specialized in that children are encouraged in middle school to begin preparation for their high school experience by narrowing their field of study. They can begin taking high school classes while still in middle school if they qualify and want to advance quickly. Having gone through the process myself three times, it was definitely a learning curve in trying to keep abreast of your children's education.
Deciding which curriculum is best to achieve the desired outcome can be an ordeal for any student who has several options to consider. I recommend stopping by @fullcoverbetting's post High School education has changed a lot here over the years! to see how he and his oldest son are handling this task with the new options his son has available.

Thanks,
@justclickindiva
Happy rest of the week everyone with whatever your endeavors.
---
SOURCES:
a) JustClickin's personalized PHC signature created by and purchased from @zord189 for personal use.
b) JustClickin logo created at CoolText.Com
c) Unless otherwise noted, all photos taken by me with my (i) Samsung Galaxy 10" Tablet, (ii) Samsung Phone, & (iii) FUJI FinePix S3380 - 14 Mega Pixels Digital Camera
d) Purple Butterfly part of purchased set of Spiritual Clip Art for my Personal Use
e) Separator Lines Free ClipArt Belt from Public Domain Vectors & ShadedLine from ClipArt-Library
f) All Tribe logos used with permission of Tribe Discord Channel admins.




I SUPPORT THE FOLLOWING GROUPS: