The topic for this post came up on its own after 15 minutes of watching my son eat. After a hard day's work, it's very nice to be distracted and admire how much my son has grown in another day. Today, before the audit to obtain the ISO 2019 quality certificate, no matter how cool, it seemed even more intense. And still there is no feeling of complete readiness. However, there is confidence that all possible inaccuracies can be resolved in an individual conversation. How not to twist, and the ability to find common ground with people and the ability to provoke them to openness (the so-called "talk") is a very pleasant skill of a psychiatrist.
Тема для цього повідомлення виникла сама по собі після 15 хвилинного спостерігання за тим як їсть мій син. Після напруженого робочого дня дуже приємно відволіктись і помилуватись тим, як же сильно виріс мій син ще за один день. Сьогоднішній день перед аудитом на отримання сертифікату якості ISO 2019, як не крути, видався ще тим за інтенсивністю. І все одно відчуття повної готовності відсутнє. Зате, є впевненість в тому, що всі можливі неточності вдасться вирішити у індивідуальній бесіді. Як не крути, а вміння знаходити спільну мову з людьми і вміння провокувати їх на відвертість (так зване «а поговорити») дуже приємний навик психіатра.
---
---
So, I look at my son and remember how a year ago I mostly fed him. Now we are going through the period when we started wanting to do everything on our own again. That's why, taking a laptop, I sit opposite, admire and write this message.
Отже, дивлюсь я на сина і згадую, як ще рік тому переважно я кормив його. Зараз же ми переживаємо той період, коли знову почали хотіти робити все самотушки. Саме тому, взявши ноут я сиджу навпроти, милуюсь і пишу це повідомлення.
---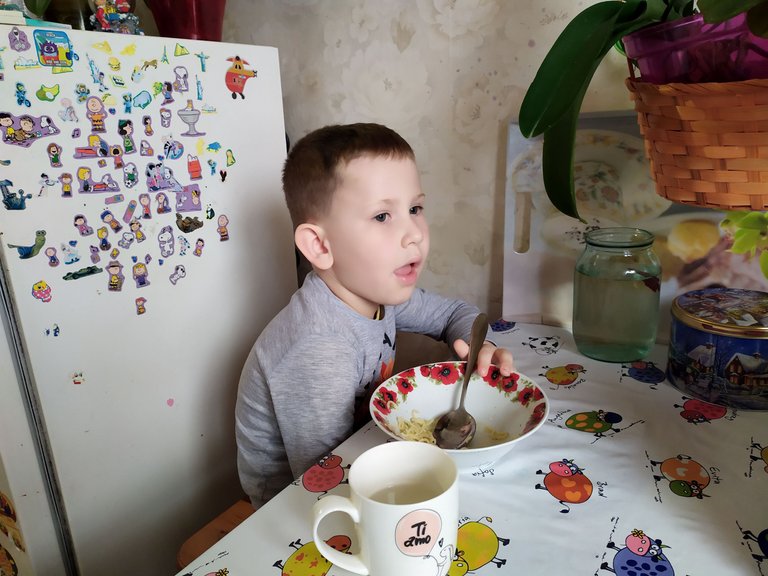 ---
The most interesting thing is that after going to the store today after kindergarten, my son had the opportunity to buy anything. From time to time, I use this offer to bargain for something valuable to me. This time, I need to take my son to kindergarten as early as possible, and for this I need to get up at least 30 minutes earlier. Realizing this, I was ready to buy my son anything, and the son chose Rolton. I was shocked. 10 more times I asked if he was sure of his choice.
Найцікавіше те, що пішовши сьогодні після садка до магазину, у сина була можливість купити будь-що. Час від часу, я використовую таку пропозицію, щоб виторгувати щось цінне для мене. На цей раз, мені потрібно якомога раніше відвести сина в садок, а для цього потрібно встати, як мінімум на 30 хвилин раніше. Розуміючи це, я був готовий купити сину що завгодно, а син вибрав Ролтон. Я був в шоці. Ще разів 10 перепитав чи він впевнений у своєму виборі.
---
As you can see from the photo, the son knew exactly what he wanted. If my memory serves me right, the last thing is something like Rolton, my son ate in his grandparents a few months ago.
Як видно з фото, син точно знав чого хотів. Якщо мене не підводить пам'ять, то в останнє щось схоже на Ролтон, син їв ще у бабусі з дідусем кілька місяців тому.
---
Well, I got the promise to wake up early tomorrow and be the first to go to kindergarten, so I want to - I don't want to, and I sit and enjoy how my son tastes the rollton.
Що ж, обіцянку прокинутись завтра раніше і першими піти в садок я отримав, тому хочу - не хочу а сиджу і насолоджуюсь тим як син смакує ролтоном.
---

---
Useful link
---
Exchanges
Binance | Poloniex | Huobi | Cryptex24 | Ionomi | Okex | Bitwired | Qtrade | Kuna | WhiteBIT
Cryptogames
Doctor Who | Oceanplanet | c24 games | Splinterlands | Cryptobrewmaster | Exodegame | Rabona
Cryptoblogs
HIVE | STEEM | lbry.tv | noise.cash
---

---