I have created a tool for my followers that will allow them to get referrals for 8 different crypto websites at once. It is a small course that allows people to learn about several ways to earn crypto currencies.
How does it work?
There is a landing page that can be used for traffic exchanges like easyhits4u or leadsleap.com that seeks to draw the attention and lead the viewer to the real course. The course is structured in 4 parts.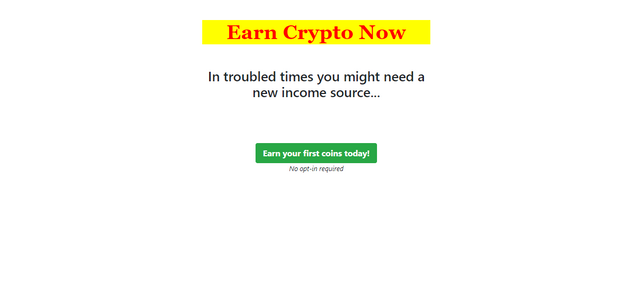 landing page for the course "earn crypto now
Part 1: Micro earning
In this part 4 micro earnings websites are presented that pay quite well. These programs are:
There is also the link to coinbase so that people who are new to the crypto worldcan get a wallet for free.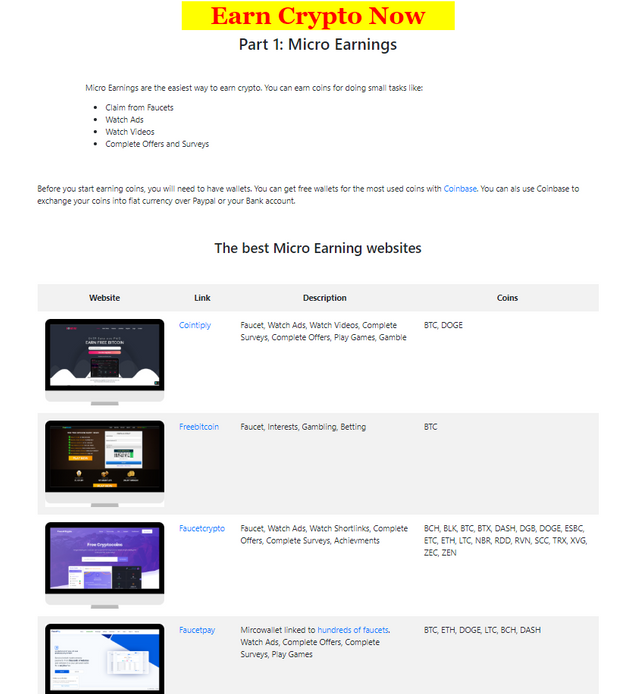 First page of the course: https://www.ref-hunters.ch/earncryptonow/part1.php
Part 2: Get crypto to read and write articles
This part of the course presents one program: publish0x which is an amazing program to earn coins simply for tiping authors or for writing crypto related content.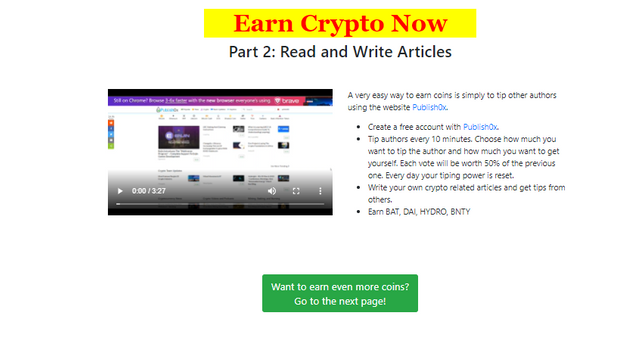 Second page of the course: https://www.ref-hunters.ch/earncryptonow/part2.php
Part 3: Multiply crypto with exchanges
Some exchanges allow to generate income on coins that are simply parked there. These are very low risk investments with an interesting return. In this part the exchanges binance for staking coins and bitfinex for margin trading funding are presented.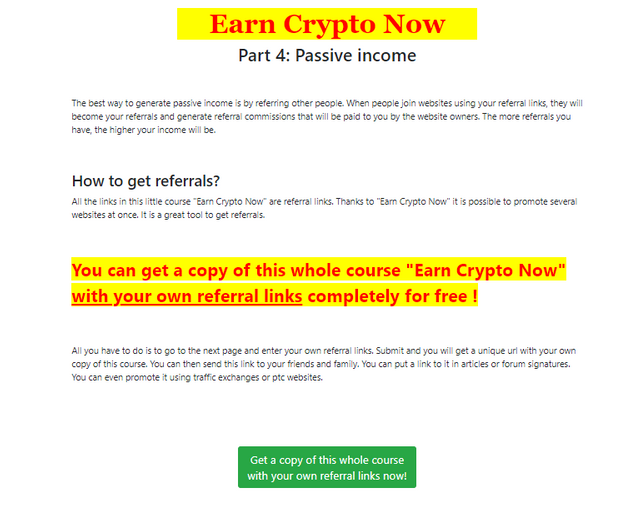 Page 3 of the course: https://www.ref-hunters.ch/earncryptonow/part3.php
Part 4: The best way to earn crypto currencies is through passive income with referrals
Here is where the magic happens. On this page you can see how you can use this very course to get referrals and how to use it for free. The only thing that people have to do is to get a copy of this course and to go to the next page where they can enter their own referral links for all these programs.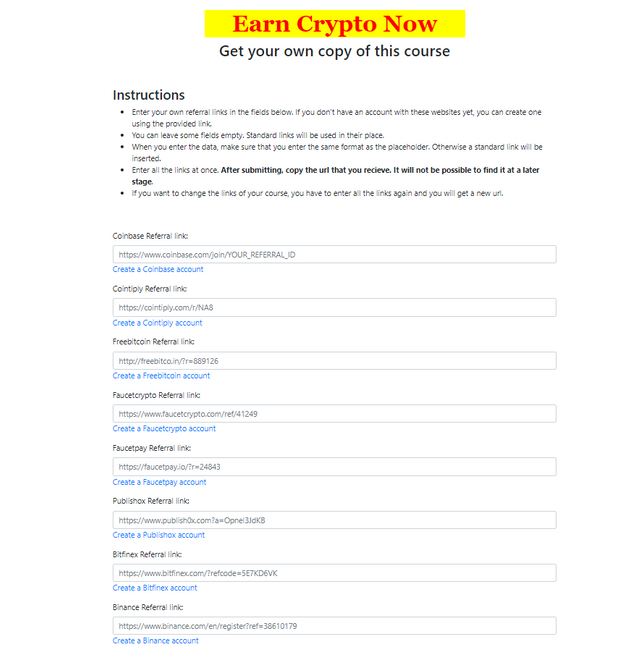 Page 4 of the course: https://www.ref-hunters.ch/earncryptonow/part4.php
When they do that they see a link to the program that allows them to open a free account. When you create a copy of your own course and when people will reach this page, all the provided links will be your own ones. So if someone wants to create such a course, the chances are big that he will become your referral in several programs.
Once all the referral links are submitted you will get a personal link to your own copy of this course. You can then promote either the landing page of this course or any single page of the course itself.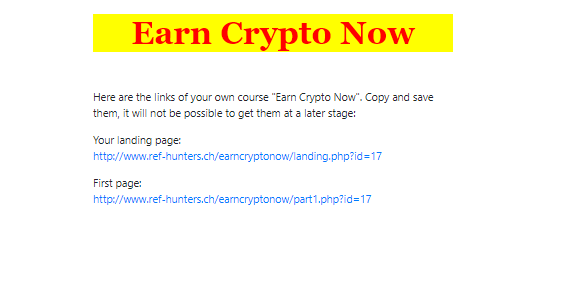 Once all your links are submitted you get a copy of the course with your unique url: https://www.ref-hunters.ch/earncryptonow/output.php
Use this course to get referrals
You can send this link to your friends, your family. You can set a link to your course in forum signatures or articles. You can post it on social media or you can even use traffic exchanges, viral mailers or ptc websites.
Want a unique landing page for your course? I create one for you!
This tool is totally free to use. I can even create a specific landing page for you! Simply write a comment where you give me your unique url of the course and what you would like to have on the page. If I like your idea I will create this landing page for you!
---
---