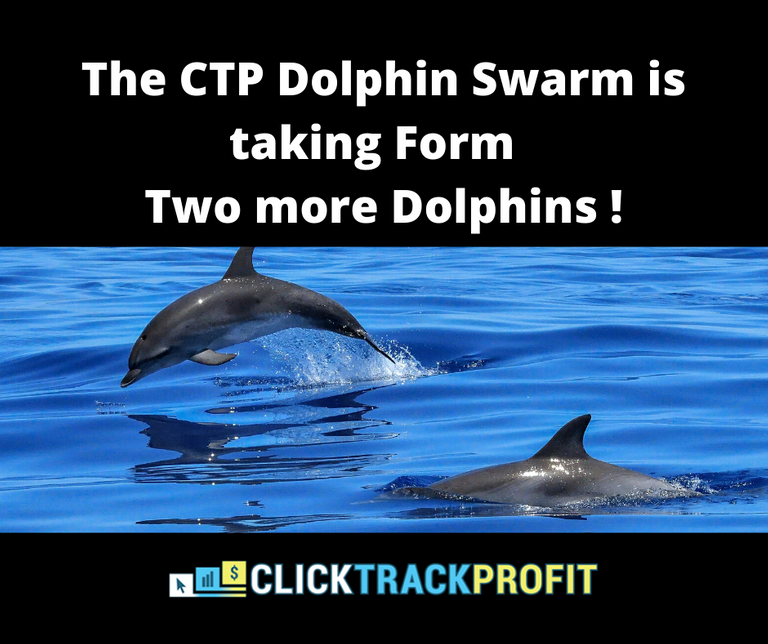 It's only one day ago that I wrote the last update about the CTP Dolphin Swarm. In a comment to the post @maddogmike informed me that @blainjones has jumped from 3'979 to over 5'000 HP over night!
We have more Dolphins than I thought
Yesterday I saw on Telegram that @cruisin was somewhat upset that he is not in this list. I'm terribly sorry that I have forgotten to add him so far. Hope he doesn't mind to be a dolphin ;-).
This means we have two more Dolphins in our Swarm! Congratulations @blainjones and @cruisin. Honestly I thought I would be the next one to become a Dolphin and I will probably have to speed up not to be passed by @rezoanulvibes, @pixiepost or even @bradleyarrow who seems to make quite big jumps in terms of Hive Power lately.
My idea is not to write a post every day about this project but I believe that we have to celebrate when one among us reaches the goal!
Our Dolphin Swarm
It's getting more and more interesting to be in the top 12
The @happyvoter account that is upvoting the posts of the top 12 candidates to be dolphins once a day has grown quite significantly over night thanks to the delegations over Dlease. These are the delegators:
@iamraincrystal 150 HP
@jongolson 101 HP
@ph1102 101 HP
@elianaicgomes 101 HP
There is still one more delegation of 100 HP available on Dlease (search for @happyvoter).
The account @happyvoter has now 1576 HP to upvote your posts. I also changed the settings of the upvotes. The upvotes will now be given at 100 %. This should be an additional motivation for you to reach the top 12.
New in top 12
Since @blainjones is now a dolphin and that he has reached the target of this project, he is not eligible to get upvotes anymore. This frees a spot for the next in line which is @robwillmann. From now on, he will get upvotes from the @happyvoter account.
---
Let's connect on Hive, Lbry or on Publish0x
My free e-mail course: The 100'000 satoshis a week strategy