The CTP Swarm gets bigger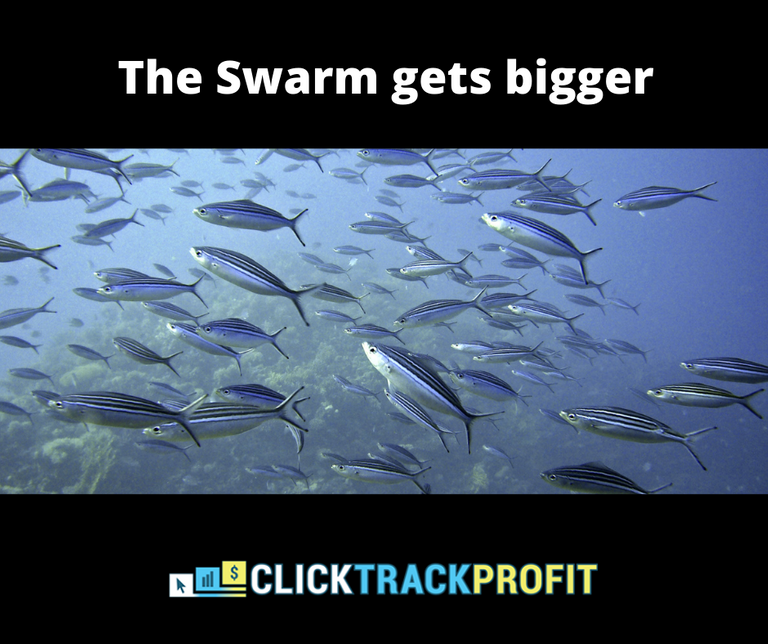 Dear CTP Swarm, it's now already 16 days since we had the last update about the CTP Swarm. In spite of the low Hive prices, the swarm is growing steadily.
10 dolphins but many that are getting closer
We have at the moment 10 dolphins in the Swarm but there are a lot of users who are getting closer and closer in reaching dolphin status: @rezoanulvibes, @djsl82, @russellstockley, @jeanlucsr, @rcaine are all above 3200 HP. With 2 months to go it doesn't seem impossible that we will have 15 dolphins by the end of the year. Let's help these guys to get there!
One more Orca in the Swarm !
As a comment to my last post, @globetrottergcc suggested that we should include @sandymeyer into the CTP swarm.
Sandy is a lifeguard and photographer that posts regularly in the CTP tribe. He has more than 1000 staked CTP and I would like to welcome him into the CTP Swarm. The best is, he's from Switzerland like me... lol
Don't look at the Hive prices, continue to accumulate
It might be discouraging to look at the Hive prices but I would like to encourage you to blend this out and to continue to create, curate and engage. What is the best business opportunity? It's to do the contrary of what everybody else is doing. When people are selling Hive, we should make sure to earn as much as possible. The price is just a market situation of today but the Hive you have will be yours. In addition to that it's much easier to earn Hive when prices are low. There are fewer people posting so we get more upvotes !
Now it's the time to accumulate
Get upvoted by Happyvoter
To help you become a dolphin, the 18 best ranked in the Dolphin Swarm Candidate ranking get upvotes from the @happyvoter account. This account received an additional delegation from @hivetrending of 500 HP and is now upvoting your posts with 3'343 HP! From this week on @invest4free will be upvoted by the @happyvoter account.
The Ranking
Orca
Dolphin Swarm
Candidates for the Dolphin Swarm
Is your name missing in this ranking? If you post regularly on ctptalk then write a comment so that I may add you to the list.
| Date | Cumulated Hive Power | Number of Users | Average HP / User |
| --- | --- | --- | --- |
| 31.8 | 158610 | 32 | 4956 |
| 7.9 | 172774 | 36 | 4799 |
| 14.9 | 179156 | 39 | 4593 |
| 2.10 | 194416 | 39 | 4985 |
| 13.10 | 200049 | 39 | 5129 |
| 18.10 | 202326 | 39 | 5187 |
| 3.11 | 282484 | 40 | 7062 |
P.S: 10% of the author rewards of this post go to the @ctpsb account
---
Let's connect on Hive, Lbry or on Publish0x
My free e-mail course: The 100'000 satoshis a week strategy

---
---