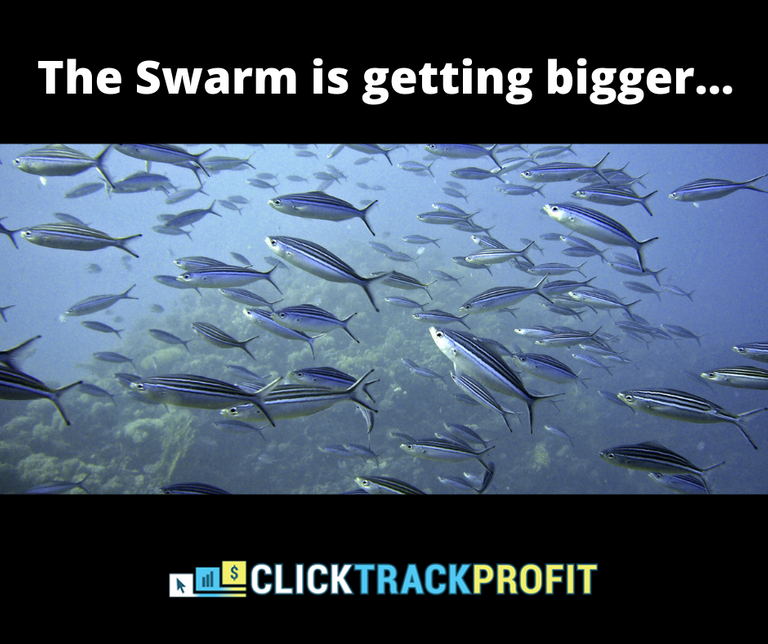 The Swarm is getting bigger...
It's one week since the last CTP Swarm update. Not only are all the members of the CTP Swarm increasing in Hive Power, the number of people that qualify to be in this ranking increases as well.
How to qualify to be in this ranking?
The swarm is growing mainly because of people that I have forgotten to add so far. To qualify to be in this ranking and to get upvoted by the @ctpsb account, it is necessary to own staked CTP tokens (at least a couple of hundred tokens) and to post regularly using the CTP tag.
This week we have added the following people to the CTP Swarm: @jeanlucsr, @benthomaswwd, @medaymane. There are now 39 people in the CTP Swarm!
Why it is great to be in the CTP Swarm!!!
Happyvoter upvotes
If you are ranked between the 1st and 17th rank of the Candidates for the Dolphin Swarm, you get upvoted by the @happyvoter account. After an upvote there is a 24h cool down period. The number of people in the ranking that get these upvotes can change from one week to the next according to how much the voting power is used. At the moment the @happyvoter account votes your posts with 2'639 Hive Power!
CTP Swarm Booster upvotes
Everybody in the CTP Swarm (see ranking below) qualifies to be upvoted by the CTP Swarm Booster account (@ctpsb). Every author can get an upvote if his posts fulfil the following criteria:
At least 50 words
The post needs to have the #ctp tag
Cool down of 24 hours after a vote
The voting power of the @ctpsb account is over 85% at the moment of the vote
At the moment, the @ctpsb account upvotes your posts with 14'248 Hive Power !
If you want to learn how you can support this project, check-out CTPSB website
The ranking
Orca
Dolphin Swarm
Candidates for the Dolphin Swarm
Is your name missing in this ranking? If you post regularly on ctptalk then write a comment so that I may add you to the list.
| Date | Cumulated Hive Power | Number of Users | Average HP / User |
| --- | --- | --- | --- |
| 20.7 | 122524 | 27 | 4537 |
| 6.8 | 131034 | 28 | 4679 |
| 12.8 | 133969 | 29 | 4619 |
| 19.8 | 138010 | 30 | 4600 |
| 24.8 | 154181 | 32 | 4818 |
| 31.8 | 158610 | 32 | 4956 |
| 7.9 | 172774 | 36 | 4799 |
| 14.9 | 179156 | 39 | 4593 |


P.S: 20% of the author rewards of this post will go to the CTP Swarm Booster
---
Let's connect on Hive, Lbry or on Publish0x
My free e-mail course: The 100'000 satoshis a week strategy