I didn't expect to miss the smiles of people so much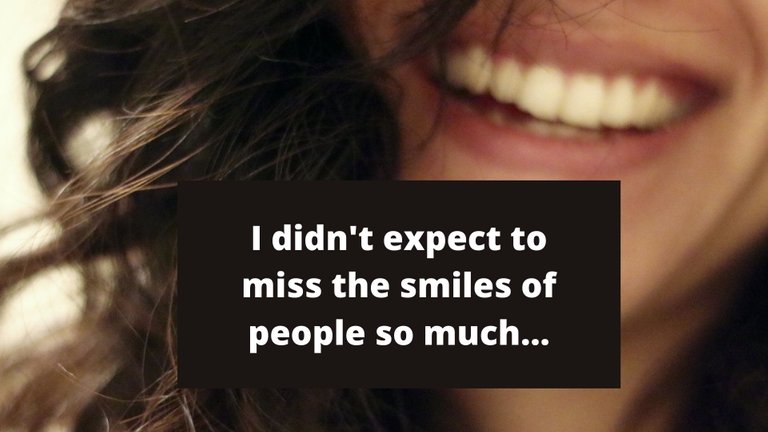 Since yesterday, the government of Switzerland officially abolished almost all Covid measures. Even though there are still a lot of cases, it's so liberating for all of us... I sincerely didn't expect to miss to see the smiles of people so much until I realized today how nice it was :-)
How great to go shopping without wearing a mask
Today for the first time in months, I could go shopping without wearing a mask and I could go into a restaurant without showing my certificate. Each time you went to pay you had to carry your tray, show your phone, show your ID and pay at the same time. I don't count how often one of the listed items landed on the floor... There are still people who chose to wear masks but it's optional and I definitely enjoyed to see the full faces of people again today...
I feel quite comfortable to be without mask because the pandemic hit my household quite strongly for the last two weeks. First my son got it, then my daughter and finally my wife. I was in the middle of all of it and didn't get it, so I conclude that my immune system is ready...
Some air for my offline business
I run an offline business in the leisure sector and we were severely hit by all the imposed measures during the last two years. It was a constant fight and we had to adapt our sanitary concept every two month. I don't know how often I had to put new billboards, change the website, change the confirmation mails and inform my employees with the newest measures that were imposed by the officials.
For several months, we could accept only people who were vaccinated and could show the health pass. It was a nightmare to control everybody's certificate and make sure that all the measures were respected. Yesterday, we could put our infrastructure back in place and take all the signs and billboards down. Immediately, we had some customers that couldn't come to visit us for months coming back and playing without certificates and without masks... What a pleasure. Hopefully it will last...
---
Let's connect ! You can find me on these platforms:
---
---