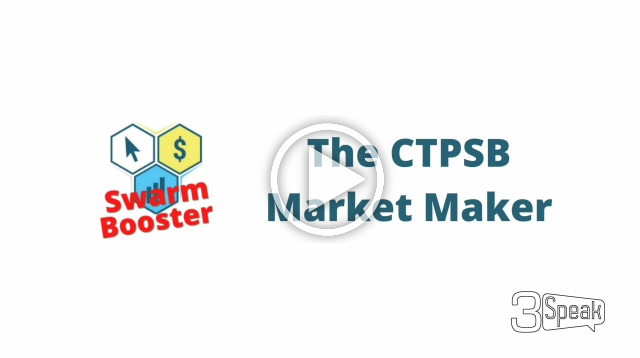 ---
Last friday @aslehansen surprised us all with a huge investment of 2000 Hive into the CTP Swarm Booster. This doubled the owned Hive Power of the account and we have now almost 20'000 Hive Power to upvote your posts!
How does the CTPSB Market Maker work?
In the video I try to explain how the Market Maker (MM) will work once the tokens are emitted and the CTPSB token will be traded on Hive-Engine. The MM will be able to interact directly with the @ctpsb account according to the situation on the market. Each week the situation is analyzed and according to the thresholds that are triggered, one of four scenarios will be activated. This should allow to react to all market situations.
The next target: 6000 HP
Let's not forget that we have a third target to reach, which is 6000 Hive Power (delegations excluded). This will unlock another goody that will profit us all.
Only 9 days to go!
At the end of the month of september, the tabs will be closed. Everything that will have been contributed until then will be totalized and the according number of tokens will be sent to the different accounts. Please keep in mind that when you set a beneficiary, it takes 7 days until the post reaches payout. Therefore I advise not to put the @ctpsb account as beneficiary after the 23rd of september. Of couse you can still do it. In this case however you won't get more tokens but the value of all the tokens will be increased by it.
The tabs (21.9.2020 16h30 CET)
If you have delegated to the project and there is a 0 next to your name, it is because your delegation was made less than 8 days ago and therefore it couldn't generate any curation rewards that would be added to your tab. You will probably see the numbers increase in the next updates.
---
Learn more about the CTP Swarm Booster:
---
▶️ 3Speak