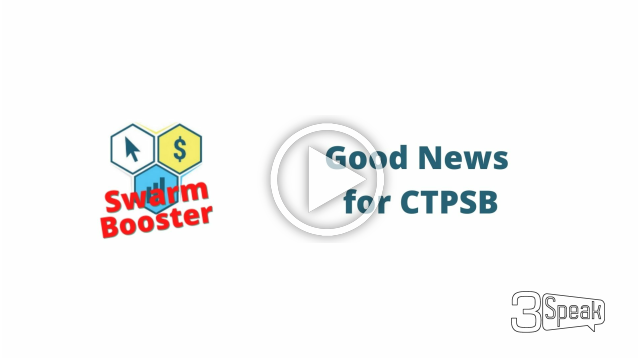 ---
Steady growth
The token value continues its development and we are still above 50% APR which is great. The overall Hive Power took a big jump however. In the last CTP Swarm update, we welcomed @sandymeyer into the Swarm and he asked me how he could contribute? I told him it would be great if he could delegate something to the @ctpsb account or the @happyvoter account who upvotes the candidates of the Dolphin Swarm. Well he delegated 3000 HP to @ctpsb and 3000 HP to @happyvoter ! Thanks a lot! This will allow us to boost the development of the CTP Swarm even more.
My project to bring an external income into the CTPSB project
I had this idea to bring an income from outside the Hive ecosystem into the project and I finally managed to create the first landing pages of the program mybiel.ch. It can be used now.
What is this program about?
It's a program that provides landing pages for websites that have referral programs. Each landing page comes with a video and a sign up button. You can customize these landing pages so that the sign up button carries your own referral link!
You can then paste the url of your personal landing page in the mails that you send to your subscriber.
If you have no idea what to send to your list, check out the different landing pages available and get referrals like that for these programs.
At the moment there are 3 landing pages available but I plan to implement more of them.
What does that have to do with the CTPSB project?
On each of these landing pages you have a banner. Each time this banner is shown to a person it generates an income in BTC.
You can view the stats of this banner: here
Imagine if we have plenty of these landing pages and plenty of users are sending the links to these landing pages to their lists. This will generate tremendous traffic and the income will grow quickly.
Once we reach a payout, we can then decide what to do with it. It will be used to increase the value of our program and also the value of the CTPSB token.
What sites would you like to have in this program?
What kind of websites would like to have landing pages for? Tell me in a comment and I will see what I can do for you.
For program owners
If you want to get people to your site, it might be a good idea to be part of this project. You could even create the video yourself and I would implement it into the program. The video shouldn't be longer than 4 minutes. You can then upload it to lbry from where I can download it and then upload it to the site.
Valuable comments will get some 3speak love!
---
Learn more about the CTP Swarm Booster:
---
▶️ 3Speak