Win 15 HIVE >> The Weekly Challenge >> From D.Buzz (ROUND 51)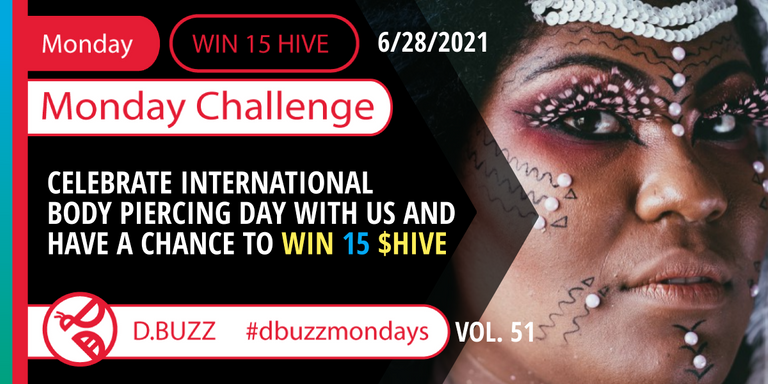 ---
Monday Challenges from D.Buzz
>> Round 51 << | >> Win 15 HIVE <<
---
Hello all you wonderful people!
June 28 is International Body Piercing day, or as they should call it "international freak your mom out day". lolz
This is the day that we take time and try to understand, along with recognize body piercing and modifications. While some of us may have different personal feelings on the topic, a lot of individuals and cultures embrace this form of self-expression. Today is about awareness about the cultural and safety standards along with educating ourselves on the topic.
This date was picked as it's the birthdate of Jim Ward. Mr.Ward was a pioneer in the world of professional body piercing and opened one of the first professional body piercing Studios called "Gauntlet". This was in the sunny state of California in 1978.
He did a lot to revolutionize the world of body piercing As a way of honoring his contribution, June 28th, his birthday, is now international body piercing day!
In honor of this tradition, for the challenge let's all go out and get our septum pierced! ... ... ... Jk. but that does bring us this week's challenge!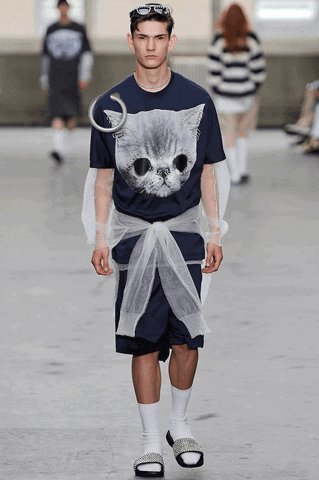 Body piercing level : Advanced!
---
We all have different thoughts and opinions about body modification and body piercing. Something think it's horrible and some think it is beautiful. Much like freedom of speech, freedom of personal expression is important. Body modification, piercing and such is one forum of personal expression so lets embrace it.
---
This week's challenge
Make a buzz and let us know your thoughts onbody modification or piercing.

Do you have a body piercing or modification? Share with us a photo and tell us about.:D

Use the hashtag #Internationalbodypiercing

Share a link to that Buzz in the comments below.

Bonus points if you use the Buzz to Twitter future as well ;) .
Learn more about this Festival on this webpage : HERE
---
Thank You
---
Rules:
After seven days (Next Monday, at some point), we will select a winner from all valid entries.
We will then make an announcement post on the following Monday and Tag you.
The 15 HIVE prize will be sent to the winner soon after the winner is announced.
No, follow, or up vote required to play.
---
What is the prize?
The prize is 15 HIVE tokens sent to you.
---
Last Weeks Winner!
The winner of last week's challenge is...
---
Who posted this Buzz:
https://d.buzz/#/@xuanphuc98/c/q3d0a2pntog50tke8aqtld
Congratulations on winning!!
You will receive the HIVE from our awards account shortly. :)
WOW, 2 weeks in a row, NICE WORK!
---
Questions? Concerns? Comments?
Just Post below.
Thank you, and have a great week!
D.Buzz over and out.
---
---
Is a censorship-resistant short form microblogging platform that empowers you to share your thoughts in 280 characters or less.
Censorship resistant and built for the community with love.
---
We strive to have a fun and neutral stance on topics. If you have any concerns with the content, please contact @jacuzzi, who writes and generates the content for our articles, or the @dbuzz team for clarification.
---


---
---
---