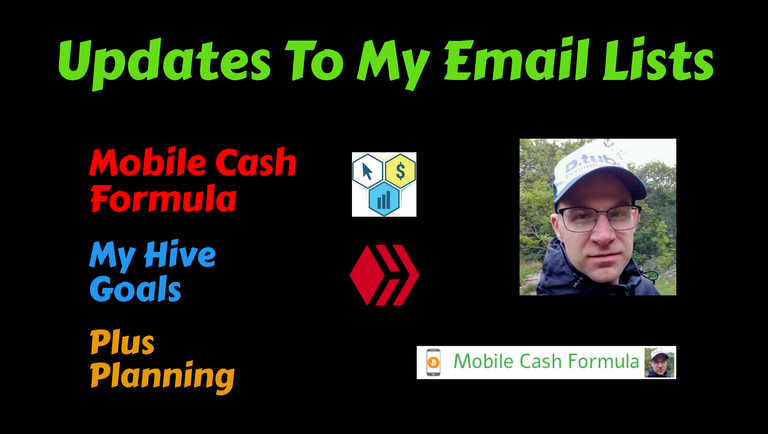 Made in Desygner
Hi there this is Erik Gustafsson and I go by the handle @flaxz, and this is a post with some updates on various things that I am working on, plus My Hive Goals.
Updates To My Email Lists - Mobile Cash Formula
To start with I will soon be updating how my email lists are working, I want 1 list, and some side lists for ebooks that feeds into this list, and the list "Numbero Uno" is of course Mobile Cash Formula.
So what will happen pretty soon is that the list I currently use for making broadcasts will be moved to Mobile Cash Formula, and I will also message all subscribers that if they only want to stay for the daily broadcasts without the follow up series for Mobie Cash Formula they can contact me and I will add them to the end of that, and they will only get my daily broadcast emails after that.
As to broadcasting to subscribers currently going through the follow up series, that will only be a couple of times per week, and then they will get the daily broadcast emails after completing it.
Broadcasting will therefore happen daily only to subscribers that have completed the Mobile Cash Formula follow up, and the complete series is 42 days, and the first ones to reach that happens in just a few days from now.
The list for Mobile Cash Formula also have Unicorn's, and that will continue for all follow ups and all broadcasts that is made on that list.
The lists that feeds into it will not have Unicorn's though, and I have also not renewed the Unicorn's that I had for the other list, which will now be moved to Mobile Cash Formula instead.
So the structure here will be that I have my main list be Mobile Cash Formula, and then I have ebooks and lists with up to 5 day follow ups of their own and when they are complete they move over to MCF, and any more ebooks or lists in the future will be done in the same way.
I hope you understand what I have said, and if you have any feedback to give about this setup then please leave a comment, I plan to move everything on Tuesday or Wednesday.
My Hive Goals
Onto #MyHiveGoals which is a great initiative from @robwillmann, so how have I progressed since last Sunday?
To start with I now have 5787 Hive Power, and this is increasing way too slow, I really need to step this up, but also considering there is just 14 weeks left of this year I need to revice it into something I can manage.
My goal for Hive Power at the end of the year is now 7200 Hive Power, and that means I need to grow it with just over 100 HP per week, and that is totally within range, just have to post my videos on a consistent time each day and I will be right on target, and that's without powering up.
Next up is CTP Power, or staked CTP tokens, and I still have 56000 CTP staked on @flaxz.ctp, same as last week, I also have quite a bit of liquid CTP tokens, this is since I need to go Fireshopping some more, and I will start to stake again once I have done that, and then know what I need to spend on a monthly basis a bit better.
That being said, all liquid Hive that I earn from now on, and discounting what I need to fund my projects, will be spent to buy CTP tokens, and there are really 2 reasons to just keep buying them.
One is that buying more gets the price up continuously, and I will not have to spend as many tokens on Fireshopping, and the second is to reach my goal of 100k CTP staked by the end of the year.
To reach that goal I need 44k CTP in 14 weeks, which is just over 3k per week, that is really hard, but it can be done, and I WILL DO IT.
Next on the goals is participants in the #IAmAliveChallenge, and we now have a total of 188 participants, and the goal for the end of the year is 500.
That means we need to grow with 312 over the next 14 weeks, or just over 22 per week, this will be very hard, but with the upcoming update of the I Am Alive ebook, and more focus after that on promoting it outside of Hive we might just make it, so let's do it.
Plus Some More Planning
So onto some more planning, and the first priority after moving over the list to MCF will be to update the I Am Alive ebook, and to create a 5 day copy and paste follow up series to it, it does not currently have that.
Once that is done, I will also update the guide for the #IAmAliveChallenge, it's in much need of a major update, I Am Alive Challenge - The Guide.
As you might have seen from the last few days, I will now post my videos in the first part of the day, they are recorded the day before though, but this allows me to sleep better, and I have that posting out of the way for the rest of the day.
I also plan to start posting about my listbuilding and some Luke hunting after these changes has been made, getting more serious with building that, and maybe also get more people for to join Hive through it, plus earn more CTP tokens so I can have some semblance of a chance to meet that heavy goal.
Plus I have plans for a website with a domain on Engrave too, but that's a bit secret so far.
I will also help @maddogmike to update #LukeIsAlive with more focus on listbuilding, plus to help him write a guide for it, and also a Luke Is Alive ebook once the other stuff is done.
I also have plans for an ebook that will be sold, but I am not sure if I get that far this year, maybe next year, but I already have a great name for it, also a secret.
So that is some planning for the rest of 2020.
Thank You!
Thank you very much for reading this post, I hope you enjoyed it, leave your thoughts in the comments below, and ...
Stay Awesome!
Sincerely,
Erik Gustafsson
---
This is my own personal opinion, do your own research before investing, and seek legal counsel if uncertain.
---