Batten down the hatches... Here comes Typhoon Nanmadol!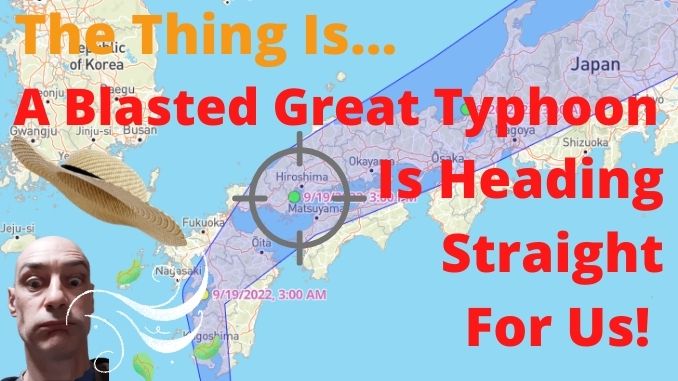 I don't know if you've seen the weather reports from Japan, but Typhoon Nanmadol, one of the biggest typhoons in recent years, has hit the southern coast of Kyushu and is making its way right across Japan.
When the typhoon hit Kyushu winds were gusting up to 270 kph (168 mph) according to news reports.
Right now, as the eye of the storm makes its way towards Nagasaki, the windspeed is down to around 175kph (109 mph).
https://zoom.earth/#view=33.1,135.15,6.77z/map=live
Daughter in Nagasaki
If the projection on the maps are correct, the typhoon will veer eastwards before the eye of the storm hits Nagasaki, where my daughter is at university...
Today she's been doing one of her part-time jobs at a hotel about an hour's walk from her flat. The hotel was fully booked and needed her to work today.
She finishes work at 10pm and I'm pretty certain she won't be able to get home so I'm hoping she'll be able to stay the night at the hotel rather than try to get back to her flat in wind speeds of up to 170 kph (106 mph).
Power Cut...
... As I was typing that our lights went off - so it looks like there's a power cut in our part of Hiroshima and the eye of the storm is still a long way away...
... Oh, now the lights are back on! That was just five minutes. Not too bad!
No Evacuation Notices Here
Neither Nagasaki nor Hiroshima have been issued evacuation notices, and as the typhoon moves across the country the wind speed will gradually decline, but the upper estimate by the time it hits Hiroshima tomorrow afternoon is 110 kph (68 mph)...
NOTE: The eye of the typhoon is trundling along quite slowly, at around 20 kph, but it is the winds that swirl around it get up to truly vicious speeds.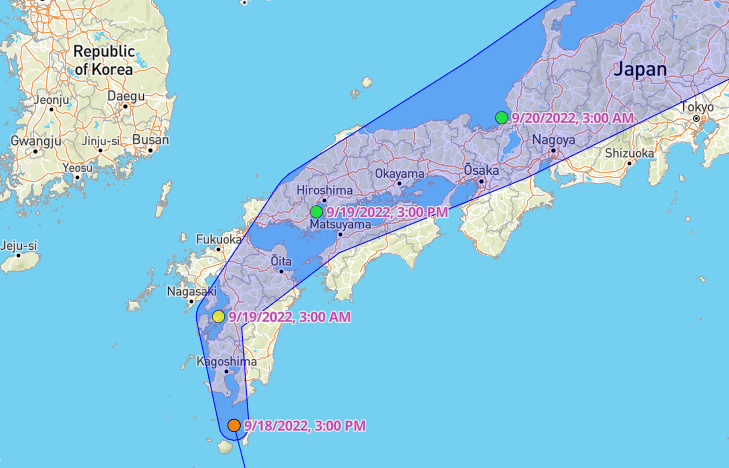 Happily, tomorrow is a national holiday ("Respeck for Old Gits Day," apparently), the last day of my happy four day weekend.
Mrs H has brought all the portable properties indoors, and put air-raid tape across one of the exposed windows.
My Typhoon Prepping
I too have been preparing for the typhoon by (1) pulling the storm shutters across the sliding glass doors that open onto the balcony outside my upstairs room and, most importantly, (2) popping out to the nearby convenience store get in a supply of beer to see out the typhoon as it passes over Hiroshima.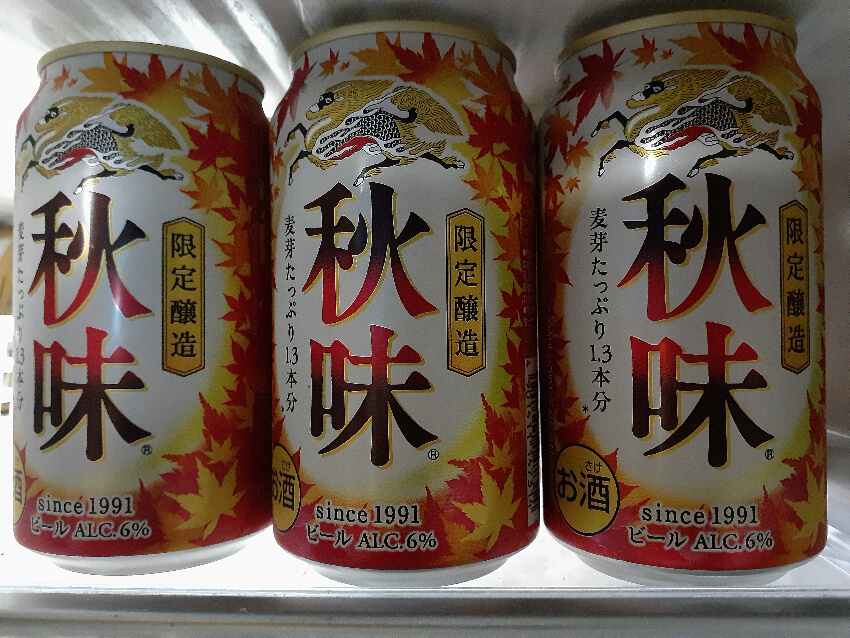 Kirin Aki Aji Beer: A Harbinger Of Autumn
By the way, just as the cuckoo is a harbinger of spring back in Blighty, so is this particular brand of beer a harbinger of autumn in Japan.
I am always glad when I first catch a glimpse of it (typically nesting in a refigerated display cabinet in a convenience store). This particular species, which belongs to the genus "Kirin" (Chinese Horse-Dragon) is known as "Aki Aji," which is to say (being interpreted), "Autumn Flavour" (or "taste," with a hint of "unique charm").
When Kirin Aki Aji appears on the shelves, can autumn be far away? I trust it will be just the other side of this oncoming typhoon. May the typhoon finally blow away the seemingly endless humidity of the dog days of summer!
The Endless Racket Of A Typhoon
While typing this post, not only was there a brief power cut, but my phone also gave out the first of what will be many and frequent "disaster warnings" (which go off so often that most people simply ignore them or frantically try to turn them off as quickly as possible so as not to irritate other people with the racket they are kicking up).
Meanwhile police sirens could be heard in nearby streets... oh, and as I type this a public "disaster warning" siren has just sounded.
Ho hum. No peace for the next two days I suppose.
For my part, for as long as the Internet connection lasts, I shall keep on building out my new 14-Day List Building Challenge (soon to be released) and fighting Splinterlands monsters.
And if the electricity and Internet go down, well, there's beer to drink and chess endgames to study.
Cheers!
David Hurley
#TheThingIs
#InspiredFocus
P. S. I just heard from my daughter that she's staying overnight at the hotel where she was working today, so that's a relief! :)
---
---