#TheThingIs... I Haven't Really Been Hiding For The Last 10 Days...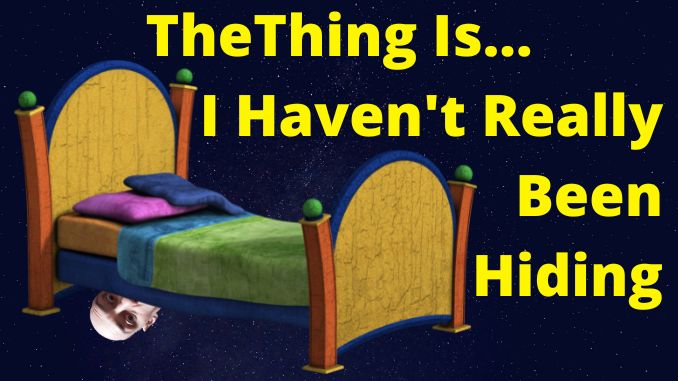 Okay, so this is the first bit of content I've managed to publish in ten days.
What have I been up to? Have I been hiding under my bed all that time?
Well, not quite. I'm still up and running about so I thought I'd give a quick update about what I've been up to...
Carry on Teaching (and Earning Yen)
This September has been a particularly busy one, with a full teaching schedule even though both the colleges I teach at were on summer vacation during the first half of the month.
One of those colleges won a contract to teach a three-and-a-half week intensive English course to three young police officers, and I was offered a bunch of those classes to teach.

I put together a summer course for some of my former students and have been teaching them once a week.

My private classes have continued as usual.

I had a couple of free days last week, but they were taken up with college exam grading. Groan!
Okay, that covers my efforts to earn Japanese yen during the off season. What about my "other projects"?
My Current Projects
I've been putting some time and effort into studying the "endgame" in chess. I've been solving "checkmate-in-two" problems on my phone while commuting to my classes, and back at home I've been going through Jeremy Silman's "Complete Endgame Course" for a couple of hours each day. (I want to blog about this in the Hive chess community...)

This month I started reading and listening to Tolstoy's War and Peace. I haven't read any Tolstoy since I was an undergraduate and had to read "Resurrection" for a seminar. This is going to be a major preoccupation during the rest of this year... (I hope to blog about this project in the next few days.)

One other project that takes up quite a chunk of my free time each day is... Splinterlands! Yes, I have been able to maintain activity on the Hive blockchain not by blogging but by fighting endless battles on Splinterlands. The only reason why I avoided playing Splinterlands for so long was because I thought it was likely that I'd get so sucked into playing the game that I would neglect my other online tasks - such as blogging on the Hive blockchain! I was right, but now I'm hooked on fighting monsters, staking SPS, and earning more Splinterlands-related tokens in the Tribaldex liquidity pools.

I am enjoying a nice four-day weekend with absolutely nothing scheduled from Friday to Monday. During this time I'm working on a new online business project. I'm putting together a 14-day course on how to build the foundations of an online business with a blog, an autoresponder, a free offer, and so on.
I will be offering this course as a follow-up to everybody who subscribes to my Leadsleap Video Training Course - and yes, I intend to blog about this on CTPTalk in more detail in due course!
So there you go. I haven't really been hiding under my bed, although I do enjoy plenty of downtime relaxing ON it after lunch when I'm at home! Yesterday, for example, I spent a good hour and a half lying down and watching a fine Russian film version of War and Peace on YouTube (so it counts as "working on one of my projects). ;)
---
---