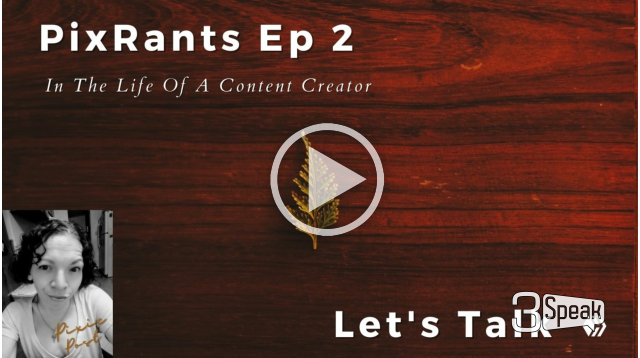 ---
(Unsupported https://odysee.com/$/embed/Let's-Talk---Pix-Rants-Ep-2-(In-The-Life-Of-A-Content-Creator)/0a94446a37df8780aaa6e144fc276b6c14a61c17?r=C4N2dqGrLo3XgjqY8VgYLHu83byFNugE)
#PixiePost #PixRants #LetsTalk
No, it's not one of those conversations where you will hear "It's not you, it's me" … lol…
As a content creator, I had a few things I needed to get off my chest & while it's said with the best intentions to encourage ALL of us to do better, it will not mince words. We put so much hard work into our daily content but there are some things that need to change & it's glaringly obvious…
So, FULL DISCLAIMER above...
Get your popcorn & settle in for one of my infamous Pix Rants...let us help one another!
Music: Cafe Mornings - Don't Stress - Paeta
─── ・ 。゚☆: .☽ . :☆゚. ───
Coffee, Cards & Pixie Dust podcast https://anchor.fm/pixiepost
Give this a like if you enjoy this kind of content. It lets me know what videos give YOU value. Don't forget to subscribe & hit the notification bell so you don't miss the next video.
💜 To know thyself is to know thy truth. 💜
─── ・ 。゚☆: .☽ . :☆゚. ───
Get a 30 Day Free Trial of Epidemic Sound https://www.epidemicsound.com/referral/cgrnmi/
A Must Have Tool To Grow Your Channel
https://www.tubebuddy.com/pixiepost
💜 This video is not sponsored - affiliate links above are products I fully believe in and use 💜
─── ・ 。゚☆: .☽ . :☆゚. ───
Connect with me on the following social media sites:
Instagram: https://www.instagram.com/pixie_post_dreams/
https://www.instagram.com/timmytheangelkitty
Twitter: https://twitter.com/ThePixiePost
My NEW Store: https://www.zazzle.com/store/pixie_po...
The Pixie Post - http://www.trker.com/go/96848
Pixie Post Facebook Page: http://fb.me/pixiepostwithjennnieto
Hive: https://hive.blog/@pixiepost
PeakD: https://peakd.com/@pixiepost
─── ・ 。゚☆: .☽ . :☆゚. ───
---
▶️ 3Speak