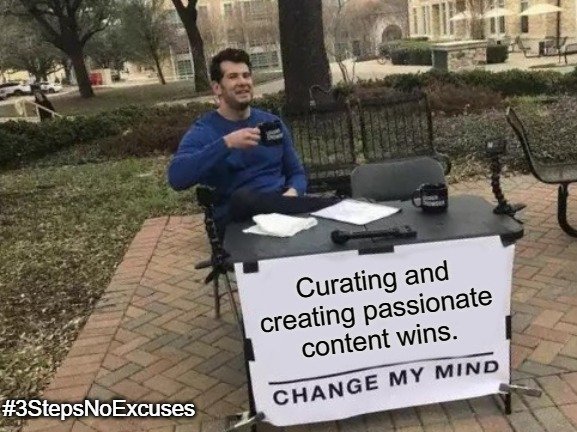 Welcome to Day 29 of your #3StepsNoExcuses journey with me, Rob Willmann.
Are you getting excited? We're now on the 29th day of a 30 day journey. Woohoo!
Tomorrow I expect to see plenty of the "What I Learned on My Journey"-style posts on Hive.
After all, there's a lot to celebrate. Creating new business and personal habits is a big deal. Getting rid of old habits and embracing new ones is life-altering work, and it's definitely worth celebrating. Pat yourself on the back. :)
If you began the # 3SNE journey at a different time than many of us did, don't worry!
I've created a 30-day e-course where you can follow along with the results I post of my journey, which can help if you're on a different timeline and still working through the steps. I posted all of my results here on the blockchain as well.
If you want to sign up for my free e-course on the 3 Steps No Excuses, check out the link at the bottom of this post. It's 30 days of emails going over the steps and progressing step-by-step as a business person :)
Now that you're familiar with the format here (3 simple steps to complete each day) let's get started!
Today's Three Steps:
Watch the training video on CTPTalk.com: "Curation!" then go upvote some content.
Review List Nerd emails with some tips. Make adjustments based on results.
Watch Plus1Success Day 29 "Passion" training video. Are you passionate yet?
Let's go through each of these steps and grow together as marketers.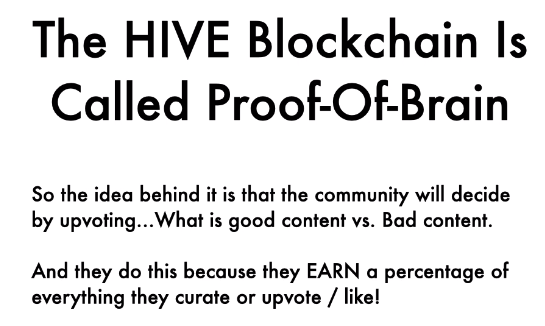 1. Watch the training video on CTPTalk.com: "Curation!" then go upvote some content.
After you're in CTP, click Training > Lessons, find and watch "Curation!"
The more you have staked, the more you earn from creation, commenting and curating.
I can't offer you financial advice because I am not a financial expert. These comments are just what I do and document here on the blockchain.
Currently, I have two accounts:
@robwillmann - this post you're reading was posted by me on my main account.
@threesteps - this is a curation account that upvotes and comments on quality ctp, leo, # 3StepsNoExcuses content.
I stake all of what I earn with @ threesteps for now while the account is new so I can grow it as fast possible. I've also purchased a 1000 hive dlease to delegate Hive Power to the @threesteps account.
Jon goes through a good walkthrough of how you stake CTP tokens on CTPTalk.com, and it's definitelt worth watching.
Once you've watched the CTPTalk training video, it's on to the next task.

2. Review List Nerd emails with some tips. Make adjustments based on results.
List Nerds is similar to other lists in that people get blind to seeing the same subject or even the same TYPE of subjects to emails.
So How do you stand out?
Attention -> Curiosity -> Action!
Jon has covered "A.C.A" in another video. You can find it under the "LeadCapturePages" section:
While the training is on how to do a lead capture page, the concept is the same. You have a FINITE amount of time (seconds really) for someone to see your offer or email and make a decision to click the link in your List Nerd Email.
Follow the Attention > Curiosity > Action! method and watch the results.
There's 3 parts of this, which is straightforward:
Attention
You can grab attention, ask questions, use a video, etc. Stop the viewer in their tracks.
Curiosity
You have their attention. You have 3 seconds or so to intrigue someone. Simple bullets work.
Action
You have their attention, increased curiosity, now what? Use a strong call to action that's clear and short.
That's it. Maybe making emails that are following this format may help get an increase in click-through.
The good part is, on List Nerds, you can test and look at the results and stick with what works.
There's even a pdf on the A.C.A. module as well that can help you remember the format. The screenshot above is from the pdf. :)
Once you've made adjustments to your List Nerds emails, it's time for the final step:

3. Watch Plus1Success Day 29 "Passion" training video. Are you passionate yet?
Once you're logged in to Plus 1 Success, find and watch the Day 29 video "Passion".
Passion isn't something that you just 'muster up'. Momentum, sure, but passion is different.
Passion is what you see when you talk about what you love or what you love doing. Jon approaches this topic in the right way - by encouraging you to write\blog and build a business around what you love, instead of trying to create or generate passion about something you don't already love.
Here's an example:
I have a passion for teaching others. I've done that in some form or other for years (as a technical instructor, drum instructor, college-level music instructor, etc.) For me the question is then what do I want to teach to others.

If the art of teaching is my passion, what's something I know that I can teach others? Lots of things. This is where the whiteboard and mindmdapping tools come into play to work through what I would want.
See how that works?
With that, have a wonderful day. Go start promoting your online business with the new tools you now have in-hand.
That's it! Cya tomorrow. Please reach out to me if you have questions.
-Rob
robw.marketing@gmail.com
https://robwillmann.com/about/
P.S. One last item:
I have created a 30 day free email course on this very same # 3StepsNoExcuses journey, and I'd love to have you valid feedback on my e-course. I'd really like to hear what you think about the content. You can sign up by clicking this link and then confirming your email address. The course lines up with the daily steps, and I'd love to hear your thoughts.
Also, I've created an account on Hive blockchain called @ThreeSteps. I upvote content related to # 3StepsNoExcuses. This is a community tool to increase earnings of people involved in the # 3StepsNoExcuses challenge. I upvote quality content, and stake 100% of the Hive Power and CTP this account earns. That way votes from this account increase as fast as possible.
Comments Desired!
I'd love to hear your thoughts on emailing, passion, curation, hive, ctp, Proof of Brain, all of it. What's your favorite part of this post? Where do you think I am wrong? Let me know below. Thanks!