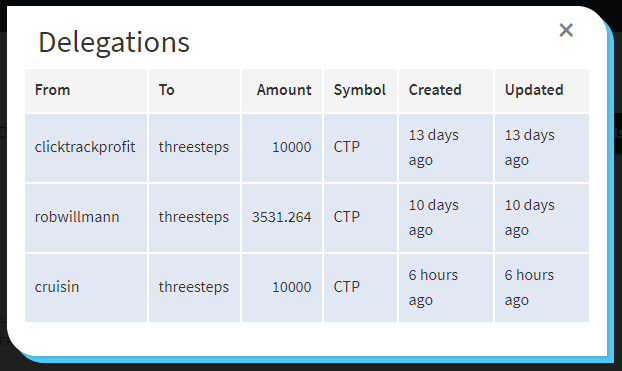 Recently many of us on CTP completed the #3StepsNoExcuses Journey started a month ago.
It rocked - 30 days of taking 3 simple steps each day to improve your marketing efforts and yourself.
I posted about it here.
Since I built habits over the past 30 days, I plan on continuing. One big change:
I'm using the #3StepsToday hashtag. You can too!
During the process of the 3SNE 30 days, I also registered https://3Steps.Today and have big plans for that domain.
In a nutshell, I'm using it to host my blog, 3StepsNoExcuses email course, and other fun items.
I've began using the hashtag #3StepsToday, and have around 11 posts with this tag from what I can tell. As I go foward, I want to use this hashtag to promote this idea:
Complete 3 Steps Today for the business you want tomorrow.
Sure, I will also post with the #3StepsNoExcuses hashtag when I go through the 30 day process again in ~ 1 week.
What? You thought I'd only do this once? :D This second pass through the 30 days is for me to create videos each day to complement the existing course.
@threesteps receives another 10k CTP delegation
I am stunned at this one. For those who knew @cruisin, (Rob P Cruisin) it's great to see that his legacy lives on. The delegation of 10,000 CTP from cruisin was humbling. I have to admit that my eyes got a little damp when I was telling my wife Tammaney about this delegation.
Thank you. I hope with the extra CTP power I am able to contribute to our corner of the blockchain even more with this account.
With that said, I decided to create 3 steps today involving CTP, List Nerds, and Plus1Success, but with a little bit of a difference. You'll see.
My 3Steps.Today:
Upvote quality posts on CTPTalk.com with my @threesteps curation account.
Create a new List Nerds email with a question as the subject.
Read Plus 1 Success pdf Day 1, then Raise Someone up.
That was my 3 steps for today. Here's how I fared: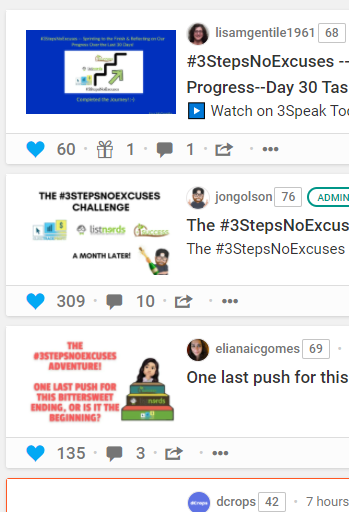 1. Upvote quality posts on CTPTalk.com with my @threesteps curation account.
Having created the @threesteps account for curating and commenting, I upvoted content to spread the love around, and encourage those who write good content to continue doing so.
This is different than the previous steps, because they were primarly based on CTP, List Nerds, and Plus 1 Success.
However, I'll be focusing on using CTPTalk.com and my results there with the @threesteps account. The goal is to get accustomed to using the interface more, and promoting more content.

2. Create a new List Nerds email with a question as the subject.
List Nerds has really helped me sharpen my email skills over time. In today's task I decided to come up with a few email subjects that I can essentially use with the same ad.
I've created a lead capture page for the #3StepsNoExcuses 30 days, and I already have a few bulleted ads for List Nerds. It doesn't hurt to change the subject up slightly and do split testing to see which one performs best.
Here's what I came up with:
What must I do to be better at sunset than at sunrise?
How many programs are you going to try before you stop looking?
In a year, what will you have built?
I can't email currently (I need to wait till the AM), but I plan on using those subjects and seeing what my results are. You can tell from the screenshot above that 3 of the 5 subject lines are questions used in previous mailings.

3. Read Plus 1 Success pdf Day 1, then Raise Someone up.
The Plus 1 Success site has a great pdf you can download and use to go through the 30 days of the Plus 1 Success journey.
Since Day 30's step was to re-read everything, I started back at the beginning and read the pdf from the beginning.
Fun Fact: The ONLY section in red in the entire intro of the pdf is this one statement:
Consistent Improvement + Time = Real Results
Isn't that the truth!
We just completed 30 days, and I had stellar results. I hope you did too.
As for today's Day 1 step of raising someone up, I chose Charletta. @successchar :)
She was in our Inner Circle Zoom this evening, and she always adds a great perspective to our discussions.
She's a great person to follow here on the blockchain as well. Make sure you do. :) You rock, Charletta. +1
With that, have a wonderful day. Go start promoting your online business with the new tools you now have in-hand.
That's it! Cya tomorrow. Please reach out to me if you have questions.
-Rob
robw.marketing@gmail.com
https://robwillmann.com/about/
P.S. One last item:
I have created a 30 day free email course on the #3StepsNoExcuses journey mentioned above, and I'd really like to hear what you think about the content. You can sign up by clicking this link and then confirming your email address. The course lines up with the daily steps, and I'd love to hear your thoughts.
Also, I've created an account on Hive blockchain called @ThreeSteps. It's a curation account that upvotes quality content on the blockchain. Mention @ThreeSteps in your post and I'll swing by and take a look.
This is a community tool to increase earnings of people who write good content. I will specifically look for and upvote #3StepsNoExcuses and #3StepsToday posts first. I upvote quality content, and stake 100% of the Hive, CTP, and #leo this account earns. That way votes from this account increase as fast as possible.