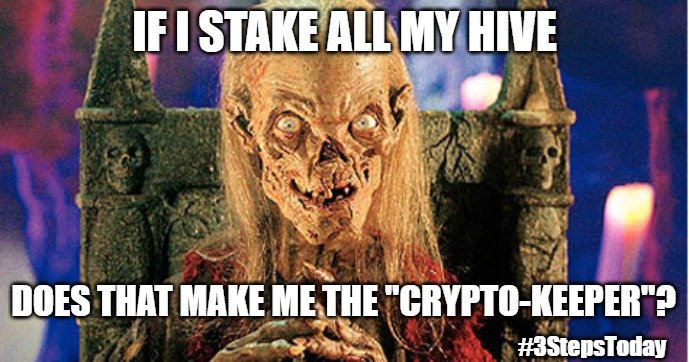 I am a dad, and I could not resist the pun in today's header. :) It was too much. I know I am not the first person to make that joke.
With that, here's....
My 3Steps.Today:
Bring value to blockchain with @threesteps account - curate and comment on quality posts.
Change up the subject line on a List Nerds email. Try something different.
Watch Plus 1 Success Day 5 Video: "Connect with Someone New"

1. Bring value to blockchain with @threesteps account - curate and comment on quality posts.
There's a couple of ways that I can bring additional value to the CTP brand, if you will. One of those is to be an active participant on CTPTalk.com itself, which is the blog front-end for our community.
With the @threesteps account, I've been upvoting posts and commenting to build the account's network.
It's working. I feel good with the CTP that's been created with this account, and the effort of upvoting and staying active with that account every day is a daunting, but fulfilling task.
I also entered the CTPSB CTP Power Up Competition.
It helps if my upvote account has as much CTP and Hive power as possible. Therefore I am always looking for ways to grow this account value.
Since I am in full account building mode with the @threesteps account, I decided to enter the CTPSB Power Up Challenge.
The goal is to see how much CTP can be staked between now and May 4th. My @threesteps account can definitely help with this by promoting their efforts, and being involved in the competition itself.
Consistently contributing, upvoting, posting, and growing this account's value all add to the overall value of the CTPTalk.com quality, and it helps bring value to the blockchain.

2. If You've been using the same subject on List Nerds, try something different.
I've been reviewing my CTR for the misc. emails I send out, and the following headline\subject seems to really work:
"Want to improve your results with List Nerds?""
Why?
I target the platform itself by referencing List Nerds in the subject.
The subject brings up and solves a problem. (Your results may not be great. Here's how to fix it.)
It's a question. :D
The screenshot above is the actual email that gets sent.
It's short and the link is 'above the fold' so there's no scrolling down to see and click the link.
This particular email has worked well for me. I've recently been using a different subject, and haven't used this one since the 12th, so I am going to test this one again.
Finally, this brings me to my favorite part!

3. Watch Plus 1 Success Day 5 Video: "Connect with Someone New"
The Plus1Success plan is quite simple: be better at sundown than you were at sunrise.
That's such a deceptively simple concept. I've really enjoyed trying to improve myself in some way each day, and today's video is all about making connections with someone new.
This hasn't been that hard for me recently. I am trying to build the friends and connections I have on the blockchain.
Reaching out to the Proof of Brain Community on the blockchain (https://www.proofofbrain.io/@robwillmann) has really helped me find and start friendships with people outside my normal circle. Today I followed @abundanceheart and was fortunate enough to be the first follower of this brand new account.
Welcome to the blockchain, @abundanceheart!
I thoroughly enjoy the social aspect of working on ctptalk, PoB, and other communities. This step was an easy one for me.
With that, have a wonderful day. Go start promoting your online business with the new tools you now have in-hand.
That's it! Cya tomorrow. Please reach out to me if you have questions.
-Rob
robw.marketing@gmail.com
https://robwillmann.com/about/
P.S. One last item:
I have created a 30 day free email course on the #3StepsNoExcuses journey mentioned above, and I'd really like to hear what you think about the content. You can sign up by clicking this link and then confirming your email address. The course lines up with the daily steps, and I'd love to hear your thoughts.
Also, I've created an account on Hive blockchain called @ThreeSteps. It's a curation account that upvotes quality content on the blockchain. Mention @ ThreeSteps in your post and I'll swing by and take a look. This is a community tool to increase earnings of people who write good content. I will specifically look for and upvote # 3StepsNoExcuses and # 3StepsToday posts first. I upvote quality content, and stake 100% of the Hive, CTP, and #leo this account earns. That way votes from this account increase as fast as possible.