Celebrating 50000 Listnerds stake & I'm Now Sending Listnerds Tips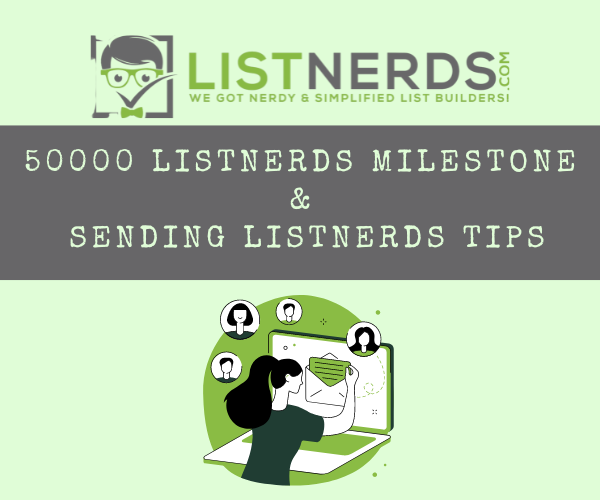 50000 Listnerds Milestone!
Milestones need to be celebrated, especially if they are much higher than ever expected when I started the Listnerds journey! On January 24, 2022 I sent my first email on Listnerds. I can still remember being on top of every click that happened. The first two emails never had enough openings though, so they could never reach the threshold needed for verification. @blainjones fixed that when my third mail went out and had enough votes, I earned 7.889 Listnerds!

The staking journey started there
This was when my stake started to grow, I bought some Listnerds of the market when I started and my boyfriend @labuenavida was so kind to swap some crypto so that I could add these to my stake. On top of that, I won the Listnerds referral contest, a second place, good for 200 bucks worth of Listnerds! What a way to start the journey. I had no idea at that point that I was going to love this journey as much as I do right now. It came to my path very unexpectedly and I'm not going anywhere anytime soon, not even when there's a full on bear market, nope, I'm here to stay!

Since the start of my journey, I built a team
With awesome content creators if I may say myself. And I'm proud of them! I love when our team discord is filled with chatter and when @amirtheawesome1 comes to bring some humor to the chat. The members are there to help and lift each other up, this is how it should be. We always have someone to ask questions no matter what time it is as we are from all over the world. Isn't that great? This is what my downline looks like today: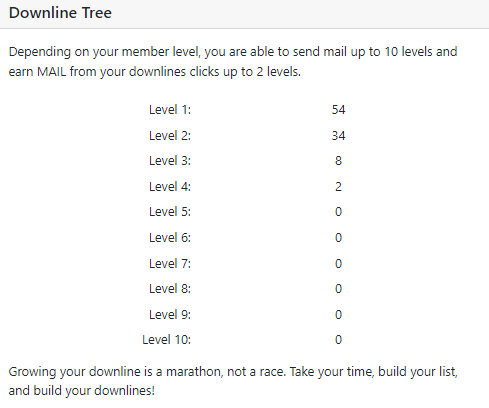 Don't be fooled by the 54 level 1 in my downline though, about half of them are actually active. You know how it goes, people join, discover they need to make an effort and then disappear not long after. This is fine, I know how this goes and I'm actually not actively promoting constantly because I much rather recruit great content creators when I see an opportunity so that I know what kind of person I recruited. It's easier and saves some frustration along the way. I have to guide the people that join my team, and I feel responsible for them doing well and growing their stakes.

Fast forward 5 months until yesterday
The date was June 27th and I've claimed a huge number of Listnerds:

You'd think this was a record, and it actually was for the highest email payout, but not for the highest claim, that was 3 days ago when I claimed almost 2400 Listnerds. These extremely high payouts are caused by the witness node being down a week ago, people sent less emails and therefore those verified get a bigger share.

Hello 50000 Listnerds!
I claimed the 2168 Listnerds and was very happy to see that I crossed the 50k mark! I honestly never thought this was going to happy so fast! It's actually mind-blowing to have a stake this big, knowing that I still hoover below the 3k Hive Power stake, lol. While I've been publishing content on Hive longer than emailing on Listnerds.

I admit, that I would have past this milestone some time ago because I've got unstakes as well, but I never count these towards my stake when I claim. I always write down my stake after I unstaked. So these are actually just bonus looking at my numbers. I'm not far behind on @jimmy.adames but I haven't changed my tactic of claiming and unstaking to get higher in the rank. I just do my thing and it's fun to see that I can end up first place for a bit, but later Jimmy claims and I drop to second again haha.

Using unstakes to build on Hive
Currently, I'm still in need for fiat as our emigration and move to a new home was quite expensive. After all, we also paid of our full debts in the months before departure which was a big bag of money and it would have been much better for us if we could have taken that bag to Spain, but we couldn't so. It's unbelievable how much all these tiny things for your home cost even if you buy them cheap, the numbers add up, and money flies out of pocket rapidly. Of course the most important thing is that we are here, and have a home. But I'm not going to lie and still using my unstakes partially to have some fiat relief. I don't expect doing this for much longer though, because I'm excited to start building my Hive power as well as CTP stake fast!

Listnerds will help me build a passive HBD income
I will also use Listnerds to build a HBD savings account for a nice passive income over time. I actually wanted to build this from July, but I'm first going to make sure that our fiat bank account has a bit of reserves as well, I don't feel comfortable when we don't have these. I've been budgeting our way to Spain for months and on top of things constantly that I have the urge to refill some of these savings first before building the bags on Hive.

Sharing my Listnerds: Sending out Listnerds tips!
Meanwhile, I decided to reward authors that have peeked my attention when I found their post valuable enough to share on Listnerds with a tip. I'm not setting an amount, it will depend on my liquids and such, but the tip will come in Listnerds tokens. I hope by sending out these tokens to people that are new to Listnerds, they will be curious to check out the platform and maybe even join our Listnerds team. It only feels right to reward those people as when the email is paid out, I will also get rewarded for the content if it meets the verification threshold. Over time, I hope this tip will grow and I will be sending out bigger tips whenever I read a super valuable post.

More Listnerds Content

Credits

Let's Connect
If you want to connect, you can give me a follow on my socials. For inquiries, you can send me a direct message on Discord.

Social Media Management Portfolio:

My Referral Links:
---
---