Welcome to Day 3 of the #3StepsNoExcuses journey with me, Rob Willmann.
If you're not familiar with this process, be sure to check out Day 1 where I go over the whole process.
https://www.ctptalk.com/hive-119826/@threesteps/clzkkefe
Today's journey is a great one, since it's all about stepping out and connecting, taking managed risks as an entrepreneur, and moving forward with a solid plan.
Here's what you can expect in my daily updates:
A short list of the three steps,
My results and thoughts about each step.
A link to my 3Steps Today email course funnel so I can grow my list. (I am a marketer after all.)
Current amount of CTP, Hive, PoB, Leo the @threesteps account owns.
Glad you're here! Let's get started.
Watch ClickTrackProfit's "Facebook" training video and take action.
Watch the one and only List Nerds training video.
Watch the Plus 1 Success Day 3 "Take a big risk"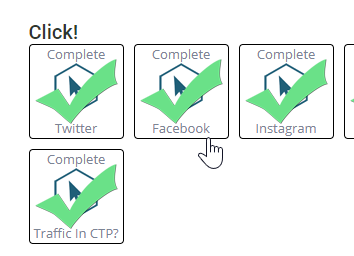 1. Watch ClickTrackProfit's "Facebook" training video and take action.
Login to Click Track Profit, and you'll see the "Facebook" video near the beginning of the "Click!" section like the screenshot up there.
First Jon goes through some insane stats to prove just how big Facebook is. Once that's established, he goes over:
his profile
navigating around the misc sections.
posts vs. stories
It's pretty basic, but most people already know Facebook. It's good material if you're new to Facebook itself.
I do like how Jon goes over adding friends on FB, and just below the video has links himself, blain, others who are part of ctp that you can follow. Nifty!
After adding a few friends it's on to List Nerds.

2. Watch the one and only List Nerds training video.
Login to List Nerds and then click on your name in the upper right, then click FAQ. Once there you should see the Frequently Asked Questions with a link to go watch a training video on List Nerds. (as the screenshot above)
That's pretty simple for today. The video covers:
each section of the nav bar
how to set up commission payouts from them
the basics of scheduling emails
how their interface works.
Personally I find List Nerds interface to be intuitive and easy to use. They end their video with ways to contact them or support in case you have any additional issues.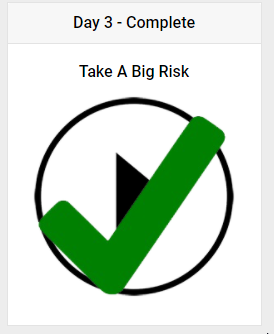 3. Watch Plus1Success video Day3: "Take a Big Risk"
Another excellent gem of a video. In particular, about 2/3ds through, Jon says:
"Whatever the dream is, ACT on it today and take a risk!" - Jon O.
You miss 100% of the shots you don't take. You know the drill. You have to try.
If you want this bad enough, you'll put effort towards your success.
If that's not you, that's fine too. At least now you know that you don't want this bad enough. Sometimes a simple honest assessment is a good one. I am thinking that if you are still here with me reading this, you probably are someone with goals, willing to take action, who would take a risk.
If so, make it a calculated one. I like this from the pdf:
Wonderful. :)
Current holdings for @threesteps account
| Token Name | Amount Held Yesterday | Amount Held Today | Difference |
| --- | --- | --- | --- |
| CTP | 759.883 | 759.883 | 0 |
| Hive | 32.495 | 32.495 | 0 |
| PoB | 16.955 | 16.955 | 0 |
| Leo | 216.679 | 216.679 | 0 |
One of these days I am going to look back at days like this, when I was just starting with a new account, and laugh. :) Right now thought, I am pretty happy about this, especially for an account that is so new. Over time, with how compounding works, this will eventually be a mountain of an account with a great upvote potential.
With that, have a wonderful day. Go start promoting your online business with the new tools you now have in-hand.
That's it! Cya tomorrow. Please reach out to me if you have questions.
-Rob
robw.marketing@gmail.com
https://3Steps.Today
P.S. One last item:
I have created a 30 day free email course on the # 3StepsNoExcuses journey mentioned above, and I'd really like to hear what you think about the content.
You can sign up by clicking this link and then confirming your email address. The course lines up with the daily steps, and I'd love to have you subscribe. < Oh and that part? That's the part above where I said "I am a marketer after all." :) I'd love to have you on my list.
Also, I've created an account on Hive blockchain called @ ThreeSteps.
It's a curation account that upvotes quality content on the blockchain. Mention this account in your post and I'll swing by and take a look.
This is a community tool to increase earnings of people who write good content. I will specifically look for and upvote # 3StepsNoExcuses and # 3StepsToday posts first. I upvote quality content, and stake 100% of the Hive, CTP, and #leo this account earns. That way votes from this account increase as fast as possible.
---
▶️ 3Speak