---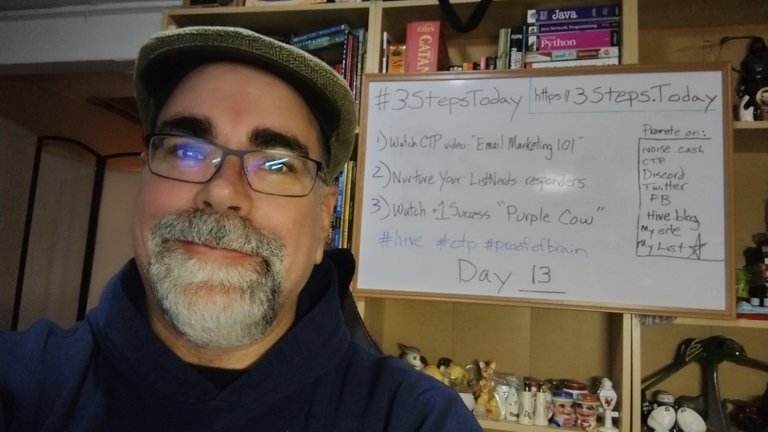 Welcome to Day 13 of the #3StepsNoExcuses journey with me, Rob Willmann.
Today is Day 13 of your journey. I woke up this morning thinking about how we've been going through this alongside each other for 13 days now - almost two weeks!
This journey is all about discovering better ways to do business, and making the right habits to set yourself up for long-term success. Making the decision to go through this journey daily is a big one. Glad you're here.
If you're not familiar with this process, be sure to check out Day 1 where I go over the whole process. https://www.ctptalk.com/hive-119826/@threesteps/clzkkefe
Here's what you can expect in my daily updates:
A short list of the three steps,
My results and thoughts about each step.
A link to my 3Steps Today email course funnel so I can grow my list. (I am a marketer after all.)
Current amount of CTP, Hive, PoB, Leo the @threesteps account owns.
Let's go!
Watch ClickTrackProfit's "Email Marketing 101" video.
Nurture your email list signups from List Nerds.
Watch Plus 1 Success video "Purple Cow"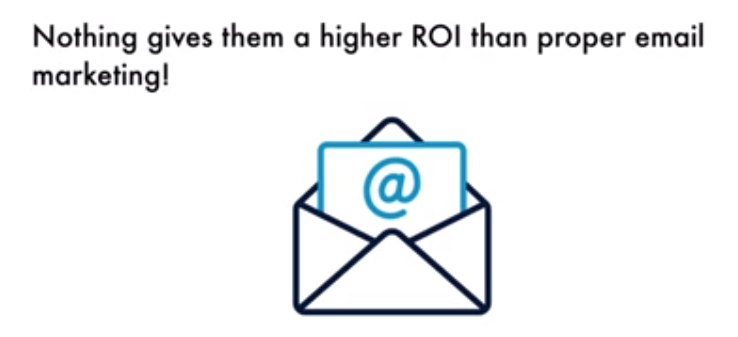 1. Watch ClickTrackProfit's "Email Marketing 101" video.
The real nugget in this video is that email marketing gives the best ROI out of all other forms of online advertising.
Having my own list of around 460 folks on it, I can tell you right now without a doubt that this is 100% true. My email subscribers are the best, and they engage with me regularly. Just don't focus on the ROI. Focus on helping others. :)
Jon also mentions list segmentation. This is the process of creating a segment or portion of your list based on their likes\responses, etc. I've done this and it truly works.
In a nutshell, you can send a poll or other engagement tool to see who responds. Offer your action takers a lead magnet in exchange for signing up to a different list you own. Now you have two lists that you can use to reach out to, depending on the list's focus and what you have to say.
We'll cover this more in the future. For now, enjoy the CTP video, and start thinking about the list you have and how you can grow that via segmentation. (Hit me up in the comments if you have questions.)
Once you've watched the training and understand the concent, it's time for List Nerds.

2. Nurture your email list signups from List Nerds.
This is more of a 'thinking' task. Let's consider your list.
I expect that you don't get a HUGE number of subscribers per day. That's fine! (and expected at this point.)
When you use List Nerds to gain subscribers to your own list via your lead capture page, these are REAL PEOPLE.
Those numbers in the screenshot above of my ListNerds results represents real people. Never forget it. I've made this point before but I think I will continue to emphasize that your list isn't comprised of email addresses. It's people.
Jon says this in today's pdf:
If you get one person on your list....Or one click through and new subscriber....
Treasure that! And work with that person to develop a long lasting relationship. You will be amazed at how your lists start to grow and results start pouring in...When you focus on the results you ARE getting.
How true. Instead of worrying about growing the total number of subscribers, make your list about quality and engage your subscribers. That's the true win here.
Today's task isn't so much an action step. It's about taking time to consider how you think about your list. Think about them as real people and help them solve problems and you win.
After thinking about your list and how they're gold, check out Plus 1 Success!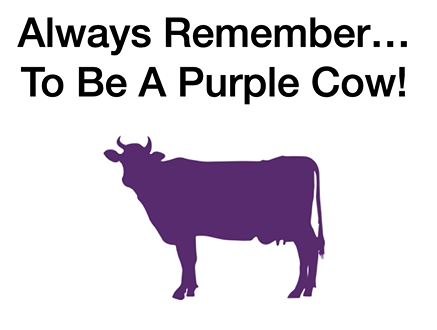 3. Watch Plus 1 Success video "Purple Cow"
Login to Plus 1 Success, and check out the video for day 13:
"Purple Cow"
Note: If you haven't upgraded, you still have access to all of the material from the 30 days in ebook form. :)
I recently purchased Purple Cow (Seth's book) on my Amazon Kindle account so I can read it while I am out and about. Truthfully I like print books but I am trying to purchase less physical books and save some trees.
**The concept is simple: **If you were to look out a field of cows, and all of them looked like regular cows with the exception of one purple cow, your vision would be drawn to the one purple cow.
Likewise with our marketing efforts, we need to do more to stand out. There's plenty of ways to do so. The trick is to just stand out without relinquishing quality or value.
Actually be engaging instead of flyby's on Social Media. Authenticity sticks out.
Don't copycat. Come up with something original. Sure you can use someone else's idea, but add a twist to it.
Try using video if you don't normally.
I especially like this quote from Seth's book:
"The reason it's so hard to follow the leader is this: The leader is the leader because he did something remarkable. And that remarkable thing is now taken - it's no longer remarkable when you do it."
The goal here is to get you thinking about ways that you can stand out from the crowd. Really spend some time on this one.
Now let's talk about crypto. (Entering #leofinance mode.)
Current holdings for @threesteps account
| Token Name | Amount Held Yesterday | Amount Held Today | Difference |
| --- | --- | --- | --- |
| CTP | 1853.3 | 1870.8 | +17.6 |
| Hive | 105.4 | 111.7 | +6.3 |
| PoB | 17.92 | 18.29 | +0.37 |
| Leo | 224.09 | 225.1 | +1.1 |
Another decent day of rewards across all 4 platforms. It's encouraging to login each day and see that author and curation rewards waiting on me to claim.
I have some rather large CTP rewards coming up and I am encouraged by that. Each time I get more rewards, I am staking 100% of what I earn to grow the account as fast as possible.
With that, have a wonderful day. Go start promoting your online business with the new tools you now have in-hand.
That's it! Cya tomorrow. Please reach out to me if you have questions.
-Rob
robw.marketing@gmail.com
https://3Steps.Today/
P.S. One last item:
I created a 30-day free email course on the #3StepsNoExcuses journey mentioned above, and I'd really like to hear what you think about the content. You can sign up by clicking this link and then confirming your email address. The course lines up with the daily steps, and I'd love to hear your thoughts.
Also, I've created an account on Hive blockchain called @ threesteps. It's a curation account that upvotes quality content on the blockchain. Mention this account in your post and I'll swing by and take a look. This is a community tool to increase earnings of people who write good content. I will specifically look for and upvote # 3StepsNoExcuses and # 3StepsToday posts first. I upvote quality content, and stake 100% of the Hive, CTP, and #leo this account earns. That way votes from this account increase as fast as possible.
---
▶️ 3Speak